October 16, 2010 - 11:00 pm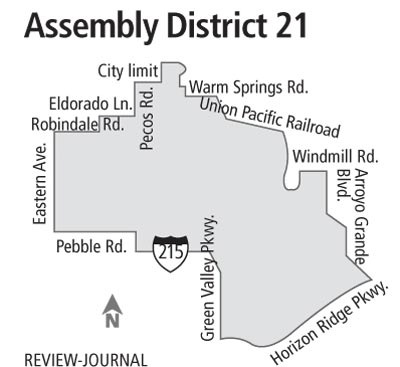 The three-way race for Assembly District 21 has a Democratic incumbent competing with two candidates who think government at the state level needs serious changes.
Ellen Spiegel is seeking re-election against Republican Mark Sherwood and Les McKay of the Independent American Party.
Spiegel said she is not rushing to judgment about what to do about the budget in the next legislative session. It is not even clear what kind of budget hole lawmakers will face: "There's just such wide speculation about the scope of the problem," she said.
She does have a bill request ready, though, that would offer tax breaks to businesses that hire people who have been unemployed for at least two months. The tax break would be less than what the state pays in unemployment, she said.
There are also a number of accountability measures the Legislature enacted that need to be reviewed.
"I think it's incumbent on the Legislature to look at that data and use that data. What's been effective and not effective?"
Spiegel also took a wait-and-see stance on the idea of tax increases.
"I don't have an opinion on that, and here's why," she said. "I don't know what number we're managing to. I don't know what's needed."
But, she added, "raising taxes needs to be a last resort, not a first resort."
McKay said state government needs to be more efficient.
"I'm of the opinion that they receive plenty of money," he said. "They just don't spend it efficiently."
He did not have examples to show what greater efficiency would look like, except that he favors school vouchers as a means of holding the line on education costs.
"They've got to be doing things that they don't need to be doing, maybe duplications of services or nonessential services," he said. "I'm not sure of any examples right now, but there's going to be something. " Then he suggested the state park system.
A private contractor could use entrance fees for maintenance, he said, adding that any contract would still need government oversight to ensure that public parks wouldn't fall into disrepair.
Sherwood said he's worried about the entire state falling into disrepair and that the real culprit behind the state's budget woes is an unsustainable budgeting system.
Budgets should start at zero, with departments having to justify their expenditures, he said.
That would be better than starting the process looking at deficits of either $3 billion or $1.5 billion, depending on whose projections you follow.
"There's no good way to come up with $1.5 billion," Sherwood said. "Having said that, my question is, more than the $1.5 billion in this one budget, what is sustainable?
"That's the question no one asks. Everybody punts."
He said people tend to make a false correlation between "how much government spends" and "services rendered."
"We pay too much for too little," Sherwood said. "Until we come up with a sustainable budget model and can openly talk about how money is wasted … I'm not interested in having a conversation about raising taxes."
Contact reporter Alan Choate at achoate@reviewjournal.com or 702-229-6435.
2010 GENERAL ELECTION VOTER GUIDE
ASSEMBLY DUTIES
The duties of Assembly members include passing legislation, reviewing, amending and approving the state budget submitted by the governor, and reviewing the performance of state agencies. They serve two-year terms. Candidates who prevail in this year's election will be paid $8,760 for the first 60 days of the 120-day regular legislative session. They also will receive $161 a day for living expenses and reimbursement for housing, travel and other expenses.
NOT PICTUREDName: Les McKayParty: Independent American PartyAge: 49Occupation: Switch technician