October 24, 2016 - 1:51 pm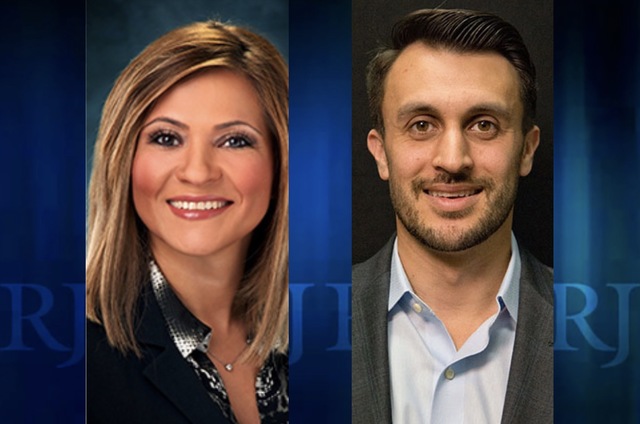 A series of attack ads have taken aim at Republican Assembly candidate Nick Phillips for everything from employing overseas workers to his stance on background check requirements for gun sales.
"My opponent is running around sending out mailers saying I was shipping jobs to Pakistan when they could be going to Nevadans," Phillips said of his business. "I had overseas workers because I literally couldn't provide programmers here."
Phillips called it a "complete lie" that the jobs filled in Pakistan could have been filled by Nevadans.
Phillips and Democrat Sandra Jauregui are running for the open Assembly District 41 seat. Assemblywoman Victoria Dooling, a Republican, is not running for re-election.
Jauregui moved to Las Vegas in 2009 to attend UNLV. She interned for U.S. Sen. Harry Reid, D-Nev., and served as director of Home Again Nevada before moving to a private-sector job with Ticor Title of Nevada.
But the reason for focusing on the overseas jobs for Phillips' business was that Jauregui worked one-on-one with Nevadans who lost their jobs and their homes during the Great Recession, she said.
Phillips founded his data analytics business Right Start Data in 2013. He previously served as political director for the Clark County Republican Party. Both candidates are running for office for the first time.
The lack of programmers in Nevada highlights one of the main concerns Phillips has with the current state of the education system.
"What are we preparing our children for?" he said. "We're preparing our children for jobs from 20 years ago."
Phillips opposes Nevada ballot Question 1 that would require background checks on most private firearm sales and transfers because he thinks the language is poorly worded and it "will do nothing to enhance public safety," he said.
Another attack mailer targeting Phillips' stance on Question 1 even draws in rancher Cliven Bundy with this line: "Nick Phillips & Cliven Bundy: Teaming Up to Take Nevada Backwards."
Phillips said he has "never met or spoken with Cliven Bundy."
Jauregui supports Question 1, and said it "achieves balance" between preserving Second Amendment rights and protecting families. "I'm not trying to interfere with law-abiding citizens," Jauregui said.
Contact Jamie Munks at jmunks@reviewjournal.com or 702-383-0340. Follow @JamieMunksRJ on Twitter.