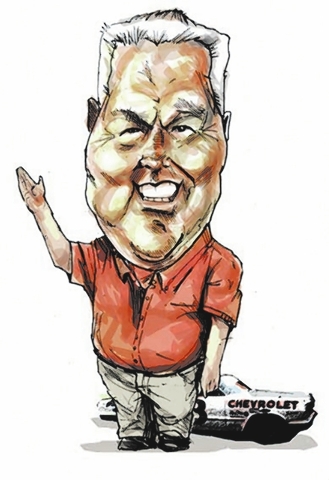 Drawing Board
2014 Nissan Rogue: Similar in look and in size to the outgoing Rogue, Nissan's second-generation compact wagon uses a new platform to be shared with the automaker's Renault partner. For 2014, the Rogue will add an optional third-row seat, adding some versatility. The 170-horsepower four-cylinder engine carries over, mated to a continuously variable transmission.
Auto Trivia
n Although the air bag was patented in 1968, the first car to have one installed was the 1973 Oldsmobile Toronado, pictured.
n One of the earliest car tunes was written by Guy Edwards, who penned "In My Merry Oldsmobile" in 1905.
Who am I?
To guess his secret identity, read the following clues!
1. As with many NASCAR stock-car legends, his racing background included "running moonshine."
2. His driving style earned him the name "Wilkes County Wild Man."
3. After all that was done and over with, he won the 1960 Daytona 500.
4. As a NASCAR team owner from 1967-'95, he racked up 139 wins.
5. "Junior" was recently inducted into the NASCAR Hall of Fame.
Still stumped?
His name is Junior Johnson, and today he spends most of his time working on his farm and tending to other business interests.
What's up, auto doc?
One of the Auto Doc's good buddies runs an engine rebuilding shop. Asked what kind of advice he had to keep people out of his shop and happily on the road, he had three things to say.
1. Keep all the fluids in your vehicle fresh, from the coolant and transmission fluid to the engine oil. "Change your oil at regular intervals and it's quite likely we'll never meet." Once oil is dirty, it no longer lubricates, it works against you and rapidly accelerates internal wear. "It's so cheap to change your oil, I don't understand why people wait so long."
2. Don't abuse your machine by doing things such as overrevving the engine. "Abuse causes extra heat and component stress and prematurely breaks down lubricants. Taking care of your car means you're taking care of your wallet."
3. "We spend considerable time fixing do-it-yourselfer's mistakes, from stripped threads inside cylinder heads, to gaskets that were improperly put in — that caused major damage — and everything in between."
eBay watch
1964 Kaiser M35 A2 stake truck, sold, $5,500: This restored 2.5-ton veteran (the truck was used in the Vietnam War) shows 26,000 original miles. It features six-wheel-drive and a six-cylinder diesel engine mated to a five-speed manual transmission. It also has a removable canvas top that covers the cargo area.
A great buy for some military-minded collector.
Top Gear
"Cars on Vinyl," about $26, www.amazon.com: "Cars on Vinyl" is a book that both music and car fans will enjoy. French author Jacques Petit has assembled a collection of 500 album covers, all of which feature automobiles in one form or another and all depicted in LP-sized original scale.
He has included a brief summary of each cover, listing the artist(s), record label, catalog number and, of course, the make and model of the featured vehicle. The book is filled with Rolls-Royces, Jaguars, Cobras, Cadillacs and other models used as visual enhancements, but includes buses plus various oddball makes.