Bishop Gorman grad hopes to hit high note in country music
November 15, 2013 - 1:09 pm
Updated November 20, 2017 - 8:55 am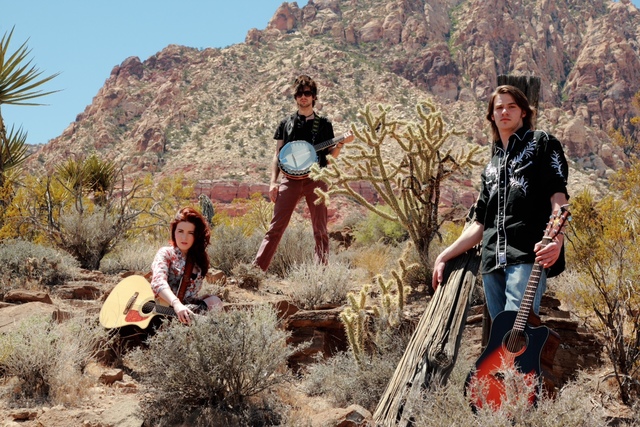 The spelling of Tenasie Bowe's name isn't a mistake. It pays homage to the Cherokee tribe that originally settled in Tennessee, her parents' home state.
"A lot of people think it's a cool spelling for the state. Tennessee means 'meeting of the rivers,' " she said. "My parents thought it was cool because of the spelling and the history of it."
Bowe, 19, is an aspiring country music singer who recently formed her own band, along with Matt Keyler, Jordan Harazin and Austin Perry.
They liked her first name so much, they opted to use it as the band's name.
Now, Tenasie, the band, has won Best Country Duo or Group at the seventh annual National Independent Music Awards, held Aug. 31 in Nashville. The band performed at the event.
"It was really important to be honored because there are so many independent acts in Nashville," Bowe said. "We weren't really expecting to win. We were just excited to play … we were so shocked. It was a really cool feeling, to know that all your hard work was paying off."
Bowe grew up in Las Vegas and began playing piano at 4.
As a child, "I always wanted to put on a show," she said. "We had a place down in Needles, California, and my friends and I, and my brother, we'd put on shows, and we'd have, like, a hundred friends come see them, and people would pull up on their golf carts. We'd just play air guitar and lip-sync to Britney Spears songs."
She discovered a love for the guitar while in eighth grade at International Christian Academy, 8100 Westcliff Drive, and began taking lessons. The instrument brought into focus not just her ability to sing but a knack for songwriting, and that's when she began thinking in terms of a career path. Bowe graduated from Bishop Gorman High School, 5959 S. Hualapai Way, where she'd been heavily involved in theater, rehearsing as many as six hours a day. The high school also had acoustic guitar pulls where she played her original songs.
About two years ago, she began voice lessons with Glenn Williams, owner/operator of Glenn Williams Academy for Vocal Training. He said she was one of the hardest-working students he's ever had. He currently instructs about 70 students.
"Things didn't come that easy for her," Williams said of Bowe. "She was not one of those with a tremendous gift right off the bat. She had a love of singing, but she had to work very hard on intonation and breathing and things of that nature."
He said for every hourlong lesson she took, Bowe went home to hone her craft, working on her voice for another four hours on her own.
Growing up in Las Vegas afforded her the chance to see many concerts, which prompted her to write even more songs. She estimated she has penned as many as 70 songs, with "a ton" of half-finished ones. She's recorded 14 of her original songs.
"I like writing songs more than anything, so I knew Nashville was the place to be," she said.
She moved there in January and enrolled in Belmont University's music business program. She chose it because country singers Brad Paisley and Trisha Yearwood had studied music business there.
"I really do like the business side. I do all the band's promotions and bookings," she said. "I'll graduate with a business degree, so it's really kind of a win-win."
To get to Nashville, she and her dad drove east in her Ford Escape. They were on the road for 26 hours, taking two days to get there. She said it was a great trip with lots of bonding time. It also drove home the fact that she wouldn't be seeing her family for a while.
"It was hard knowing that my car's going to be in Nashville, so that means I'm going to be there for a while," she said. "But it was cool to see all the 'Welcome to Nashville' signs and know this was going to be my new home."
Taking advantage of the local music scene in Nashville, Bowe began attending "writer's rounds" — evenings where aspiring country music writers sing and play their latest composition to three others as they all sit at a table. Each person takes a turn, and the three others in the group give input on what they liked about each song and encouragement where it could use help.
It's not limited to aspiring artists. She met legendary songwriter Jerry Foster through one such round. In January, he put her in touch with two young men who became her bandmates, Keyler and Harazin. They later found a drummer, Perry, in Las Vegas. He plans to move to Nashville at the end of November.
Tenasie, the band, was in Las Vegas in early May and performed at Garfield's Restaurant in Desert Shores and Sambalatte in Boca Park. While here, they had publicity shots taken at Spring Mountain Ranch State Park.
The band returned in August to play at an anti-bullying event at the South Point. There, Bowe sang a new song she'd written, "Made To Be Me." It was considered the theme song for the event.
The band had been vacillating between calling itself "Tenasie" or "Tenasie Country." Since it already has a following in Nashville with the shorter version, it's likely it will continue with that, she said.
The No. 1 dream is to tour as the opening act for someone such as Kacey Musgraves, Carrie Underwood or the Zac Brown Band. For now, the band can be found on at facebook.com/tenasie and heard on YouTube.
Contact Summerlin/Summerlin South View reporter Jan Hogan at jhogan@viewnews.com or 702-387-2949.