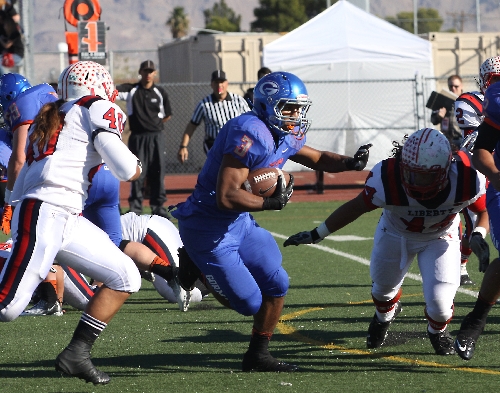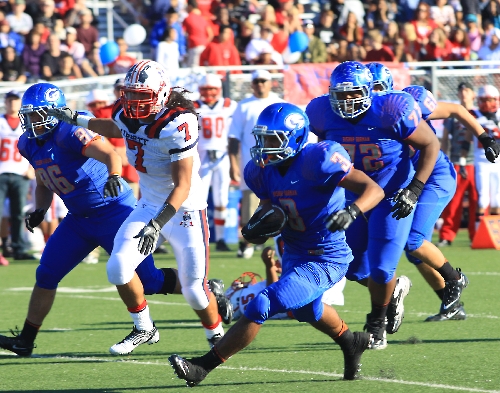 Few high school athletes are provided an opportunity to play at the collegiate level. Even fewer are named among the top 40 PARADE All-America high school football players in the country.
For Shaquille Powell, Bishop Gorman running back, he gets both.
The 5-foot-9, 205-pound senior at the southwest-area school is one of seven running backs in the country and the only player in Nevada to earn the distinction.
"All the hard work that I put in through my whole career, all the competition we've had and all that me and my team have done, I think that's why (I was selected)," Powell said. "All the work playing high school football has paid off."
Powell verbally committed to playing for Duke University in Durham, N.C., in December, two months before National Signing Day. The early commitment, he said, stemmed from his desire to make an immediate impact with the Blue Devils and to study biology with the intent of going into the medical field.
"I'm looking forward to coming in, helping out the program, getting to some bowl games and helping it get to the next level," Powell said.
Playing for a team that went 3-9 overall, 1-7 in the Atlantic Coast Conference last season may give Powell the opportunity to battle for carries as a freshman. The running back has proved he can win games and come up big on plays, amassing 2,427 rushing yards and scoring 40 touchdowns for the 2011 season, leading the Gaels to a 15-1 record and their third consecutive state championship.
Powell, despite breaking school records and becoming one of the top high school football players in the country, never accomplished one specific feat.
"I never completed my goal of what I really wanted to do," Powell said. "I always wanted to rush for 3,000 yards. I never did that, and I knew it was possible, but it doesn't really bother me. I always like to set my standards high. Even though some people may say they're impossible, it makes me work that much harder and push myself to that extra level."
Bishop Gorman coach Tony Sanchez knows Powell's potential exceeds beyond the stat sheets.
"He's a relentless competitor," Sanchez said. "I think at the end of the day, if you're ever going to reach your full potential as an athlete — or really anything in life — you've got to have a good work ethic. (Powell's) got a fantastic work ethic, and he's selfless … I think to be a great football team, you've got to have young men that not only work hard but understand that sacrifice and that give a little bit — that comes with being a championship football team."
Football isn't the only thing that has shaped the young man. Powell credits his family for its support and his ability to succeed in both school and sports.
"My family is probably my most motivational (factor)," Powell said. "I know that I can do things now and set up my future to where I can help them out and put them into situations they've never been before."
The All-America player wears Dallas Cowboys' and Bishop Gorman alumnus' DeMarco Murray's No. 3 jersey. His ultimate football idol, however, is Jacksonville Jaguars running back Maurice Jones-Drew "because he overcame so much adversity," Powell said. The then-University of California, Los Angeles player's grandfather and guardian, Maurice Jones, died of a heart attack during Jones-Drew's game against Rice in September 2005. Jones-Drew legally changed his last name, adding "Jones" to honor his grandfather. Jones-Drew is also an alumnus of De La Salle High School in Concord, Calif. — the same school against which Powell posted 113 yards and two touchdowns in 2010.
It's performances like these, Sanchez said, that separate Powell from the rest of the pack.
"The bigger the game, the better he played," Sanchez said. "The things that made him stand out here will make him stand out (at Duke) … . The program will be better from the first day he walks in just because of the type of personality and work ethic that he'll bring … I think, immediately, he'll make an impact on his teammates just by the way he works every day."
Sanchez said Powell has set a standard for Gaels to follow in the future, leaving a lasting legacy at Gorman. The senior, however, is staying humble.
"It's more than just football and personal glory," Powell said. "You really have to play for the team, and by playing for the team, everything else will come. I've just got to stay strong and keep doing the right thing."
Contact Paradise/Downtown View reporter Lisa Carter at lcarter@viewnews.com or 383-4686.