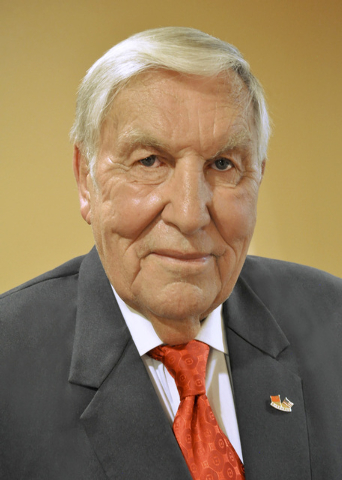 Bob Goodman's calling long-distance from the Philippines.
"I'm going off to Hong Kong and then to Beijing," he says in a telephone interview, shouting a bit to be heard over a scratchy connection. "I'm always traveling for investment and job creation in Nevada."
Now that he's the Democratic nominee for Nevada governor, he said he'll probably have to spend more time in the Silver State, where he was former Gov. Mike O'Callaghan's director of economic development in the 1970s.
"I intend to win," said the 79-year-old. "I may be second to none-of-the-above, but I'm on the ballot."
That's right, Goodman finished second behind "None of These Candidates" in Tuesday's eight-way Democratic primary, winning nearly 25 percent of the vote to none's 30 percent.
Now, he's trying to unseat the popular Gov. Brian Sandoval, who won the GOP nomination with 90 percent of the vote.
We asked Goodman some questions about his quixotic campaign:
Q: Where are you calling from?
A: I'm on a trade mission in the Philippines.
Q: Did you campaign much for the primary?
A: I put some signs up. I didn't spend any 15031, very, very little, all my own.
Q: Why did you get into the race?
A: Since there's no support for anybody, I had to get in. Somebody had to be in the race to make the race good. (The Nevada Democratic Party did not recruit a top-tier candidate, all but ceding to Sandoval's re-election.)
Q: Do you really think you can beat Sandoval?
A: I intend to win.
Q: But Sandoval is so popular, how can you beat him?
A: Everybody has a chance to beat the other guy. There's always a chance. I've been through life a long time. And I've won a lot and I've lost.
Q: Do you think your last name helped you win? (It's the same as the popular former Las Vegas Mayor Oscar Goodman and his wife, the current Mayor Carolyn Goodman.)
A: Yes, oh yes. Thanks to Oscar. It's been a great help.
Q: How well are you known?
A: The governor (O'Callaghan, as he left office) told me, 'The good news is you're not employed anymore. The bad news is you have very high ratings in Nevada — 80 percent name identity.' That comes from seven years of traveling in rural areas of Nevada.
Q: What did you accomplish from 1971 to 1979, during the O'Callaghan administration?
A: We brought the first Japanese, 60,000 of them, to Nevada in the '70s, in 24 months. … We made it an official tour package for Asia, all the markets, Las Vegas, Tonopah, Hawthorne, Reno and Winnemucca. I brought the first junket operator to Caesars Palace — a Hong Kong group that lost $4 million; $5 million.
Q: What are you doing now?
A: For 30 years I've created trade link programs for small businesses.
Q: Do you support the margin's tax? (It's a proposed 2 percent levy on business revenue of more than $1 million a year. It will be Question 3 on the Nov. 4 general election ballot as the "Education Initiative" to raise 15031 for schools.)
A: If we're going to tax, we should re-evaluate the entire tax system. I can't really support the margins tax now because it's just piecemeal. I'd like us all — the mining industry, business, gaming — to sit down and develop something for the future. The Republicans and Democrats aren't working too good together. (Goodman laughs.)
Q: Do you know Sandoval well?
A: I met him at the Western Governors (Association) conference last year. I met with the governor with a client from China. He owns the largest privately owned school in China with 1,200 students.
Q: What do you think of the governor?
A: He's very personable. The governor was very good at listening.
Q: It sounds like you're going to run a positive campaign.
A: Oh, I want a very positive campaign. I don't want a negative campaign. I hope we have a positive campaign. It's pretty hard to be negative with someone like myself. (He laughs.) I don't think I'm going to be negative. I hope not.
Q: What is your message to voters? Why should they vote for you instead of Sandoval?
A: I think that's premature until I come out with a platform and a plan. If I say something here I guess it's 'let the games begin.' Isn't that what they say? I intend to win so I guess that's the message.
Q: Really, you think you can win?
A: If you get in a race you get in to win. You don't get in to lose. … I'm alive and well and very healthy.
Contact Laura Myers at lmyers@reviewjournal.com or 702-387-2919. Find her on Twitter: @lmyerslvrj.