Busy governor gets even busier
February 1, 2015 - 2:51 pm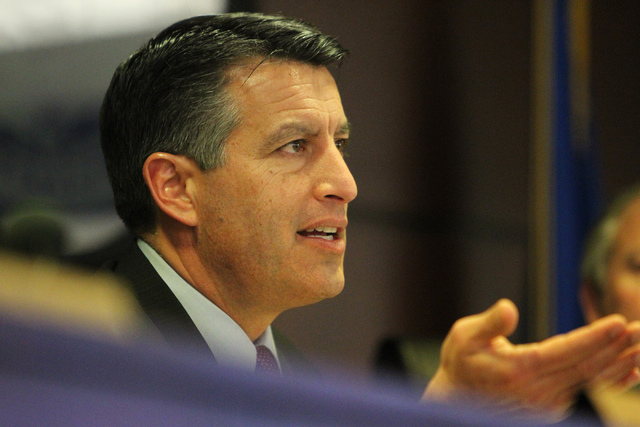 If Gov. Brian Sandoval was not already busy enough with a state budget and myriad other duties, he will be now with his latest assignment.
Sandoval and New York state Sen. Carl Marcellino have been named to lead The Council of State Governments in 2015 as the national president and chairman.
They will be joined in the leadership team by Nebraska state Sen. Beau McCoy as chairman-elect and Nevada state Sen. Kelvin Atkinson, D-North Las Vegas, as vice chairman.
Sandoval, who was re-elected to a second four-year term as governor in November, also was named in June last year as chairman of the Western Governors Association.
"I am honored to serve as the 2015 Council of State Governments president," Sandoval said.
"I look forward to this incredible opportunity to work in a bipartisan manner with my colleagues from across the nation to champion excellence in state governments and advance the common good. I congratulate my fellow leadership team on their selection and stand ready to begin the work to find solutions that benefit our constituencies."
Council Executive Director/CEO David Adkins said Sandoval's breadth of experience will be an asset to the organization.
"Having served in all three branches of Nevada state government, Gov. Sandoval brings an invaluable perspective to CSG and our mission to promote excellence in government through cooperation among all state leaders," Adkins said.
Sandoval served in the state Assembly in the 1990s and as a U.S. District Court judge. He also served as state attorney general.
Atkinson is the first African-American in line to lead the national organization when he becomes chairman in 2017. The national chairman is nominated by members of the council's regions on a rotating basis.
"I am humbled and honored to have been selected by my peers as the national vice chair of The Council of State Governments," Atkinson said.
"As a longtime member of CSG, I have always been immensely proud of my association with the organization due to its stellar reputation for bringing state officials from around the country together for meaningful discussions about public policy. I look forward to partnering with state officials, regardless of their political affiliation, to facilitate multistate solutions for the issues facing our country. I pledge to uphold CSG's values of inclusivity, professionalism and diversity in all that I do in my new role."
— Sean Whaley
TAKE MY WIFE … PLEASE
Some speakers might preface a key mayoral address with somber remarks or soaring oratory.
Then there's D.J. Allen.
Emceeing the Henderson State of the City luncheon Thursday, Allen sounded more like a stand-up comic than the Chamber of Commerce board chairman.
In between a plug for his forthcoming sports bar and taking a selfie with the mayor, Allen had a score to settle.
In third grade, it seems, he liked a girl named Julie.
"She wouldn't give me the time of day," he said, standing at a ballroom lectern before nearly 1,000 people. "Hey, Julie — how do you like me now?!"
After a skillfully timed beat, Allen acknowledged his wife in the crowd, adding, "I hope that wasn't awkward at all."
No, D.J., it was wonderful. He later confirmed his wife, Stacey, took the joke in stride.
"I'm a lucky man," Allen said.
— Eric Hartley
Contact Sean Whaley at swhaley@reviewjournal.com or 775-687-3900. Find him on Twitter: @seanw801. Contact Eric Hartley at ehartley@reviewjournal.com or 702-550-9229. Find him on Twitter: @ethartley.