Cadence celebrates opening
December 12, 2014 - 3:48 pm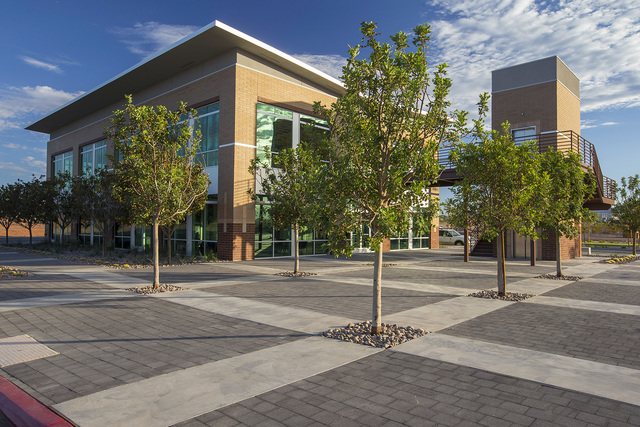 Cadence, a 2,200-acre planned community in Henderson, is celebrating the grand opening of its Home Finding Center with some pretty "sweet" offerings.
Through Sunday, guests at Cadence's Home Finding Center may enjoy complimentary gourmet gingerbread cookies and hot apple cider while they check out a customized gingerbread village. The Home Finding Center is open 10 a.m. to 4:30 p.m. today and Sunday.
The building is at the front entrance of the Cadence community at Lake Mead Parkway at Sunset Road — just east of Warm Springs Road; it is accessible via U.S. Highway 95 by exiting Lake Mead Parkway east or exiting Galleria Drive east.
The Home Finding Center provides an interactive glimpse into the residences and amenities that will soon span Cadence's grounds. The building itself is modern, open and sleek, featuring contemporary furnishings, a state-of-the art meeting room and intuitive home-finding kiosks.
"More than anything, we want our guests to feel right at home as they look for their future homes," LandWell Co. Vice President Cheryl Persinger said. "In addition to kiosks and renderings that exhibit our diverse builders' offerings, the Home Finding Center will be fully staffed, meaning someone will be there to answer your questions."
Beyond this weekend, the Home Finding Center's winter hours are 11 a.m. to 4:30 p.m. Monday through Friday and 10 a.m. to 4:30 p.m. on weekends. While at Cadence, guests may also tour the newly unveiled model homes from Woodside Homes, located adjacent to the Home Finding Center.
The Woodside Homes models range in size from 2,712 to 3,287 square feet and feature three to five bedrooms. Model homes from Heritage by Lennar, Richmond American Homes and Ryland Homes are slated for completion in 2015.
"In total and once complete, Cadence will have more than 13,200 homes, 450 acres of open spaces, a 100-acre sports park, free Wi-Fi in communal parks and the area's only free residential bike-share program," Persinger said. "The community's slogan is 'The Rhythm of a New Day' and we have the homes and amenities to live up to such a powerful statement."
Besides the Home Finding Center and Woodside Homes models, Cadence's Central Park is also near completion. The 50-acre park serves as a central gathering place for residents and their guests, featuring play structures for children, a splash pad, picnic areas and walking trails.
For more information about Cadence, visit www.cadencenv.com or call the Home Finding Center at 702-558-9366. You can also follow Cadence on Facebook at www.facebook.com/cadencenv or on Twitter at @CadenceNV.