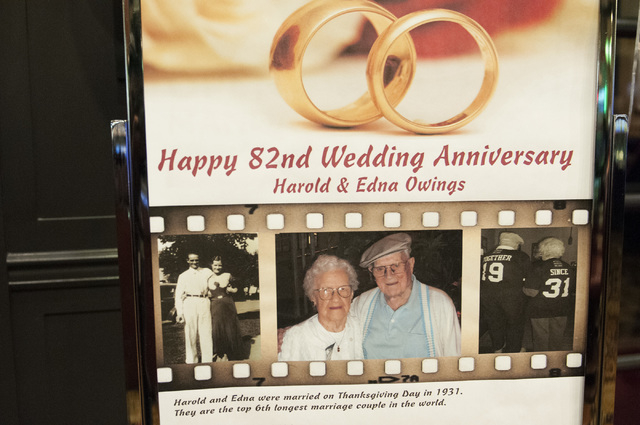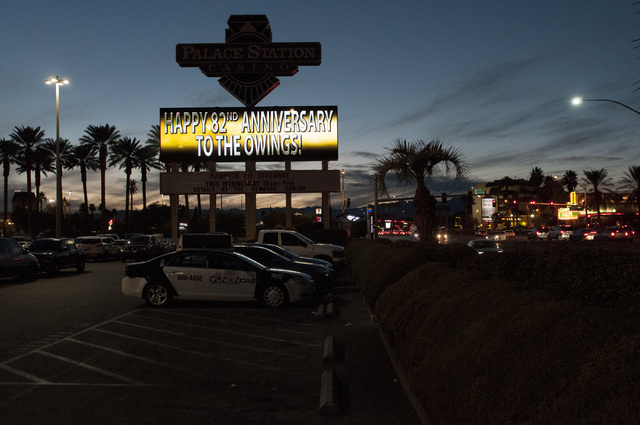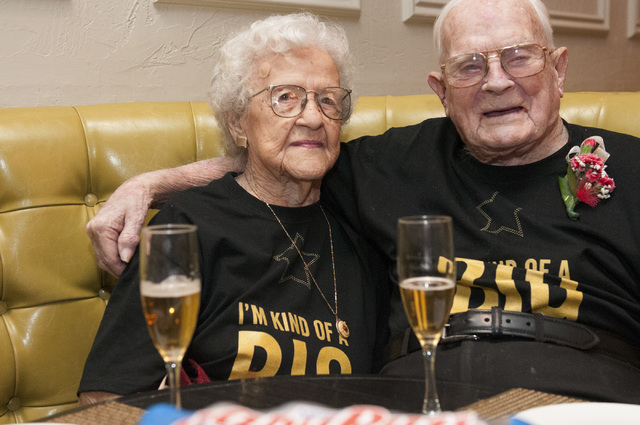 In fifth grade, Harold Owings gave the girl he was sweet on a Baby Ruth candy bar every day at school.
Fast-forward almost a century and the childhood sweethearts are sitting in front of a Baby Ruth cake for their 82nd wedding anniversary at Palace Station in Las Vegas.
Edna was the lucky lady who caught Harold's eye in Marion, Ind., all those years ago.
The couple sat in Palace Station's Pasta Cucina restaurant Tuesday evening for an "anniversary eve" dinner after walking on a red carpet decorated with balloons. She wore a corsage and he wore a boutonnière. They both wore coordinating jerseys that read "together since 1931" on the back.
Hotel staff set a cake on the table elaborately decorated to look like her favorite candy bar.
When Edna, 101, and Harold, 102, saw the cake, their faces lit up and they bickered good-naturedly about who would tell the story of why that particular candy bar was significant to them.
Edna won.
Harold's parents worked at a grocery store, she said, and he was always allowed to pick out a treat. Instead of eating them himself, like a normal 10-year-old boy would, he had better plans.
"I was his girlfriend and there'd be a candy bar Baby Ruth on my desk every day," she said, adding, "Two if he thought I was mad."
No, Harold Owings wasn't a normal fifth-grader. When most boys were playing outside or searching for bugs, Harold was experiencing love at first sight. Though Edna wondered why he chose her, because she had straight hair and the other girls had curly hair, Harold was sure.
"I knew I wanted to marry her," he said. Way back then, "She was my idea of what a little girl should look like."
They briefly lost touch when Edna's family moved to the next town over, but reconnected after Harold mentioned her to someone who turned out to be a mutual friend.
And the rest was history.
They were married on Thanksgiving in Edna's parents' backyard, just after Edna's 19 birthday. Harold was 20. One of Edna's sisters played the piano for the ceremony, and another sister and her beau were the wedding party.
That was in 1931. They've had a full life since then.
Their first apartment cost 50 cents a week.
Harold managed manufacturing plants — he was the big shot, Edna interjected with a nod — that produced everything from airplane landing gears to peanut butter-cracker sandwiches.
"We'd run them in the millions and never broke a cracker," Harold said proudly.
Something else Harold's plants produced is something Edna joked no one nowadays knows about — television tubes.
Edna originally wanted to be a nurse, but switched gears and enrolled in beauty school. Her father always stressed the importance of having job training, she said. Along with an education, Edna learned how to cook, which she still does, she said.
The couple lived in Florida for more than 30 years and then moved to California. They had two children, a son and daughter.
Their son joined the Marine Corps and became a sergeant. Their daughter was a competitive roller skater, which led them to travel around the world. Harold said that travel bug never went away.
"It gets awful monotonous sitting and looking out the windows for red cars," he said. Edna agreed. "He gets bored," she said.
To keep cabin fever to a minimum, the couple travel to Las Vegas from their home in Burbank, Calif., about every six weeks. They play cards and make friends. Harold said they first visited the Las Vegas Valley in 1947, when gas cost 11 cents per gallon so they could make the drive easily.
But not to worry, Edna said. They gave up driving years ago when she was 91.
Their son and daughter passed away several years ago, but the Owingses often visit their four grandchildren, the oldest of whom is 55, and their eight great-grandchildren, the oldest of whom is 27.
In fact, they will travel back to California on Thursday for Thanksgiving dinner with their family.
The Owingses' advice for married couples? Be happy, consider each other's feelings, and stay busy, Edna said.
Harold chimed in, advising couples to remember that both people have a right to their opinion.
"It's been very lovely," Harold said of the last eight decades with his wife. "It's been a happy last chapter."
"We enjoy everything we do," Edna said. "We try and be happy, because life is short."
Contact reporter Annalise Porter at aporter@reviewjournal.com.