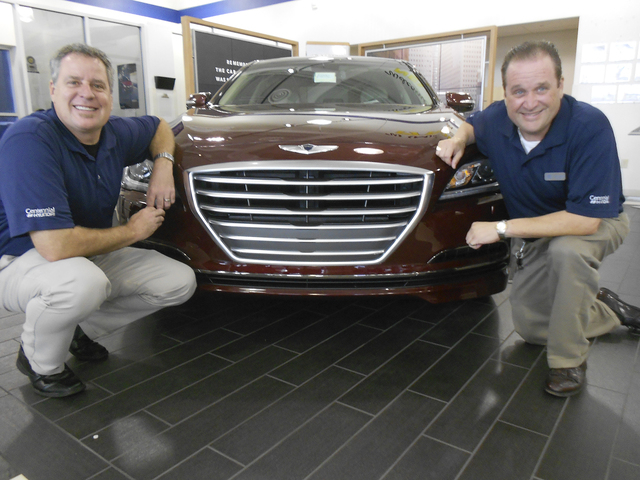 From the first day that the automobile was introduced to consumers more than 100 years ago, the car business has been a daily challenge.
However, when the Internet became a part of the world bringing social interaction and a wealth of information at the fingertips, it would eventually transcend the car business as evidenced by the importance of the Internet department at Centennial Hyundai.
The car business jumped into the Internet in the late 1990s and since then, the traditional six days a week that have included long hours have been replaced with seven days a week, 24 hours a day.
In fact, the Internet is so intense that some automobile executives estimate that 90 percent of their buyers first gather information on the Internet before entering their stores.
A four-person Internet department team at Centennial Hyundai includes sales manager Chris Rooney, Gina Daves, Florencio Rupley and TJ Saunders. The team generates about 25 percent of the sales at the Northwest location.
Leads can come any time during the day or night, so while the doors at the dealership may be closed in the middle of the night, the Internet team still must check their emails for possible inquiries at all hours.
"That's pretty much true," said Rooney, a 47-year-old former restaurant manager who entered the car business 11 years ago. "There is no rest for an Internet team. More than 95 percent of our customers go to three websites before walking into the dealership.
"Whereas you had to go into a dealership in past years, that's simply not the case now. Customers have information at the tips of their fingers, so they walk in the door very knowledgeable of the vehicle they are researching."
The 51 year-old Saunders, a six-year veteran of the car business, is starting his second year in the Internet department.
"It's a changing industry," said Saunders. "The customer really needs to know that he or she has a comfortable connect with the dealership. Internet sales people must be on their toes. When you look back at the old days of the car business, the Internet has cut the process from a multiple-day shopping excursion to a couple of hours. People now narrow their purchase down to three dealerships before walking in the door."
Each new Hyundai comes complete with a 10-year, 100,000 powertrain warranty along with the five-year, 60,000 full coverage warranty. The customer can extend the warranty for as low as $8 a month, creating 10-year bumper-to-bumper coverage.
Located at 6200 Centennial Center Blvd. in the northwest valley, Centennial Hyundai is part of a locally-owned operation that also includes Planet Hyundai Sahara at 7150 W. Sahara Ave. and the Planet Hyundai Used Car Superstore at 7100 W. Sahara Ave.
For more information visit www.planetlv.com or call 702-938-1400 (Sahara) or 702-483-2200 (Centennial) and visit the Centennial website at www.centennialhyundailasvegas.com.