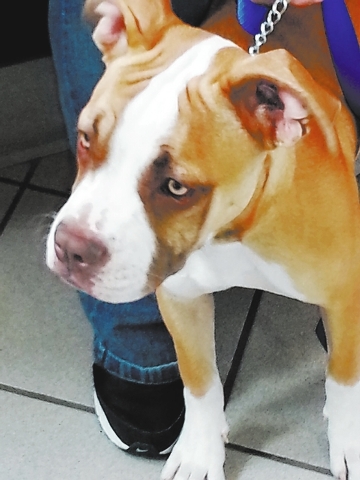 The rescue organization A Home 4 Spot has seen many dogs walk through its doors, some physically and emotionally abused, others owner-surrendered. Many of the dogs are scared and hoping for a second chance at life.
That's where Diana England, president and founder of A Home 4 Spot, comes in. She started the volunteer-based organization in March 2009 to provide foster care and medicine while seeking permanent homes for abandoned dogs.
"I wanted to do something that would make a difference in the city that I love, and I just wanted to try to save dogs," England said. "We focus on taking in dogs that are on death row or that have been in the shelter for more than 30 days."
Since then, England claims to have saved more than 1,600 dogs from being euthanized.
Before starting the organization, the Centennial Hills resident made regular trips to Lied Animal Shelter to adopt dogs and find them permanent homes.
After partnering with a friend, England's rescue received nonprofit status, which allowed her to expand her services.
"I don't go to Lied Animal Shelter anymore; I just search for dogs through the computer," England said. "It's too hard and emotionally draining to go to the shelter. You see so many dogs crying and trying to reach out their paws to you."
The organization will pick the dogs up after they are spayed or neutered, after which they head to foster homes to heal.. Volunteers will also take dogs that need grooming to Shaggy Chic.
Currently, there are 60 foster parents signed up with the organization.
In order to foster a dog, participants must fill out an application online and commit twice a month to bringing the dog to adoption events, which are held every Sunday.
Fosters will also have to go through a home check to make sure that their house is dog-friendly and secure.
"Good fosters are willing to take care of the animals, give them love and make them a part of their family," England said.
With some exceptions, most fosters are in charge of providing food for the dogs, and the organization will take care of all of the medical costs, which are provided at Spencer Springs Animal Hospital.
In addition, fosters must also take the dogs out to socialize and help them get them comfortable with people.
Debra Hood-Smith has been volunteering as a foster for almost four years. She has fostered approximately 10 dogs, one of whom she adopted.
"This work has been really rewarding," Hood-Smith said. "We are able to place dogs in a home instead of getting euthanized. Of course, I've gotten attached to the dogs that I have fostered, but it's normal. We just want to see these dogs living a happy life with a great family."
According to England, last year, the organization paid $74,000 in medical bills for treatments that included eye inoculations, broken leg treatments and treatments for gunshots and knife wounds.
England said on average, fosters can have a dog from six weeks to six months before they get adopted. She added that most of the fosters have adopted at least one dog.
Adoption fees average from $150 to $350, which cover surgeries or medical care that the dog has received.
Amanda Dawson, who has been volunteering for three years, said she has fostered 114 dogs, many of which have been sick and needed multiple surgeries.
"People can decide what type of dog they want to foster," Dawson said. "I usually take in the really sick ones that need extra care. It can be a lot of work, but it's very rewarding work, especially if you're an animal lover."
Typically, the organization will take in between two and eight dogs a week from Lied Animal Shelter, owner-surrenders or the streets.
A Home 4 Spot is scheduled to have its next fundraiser from 5 to 7 p.m. April 4 at Rachel's Kitchen, 150 Las Vegas Blvd. North, No. 160. The event will include an art show, cocktails and appetizers.
"There's a wonderful high that I get from doing this," England said. "I reached a certain age in life where I decided to do something that really matters. I want to save lives."
For more information, visit ahome4spot.com.
Contact North Las Vegas and Centennial View reporter Sandy Lopez at slopez@viewnews.com or 702-383-4686.