Centennial Superstore manager has know-how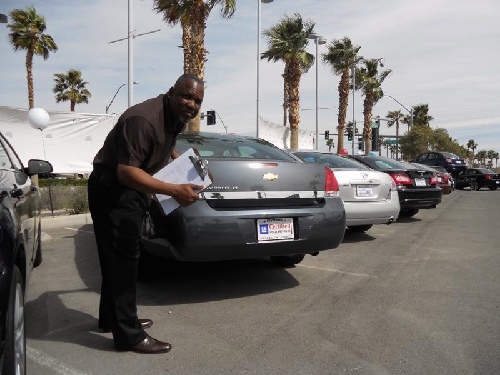 Centennial Superstore Used Car Manager Lance Carr has been in the automobile business since starting as a lot porter in 1986. He knows his business, whether it be appraising vehicles, buying them or selling them.
The native of Las Vegas and 1983 graduate of Rancho High School specializes in a very complex part of the car business, considering the ever-changing used-car side of the industry.
"One thing that I really care about is what the customer is buying," said Carr. "I want people buying used cars to know that what they're buying is a dependable vehicle. Someone once told me that we need to follow what is in the Bible in that you should never lie, cheat or steal.
"Used cars can create a touchy situation and it's vital that we only offer vehicles that we, too, would want to own. The way we treat the community is important, whether it be a new or used car."
Carr said the first impression of a vehicle is key when determining which vehicles are best for the dealership at 6501 Centennial Center Blvd. in the northwestern valley.
"When I'm buying cars for resale I always look to make sure the vehicle has not been damaged and hopefully has low mileage. I want cars that I would put my own daughter in without reservation. Used cars are good deals but it's our responsibility to make sure they're right for the consumer."
The 46-year-old Carr works the auctions four days a week looking for the best transactions either online or on site.
"We really try to buy good used cars locally because we don't have to worry about the shipping costs," he said. "There are so many variables in this business and I need to purchase a good car for as little money possible so that we can pass on the savings."
Also key to success in the used-car business is knowing the many automobile valuation systems.
"There was a day when the Kelly Blue Book was all we had," Carr explained. "Now, though, we have Manheim Market Report for the southwest district. Our purchasing is done off MMR, but there are others, too. We have to stay on our toes at all times to make sure everything runs smoothly.
"One day a car can be worth a certain amount and change dramatically in the next few days. I never quit studying the system because I never know when things are going to change."
The biggest demand today is for cars that are priced at $12,000 and less.
"Those are price-point cars with affordable payments for customers," Carr said. "These kinds of cars are getting hard to find all the time, especially with the competition among those of us who are used-car managers."
Carr said he enjoys working for Superstore Auto Group, which includes Buick, GMC and Mazda.
"I like working for them because they have given me an opportunity to do a job the way it should be done," Carr said. "They trust me here and it's all about doing better and better every month. My job is to get them some quality used cars at an affordable cost and so far we have done well. My main goal is to take this store to the next level."
When it comes time to relax, Carr loves to tinker with classic cars. His latest purchase is a '64 Buick Skylark.
"I'm doing a frame-off restoration," he said. "I'm sending it out to get it powder coated. I was born in 1964, and I love Buicks."
Further information regarding each of the dealerships can be found by visiting www.centennialmazda.com, www.centennialgmc.com or by calling 951-8200.
The dealerships are headed by General Manager Jan Sheinfeld.