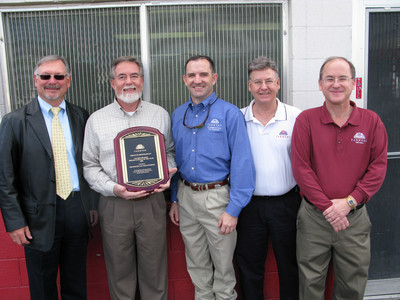 Chris Kuehler, Sunbelt division manager for Farmers Insurance, dropped by Chapman Dodge last week to award the dealership with the prestigious Circle of Dependability Award presented to the top body shop throughout the states of Nevada, Arizona, Utah, Wyoming and Montana in 2008. It recognizes the highest achievement in customer satisfaction and shop performance among automotive businesses working with Farmers Insurance.
"I'm so proud of Collision Center Manager Sam Gordon and his outstanding crew for all they do to keep our customers happy," said Chris Strahan, dealer principal of Chapman Dodge and Chapman Chrysler Jeep. "As a unit, they embody the familylike culture and work ethic of our entire dealership and this award proves it."
Kuehler added, "Chapman Dodge earned the 2008 Circle of Dependability Award for performing the most consistently high level of work over the entire year according to our records at Farmers. They have set the standard by which we will judge the performance of all of our other body shop relationships in 2009."
Farmers polled Chapman's customers after their repairs to ensure that they were satisfied with the quality of work performed and their experience in dealing with Chapman's personnel. Repeatedly, Chapman Dodge received the highest marks possible from its mutual customers. In addition, the shop was rated on a number of metrics to determine how well it performed by Farmers' standards. Again, Chapman was rated the No. 1 shop out of more than 300 in the Sunbelt Division.
"This is really quite an accomplishment," Chapman Dodge general manager Don Hamrick said. "Farmers Circle of Dependability Award means that an independent, well-respected company agrees with us that our customers receive first-class assistance here at our body shop."
Gordon has been in charge of Chapman Dodge's body shop for the last six years. He said customer care is a priority at Chapman and is glad the dealership's efforts were recognized by Farmers Insurance. He believes his team of 18 employees is successful because they treat customers like real people, not numbers.
"We know that when people bring their vehicles to us for repair, that their lives have been upset, too," said Gordon. "We won't let anyone leave here without a smile of satisfaction on their face."
As an important part of Las Vegas' original Dodge dealership, the body shop at Chapman Dodge is open for business Monday through Friday from 8 a.m. to 5:30 p.m. It is located on Boulder Highway just south of Sahara Avenue.
Currently, Chapman Dodge is in the midst of a moving sale to clear out its inventory before it moves locations to 3175 E. Sahara Ave. — the previous home of Fletcher Jones Toyota. The prices of all vehicles have been slashed to the lowest level of the year to avoid the expense of having to relocate them. The new location will allow Chapman to provide its customers with easier access, better selection and even better service.
Chapman Dodge is a Five Star Dealership that sells and services new and used vehicles. The dealership can be reached at 888-207-1749 or online at www.lasvegasdodge.com.
In addition to Chapman Dodge, Chapman Chrysler Jeep is also a Five-Star dealership that sells and services new and used vehicles and is located in the Valley Automall. Chapman Chrysler Jeep can be reached at 888-207-1687 and www.chapmanchrysler jeep.com.