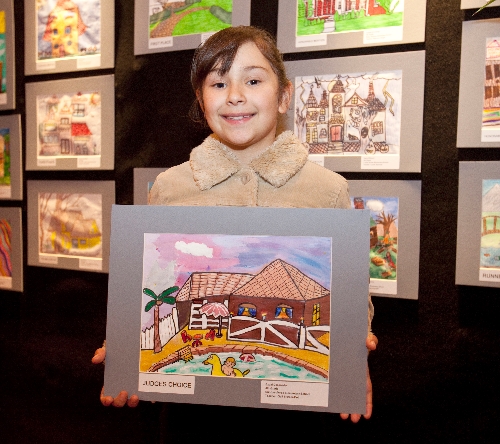 During the past year, students in the Clark County School District from kindergarten to fifth grades had the opportunity to enter their artwork in the 15th Annual Where I Live contest, depicting where they live or where they want to live in the future.
Entries were judged Nov. 8 by Jan Butler, Clark County art teacher (retired); Lyn Collier, editor of the real estate section of the Las Vegas Review-Journal; Thalia Dondero, artist and former Clark County Commissioner and University of Nevada, Las Vegas Board of Regents trustee; and Vija Hamilton, artist and CCSD art teacher (retired).
Out of the 4,253 art pieces submitted from 41 schools, 128 pieces were juried into the exhibition. The judges selected 21 pieces as the best works of art for reproduction in the Nevada Housing Division's annual calendar.
The Sands Foundation hosted an exhibition, reception and program at The Venetian Dec. 14 where the juried art contest winners' work was on display.
First-place winner Alexandra Zondirios is a fourth-grader who attends Ruby Thomas Elementary School. She drew a large home with a grassy lawn and stone walkway with a sunset in the background. Her winning artwork appears on the cover of the calendar.
"I like sunsets so I knew it would be good with that kind of house so I did a pretty sunset and used the yellow, orange and pink because they are pretty colors if you mixed them together."
Dennis Kubala, principal of Ruby Thomas Elementary School, said he is thrilled that one of his students won first place. "It is always fun to see the positive things kids can do at school."
Shannon Daigle, art specialist for Ruby Thomas, had three students' entries selected for the calendar, including the first-place winner.
"I am always proud of the winners. They (the students) always try their best," Daigle said.
"I am very proud and very fortunate that we have such a great art teacher and a wonderful school," said Politimi Zondirios, Alexandra Zondirios' mother.
Gail Trower-Coll, art specialist at Sunrise Acres Elementary School, had five students' work selected for reproduction in the calendar, including Judge's Choice, second place, honorable mention and two runners-up.
"I love it. I mean I would not be there if it weren't for my students. It is because of them I am still teaching because they inspired me so much," she said.
Judges' choice winner, Ezbai Coronado, attends the fourth grade at Sunrise Acres. Her winning picture includes a backyard, palm tree and a pool with a boy floating on a yellow duck intertube.
"I started with a small house and then I got a big idea. I am excited to win," she said.
Second-place winner Sidney Lizama Gonzalez, a fourth-grader at Sunrise Acres, drew a farm with a red barn, rooster, chickens with baby chicks and a pony.
"I have an uncle and we used to go to his ranch all of the time," she said.
"I feel very happy for her," said Anna Gonzalez, Sidney's Lizama Gonzalez's mother. "I know she likes to draw. She does that at home every day. I knew she was going to (win) a place (in the competition)."
Lisa Jimenez, art specialist for Berkeley L. Bunker Elementary School, had two students selected for the calendar including third-place winner Cheyenne Gonzalez.
"I am so excited for her. This girl is an amazing artist, she tries her best and she put a lot effort into this. I am really impressed with her artwork," Jimenez said
Third-place winner Cheyenne Gonzalez, a fourth-grader at Berkeley L. Bunker, drew a three-story home with a two-car garage.
"I started drawing and I wanted to make a really big house. I decided to make it (the house) for kids and for grownups so I drew a little car for kids and a big car for parents. I have a clubhouse on the top for little kids," she said.
The art contest originally was conceived and developed by the housing division in 1995 with the first exhibition in the Sawyer Building in 1996.
"This project has grown to be a very personal project for me, and the Housing Division," said Jean Robinson-Norton, public information officer of the Nevada Housing Division and coordinator of the Where I Live children's art contest.
"We see so many positive results from our efforts. Initially the contest was started to expose the elementary school-age children to the awareness of housing — where they live or where they would like to live. Over the 15 years that the contest has been in existence, we consistently see amazing works of art. These kids show such talent and I sense a better understanding of architectural design, art techniques and an appreciation of the community in which they live."
Community partners include the Sands Foundation, Clark County School District, School-Community Partnership Program, the Las Vegas Review-Journal Real Estate Section, Clark County Community Resources Management Division, Blick Art Materials, Nevada State Bank, Bank of America Home Loans and Pardee Homes.
The calendars are free and can be obtained by calling 486-7220, ext. 224 or e-mailing lvpr@housing.nv.gov. Supplies are limited.