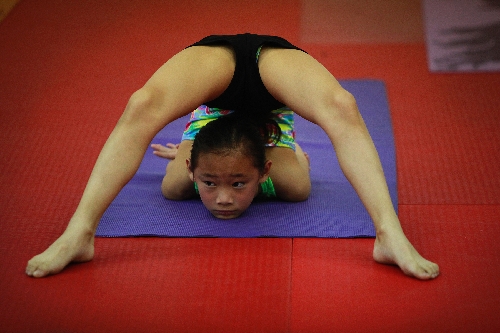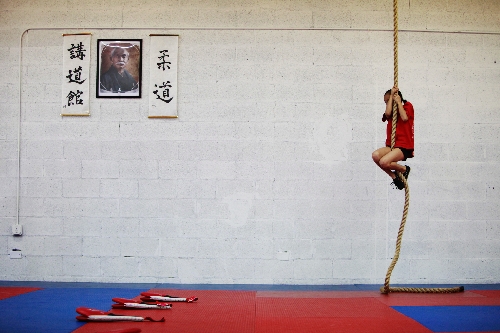 In a fast-powered flip, Jian ZengJiao (also known as JJ) lands in a booming smash to the floor right on his back. It's no accident — the trick is part of the Spring Valley resident's wushu routines. Spears slice the air, whizzing as he performs a fighting match. His wife bends her body in unbelievable forms, contorting to poses that make most audiences grimace.
The couple, who are performers in "KA," the Cirque du Soleil show at the MGM Grand, also teach their skills to kids of all ages at their recently expanded Spring Valley school, Las Vegas Modern Kung Fu, 4050 Vanessa Drive. In the heart of Chinatown, the school offers technical teachings backed by cultural understanding.
Contortion, or unusual and dramatic bending of the human body, requires strength and natural flexibility or training from a young age. Wushu is a traditional Chinese martial arts style that features difficult high jumps, low stunts, speed tricks and more balance and power than other forms of martial arts.
"There is so much cultural, practical application," said ZengJiao, who started wushu training in China at age 8.
As part of the Beijing Wushu Team, he trained under Wu Bin, who also coached actor Jet Li.
ZengJiao also has had his share of on-screen performances. He was an assistant choreographer and stunt double in "Warriors of Virtue " and has performed on various television shows, including "America's Got Talent" and "The Tonight Show with Jay Leno." He holds six individual championship titles in Chinese wushu competitions and was the 1999 World Wushu Champion.
"Honestly, my coach in China was 10 to 100 times tougher," ZengJiao said with a laugh. "But my training here is good."
His wife, Altanzul Ulambayar (also known as Zula), trained under strict coaches in Mongolia.
ZengJiao said he understands the patience that comes with teaching children in a culture not as disciplined as the Chinese. Although he is not as strict as his coach, ZengJiao said his students perform at a competitive level and possess strong skills in the sport.
"In China culture, you teach as a father. You are tough but you also show love," he said. "I believe they love me and Zula, and we love them, too. Seeing their improvement is my biggest happiness."
Elise Aguirre, 14, started training with ZengJiao at the school about two years ago and said she has learned everything from acrobatics to acting in her wushu courses.
"Not only is he a hard-working instructor, but he's family to us. He treats us with respect," she said. "I wouldn't trade him for anything else."
Sixteen-year-old twins Pualani and Leilani Wong said they had seen the Cirque du Soleil shows in town, as their father works at "KA," and they always wished they could bend like the actors in the shows. Naturally flexible and strong from gymnastics, they decided to take contortion lessons from their father's coworkers at Las Vegas Modern Kung Fu.
"I always wanted to do it but didn't think I could," said Pualani, who can pull her legs over her head while lying on her stomach, touching her toes to the floor. "But sometimes you do just have to suck it up. Some of the stretches hurt. It's not as bad once you do it more."
She said she is working on placing her feet flat on the ground over her head but isn't quite there yet.
The classes have inspired many of the students to consider performance careers of their own.
The Wong twins attend West Career and Technical Academy for physical therapy and veterinary instruction but said they love being on stage and would want to be in a Cirque show if the opportunity presents itself . For Aguirre, wushu has surprisingly stolen her heart, and she said she plans to pursue the sport professionally.
The girls' first choice: roles alongside their coaches in "KA."
Contact Southwest and Spring Valley View reporter Jessica Fryman at jfryman@viewnews.com or 380-4535.
Las Vegas Modern Kung Fu
4050 Vanessa Drive in China Town
lasvegaswushu.com
888-399-8506