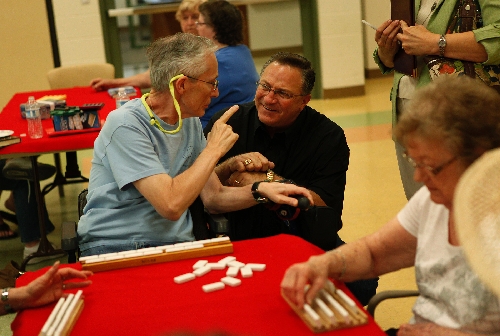 As seasonal changes sweep into the valley , a similar front is moving into Ward 6, says city of Las Vegas City Councilman Steve Ross.
View spent an afternoon with the councilman to take pulse of the past, present and future of Centennial Hills and its still-growing population. Before a question was launched, Ross addressed the troubles and potential of his neighborhood in four words.
"Well, I'm an optimist," he said.
Whether it's a peek through rose-colored glasses or standard 20/20 vision, that glance would show a ward in recovery.
Multiple store fronts are vacant. Foreclosed homes freckle most neighborhoods. Centennial Hills, home to one of the largest city of Las Vegas populations at about 130,000, has a high unemployment rate .
"Despite what's happening with our country's economy, things are really great out here," Ross said.
Ross said small economic indicators give him hope.
Home sales are resurrecting, he said. Ross and his wife, Kelli, have put their Centennial Hills home on the market and are looking for real estate in Ward 6.
Although the area grew fast and foreclosure rates rose similarly, Ross said homeowners are finding their footing. Ross said he has prioritized bringing leaders in the foreclosure industry together.
He hosted a summit this year with banks, lawmakers, the U.S. Department of Housing and Urban Development, Fannie Mae, Freddie Mac and credit counselors to "discuss how we got here and what we can do tomorrow."
"We're going to come out of this," he said.
Mazda and Hyundai car dealers and Sportsman's Warehouse have opted to start selling in Centennial Hills. Las Vegas-based Metro Pizza is building a store and its employment center on Sky Pointe Drive and Cimarron Road. All of the pizza dough for the eatery's Las Vegas locations is slated to be distributed from the new location.
Job creation, he said, is going to come from local level moreso than federal.
"This is where things get done," he said.
Ross said he has stacks of new business paperwork pass his desk each week.
Frank Pankratz, president of EHB Companies, approached Ross about his plans to develop the former Great Mall site into a shopping district akin to his recent project, Tivoli Village, near Summerlin.
The dollar signs Ross sees in the idea fall right into his constituents' pockets, he said.
"We want to do the same thing out in the northwest; it may not be right away, but we want to get out there," Ross said. "Of course, I'm stoked because it's an employment center, it's jobs."
EHB Companies has no immediate plans for development.
Ross said many developers are scooping up parcels that have been abandoned and building on what the previous owner already had zoned and mapped.
The College of Southern Nevada and Opportunity Village are slated to build on land adjacent to the Centennial Hills Transit Center Park & Ride, 7313 Grand Montecito Parkway.
The Kyle Canyon Gateway project, a proposed cluster of 9,000 houses, retail properties and a casino at the intersection of Kyle Canyon Road and U.S. Highway 95, is stumbling to start.
Ross addressed the face-lift to the highway system that is under way and planned. The Nevada Department of Transportation is nearing the halfway mark of five projects to widen U.S. Highway 95 from Washington Avenue to Ann Road and beyond to Kyle Canyon Road.
The undertaking will provide two new interchanges and more lanes to access a population that continues to spread to the northwest .
The interchange around Buffalo Drive and the Las Vegas Beltway is a targeted area Ross holds dear.
Ross said he often hears gripes about poor connectivity around the intersection. Sometimes it comes from a close source.
"I've many times told the story of my daughter calling and saying, 'I'm at the Home Depot. How do I get to Target?' " he said. "It was very difficult for me to be a city councilman and do nothing. I don't want businesses to suffer on either side of the road."
Ross said he also wants access to be easy for North Las Vegas residents who may be drawing on Centennial Hills services more and more as its city government weathers tough economic times.
"If they decide to start cutting rec centers, they're going to come up here to use our services," he said, " which is all right by me, but it's already a strain on the city of Las Vegas."
He said Centennial Hills should be proud of its amenities such as the Centennial Hills YMCA and the Centennial Hills Active Adult Center, 6601 N. Buffalo Drive.
"The people own this building," he said.
Ross hosts a satellite office in the building and said the adjacent meeting room is available to Ward 6 residents.
Ross said he sees Ward 6 bouncing back from economic falls thanks to job creation. He said businesses and neighborhoods will stabilize when Las Vegans get back to work.
"I'm a firm believer growing up in Las Vegas that we're a resilient people," he said. "The tougher the road gets, the tougher we get."
Contact Centennial and North Las Vegas View reporter Maggie Lillis at mlillis@viewnews.com or 477-3839.