Clark County sees record-setting weekend for early voting
October 23, 2016 - 10:58 pm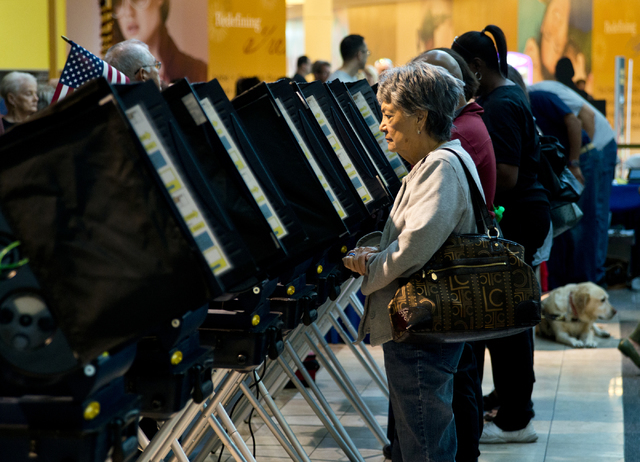 On the heels of a record-setting first day of early voting, Clark County voters set a new benchmark Sunday, casting more than 30,000 ballots on the second day, according to county election records going back to 2000.
As of 6 p.m. Sunday, 30,220 ballots had been cast , according to county spokesman Dan Kulin.
The 30,220 figure, which does not include ballots cast after 6 p.m. Sunday, topped the total 26,010 ballots cast on the second day of early voting in the 2012 general election by more than 4,000 votes.
On Saturday, voters cast 39,309 ballots, besting the 2012 general election figure of 33,182 by more than 6,000 votes.
Officials estimate that more than 60 percent of Nevadans who vote in the general election will vote early.
Nevada voters can cast early ballots at 97 voting sites until Nov. 4. The general election takes place on Nov. 8.
MORE INFO
More information on voting site locations and their dates and times of operation can be found online at: http://bit.ly/2ey6QbQ
RELATED
Clark County voters set early-voting record as nearly 40K turn out on day 1 — PHOTOS