Clinton attacks Trump's 'alt-right' agenda in Reno — VIDEO
August 25, 2016 - 4:22 pm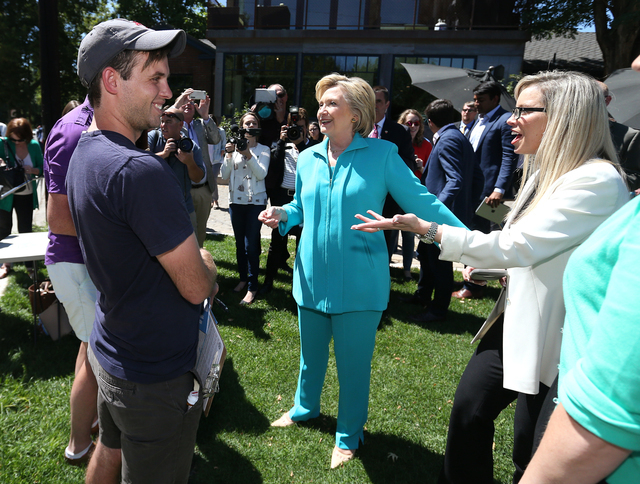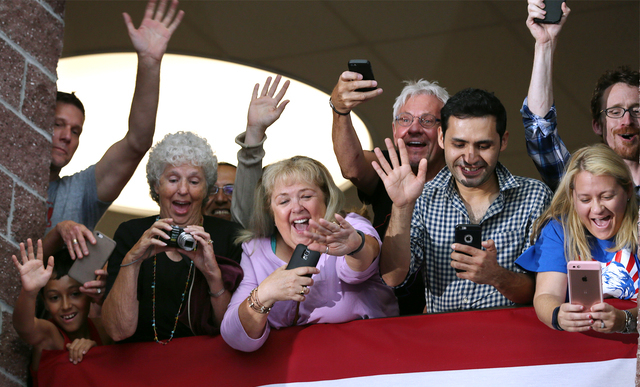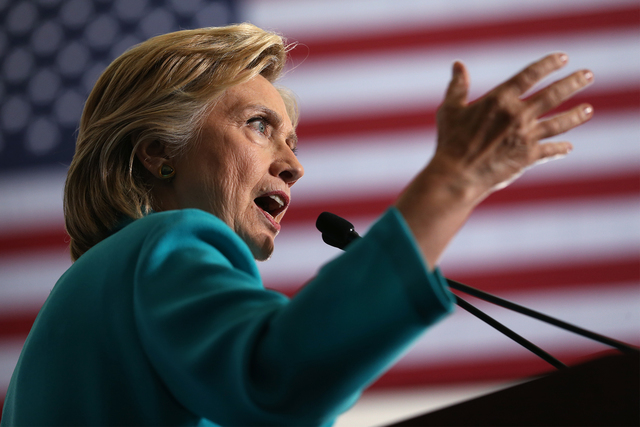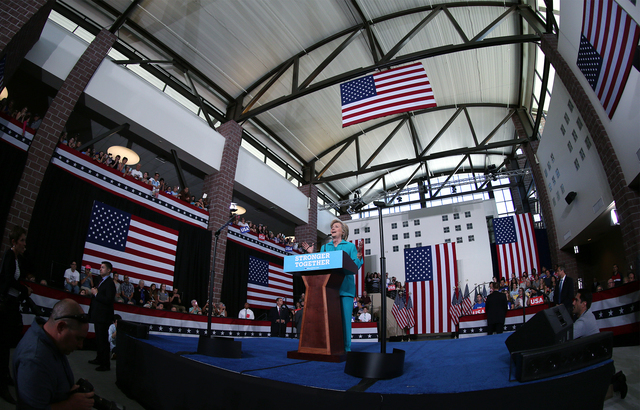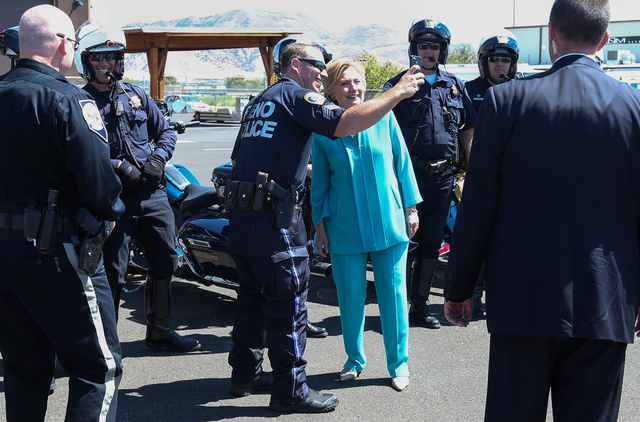 RENO — Hillary Clinton returned to Northern Nevada on Thursday and called out Republican presidential nominee Donald Trump for promoting what she called a disturbing "alt-right" agenda that promotes hate and divisiveness.
"The paranoid fringe now calls themselves alt-right, but the hate burns just as bright," the Democratic presidential nominee said to a cheering crowd of about 1,000 people at Truckee Meadows Community College in north Reno.
"He is taking hate groups mainstream."
Thursday marked Clinton's first trip to Northern Nevada since Nevada's presidential caucuses in February.
Polls show Clinton and Trump in a tight contest in this battleground state. Trump is scheduled to speak Friday night at Lake Tahoe at a closed dinner fundraiser for the Nevada Republican Party.
Clinton, a former secretary of state and U.S. senator, spoke for 30 minutes condemning the Republican nominee and his campaign, now led by former Breitbart Executive Director Stephen Bannon.
"The de facto merger between Breitbart and the Trump campaign represents a landmark achievement for the 'alt-right,'" she said. "A fringe element has effectively taken over the Republican Party."
Clinton also scoffed at the billionaire and reality television show star's overtures to try to sway minority voters. Trump has said the Democratic Party has pandered to minority voters for years. At recent rallies, he urged African-Americans and Hispanics to vote for him, proclaiming, "What do you have to lose?"
"It really does take a lot of nerve to ask people he has ignored and mistreated for decades, 'What do you have to lose?'" Clinton told the Reno crowd. "Because the answer is everything."
TRUMP STRIKES BACK
Trump fired back in an email issued through his campaign.
"This is the year that the people who have been betrayed by Democratic policies, including millions of African-American and Hispanic-American citizens, reject the politicians who have failed them and vote for change," Trump said.
"Nearly four in 10 African-American children live in poverty; 58 percent of African-American youth are not working. More than 2,700 people have been shot in Chicago this year alone.
"These are the consequences of Hillary Clinton's policies," Trump said. "She has brought nothing but pain and heartache to our inner cities."
Heather Matthews of Reno, a Trump supporter, said Clinton "was very astute and well spoken" but didn't say anything to change her mind.
"I wanted to hear what she had to say," Matthews said.
Matthews also said some of Trump's comments have been misunderstood and mischaracterized.
Trump's desire to keep Americans safe by more thoroughly vetting immigrants is not prejudice, she said.
PROTESTERS, SUPPORTERS SPEAK
Earlier in the day as hundreds of people waited in line to get through security and the Clinton rally, a small but vocal group of protesters chanted slogans and carried signs opposing Clinton.
"Pay to play. That's the Clinton way," they yelled, a reference to a recent Associated Press report about donors to the Clinton Foundation who had access to Clinton.
Brianna Doan, 22, and her mother, Naomi DiMartino, 42, were among the demonstrators.
"We just really don't want to see a liar who stole the nomination of her party be elected president," Doan said. She described herself as a Trump supporter but said others in the group were backers of U.S. Sen. Bernie Sanders.
Doan carried a sign that read, "Word to your mom. Hillary loves to drop bombs."
The Republican National Committee issued a statement also criticizing Clinton, saying Nevadans "deserve answers" about Clinton Foundation donors.
"While Hillary Clinton often views herself as above the law, anyone seeking the highest office in the land should be willing to face members of the media and answer for their questionable behavior," committee spokeswoman Sara Sendek said in an email.
Protesters outside @HillaryClinton rally in Reno. #RJnow pic.twitter.com/tpNssVn5RP

— Sandra Chereb (@SandraChereb) August 25, 2016
Bob Kane of Hawaii said he wanted to hear Clinton speak in a swing state. A Sanders supporter in the Democratic primary contest, he said there is no choice now but to vote for Clinton over Trump.
"Everything she said is true," Kane said. "He is a bigot. The people he attracts are right-wing nuts."
After the rally, Clinton was whisked in a van to downtown Reno, where she visited with campaign volunteers who were registering voters near the Truckee River. Clinton said she was impressed to hear that the volunteers had registered 10 people so far on Thursday.
"We want more people to know how important it is to register to vote," she said.
She pointed to the volunteers and said: "If there is anyone in the press who hasn't registered to vote …"
She also stopped into Hub Coffee Roasters nearby to chat with patrons, and tried a chocolate or two at Dorinda's Chocolates next door.
She was with Reno Mayor Hillary Schieve, who endorsed Clinton.
"I'm the other Hillary," Clinton said.
Contact Sean Whaley at swhaley@reviewjournal.com or 775-461-3820. Find @seanw801 on Twitter. Contact Sandra Chereb at schereb@reviewjournal.com or 775-461-3821. Find @SandraChereb on Twitter.
RELATED
Hillary Clinton wins Democratic nomination for president
Clinton to focus on Trump's 'alt-right' political philosophy in Reno on Thursday