Clinton, other presidential hopefuls flock to Vegas this week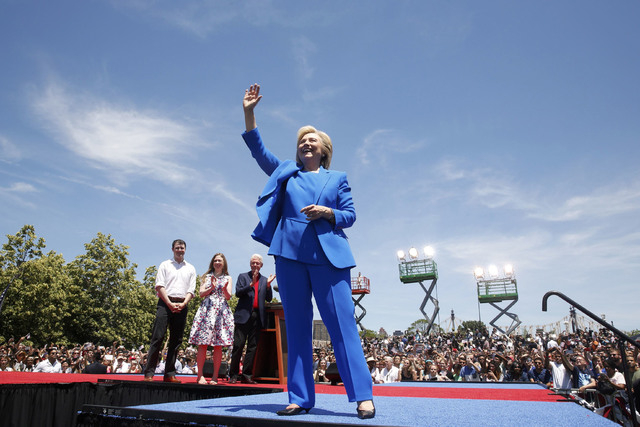 Three announced and presumed presidential candidates, from the high profile to the long shots, will make the trek to Las Vegas this week.
Former Secretary of State Hillary Clinton, the Democratic front runner, will speak Thursday at the National Association of Latino Elected and Appointed Officials' 32nd annual conference at the Aria.
The association, which is nonpartisan, also is giving other candidates from both major parties who have less name recognition an opportunity to connect with conference attendees. The speakers include Dr. Ben Carson, a neurosurgeon seeking the Republican nod for president, speaking Wednesday; and U.S. Sen. Bernie Sanders, I-Vt., who is mounting an underdog challenge for the Democratic nomination and speaking Friday.
Their participation comes amid the growing sway of Latino voters on the political landscape. Hispanics represented almost 16 percent of Nevada's eligible voters, according to data compiled in 2014 by the Pew Research Center. Nevada has the 13th largest Hispanic eligible voter population in the U.S., according to the center.
Nevada is a key state to watch, given its swing-state status and near-perfect record of picking presidential winners. It also is an early-voting state, holding the first presidential caucus in the West after votes in Iowa and New Hampshire.
"The race for the White House in 2016 will be decided by the Latino community," said Arturo Vargas, NALEO executive director in a statement. "We are excited to have Presidential Candidates Dr. Ben Carson, former U.S. Secretary of State Hillary Clinton and U.S. Senator Bernie Sanders join us to address our nation's Latino political leadership on the issues most important to the Latino community."
Clinton spoke about immigration reform May 5 at Rancho High School, calling for a "path to full and equal citizenship."
Her team has been engaging the Latino community and reaching out to Hispanic business leaders, immigration advocates, elected officials and families, a campaign aide said Friday.
Her campaign also is emphasizing her deep ties to the Latino community from long before Clinton became first lady after the 1992 election. That work includes registering voters in south Texas while volunteering for the 1972 campaign of Democratic presidential candidate George McGovern.
Carson, who stresses the grassroots nature of his bid for president, has two events planned for this week in Nevada. He will speak at a rally Tuesday at the University of Nevada, Reno, and at the NALEO event Wednesday.
Visits to Nevada will continue after the conference. Former Republican Florida Gov. Jeb Bush is expected to visit Henderson on June 27. He is expected to announce his candidacy Monday, according to The Associated Press. Bush aides didn't offer any details about the visit last week.
Bush visited Reno and Las Vegas on May 13.
For more information about the NALEO conference, visit http://www.naleo.org/lasvegas2015/. Conference passes can be purchased on site starting Tuesday at the event, with costs ranging from $700 to $900 and open to members and non-members.
Contact Ben Botkin at bbotkin@reviewjournal.com or 702-387-2904. Find him on Twitter: @BenBotkin1.