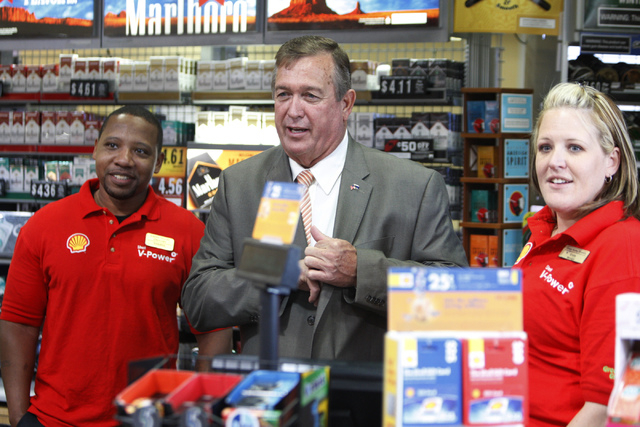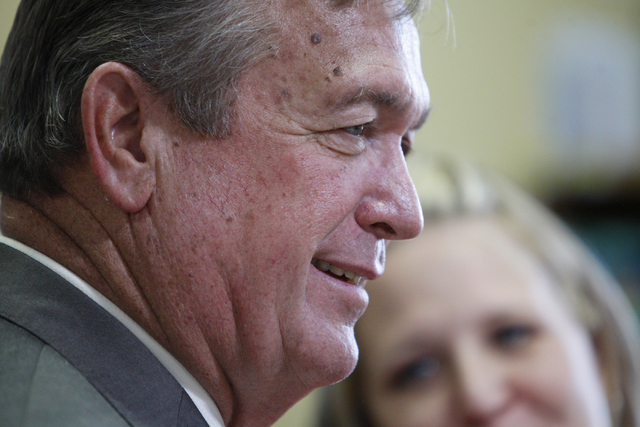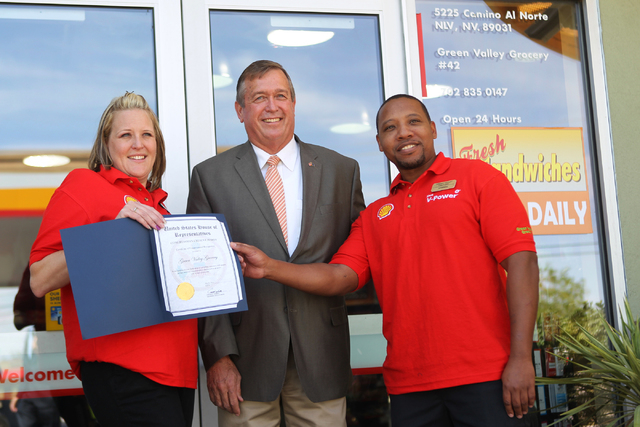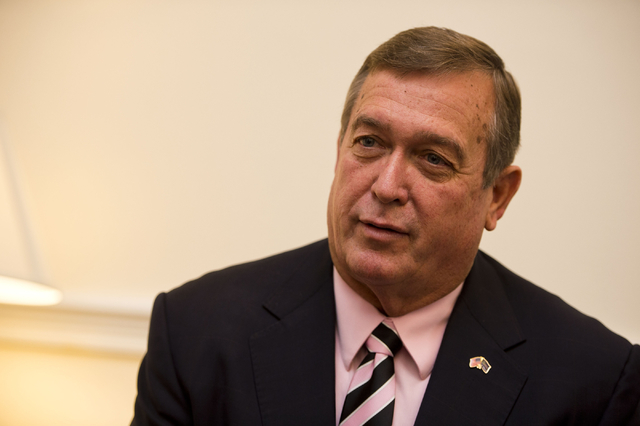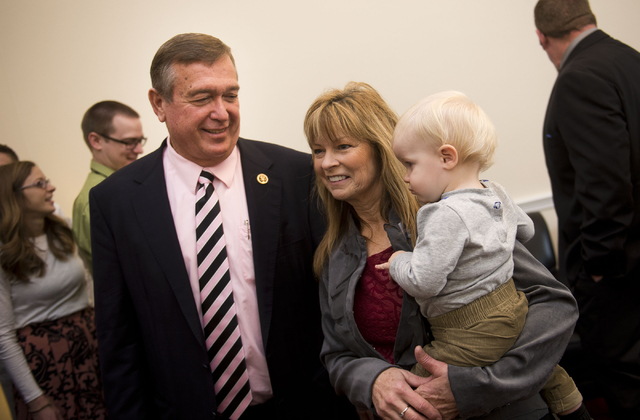 Outside the Department of Motor Vehicles in North Las Vegas, Jose Garcia is wearing a suit and is standing, not sitting, behind a folding table draped with blue cloth stamped with the name of his boss, Cresent Hardy, and the logo of the U.S. House of Representatives. The table is not in the shade.
On the table there are stacks of pamphlets — one for a Hardy-hosted Veterans Care Fair at the North Las Vegas City Hall on June 5; two in Spanish offering immigration help through U.S. Citizenship and Immigration Services.
There's also a few pocket-size U.S. Constitutions next to miniature U.S. and POW/MIA flags.
The largest handout simply explains why Hardy, R-Nev., has staffers standing outside a DMV office on a Wednesday in April. Constituents, it says, can rely on his team to "find answers to your questions, solutions to pressing matters and help cutting through red tape" on issues such as, but not limited to, Social Security, Medicare, Veterans Affairs and the Internal Revenue Service.
DMV offices and college campuses are the best places to do this kind of outreach. Garcia says Hardy's people also like to set up at libraries and senior centers in places such as Pahrump, Mesquite and Yerington — corners of the 4th Congressional District that Hardy won in an upset in November.
Garcia's day in the hot sun is a crucial piece of Hardy's effort to keep representing the district that sprawls from urban North Las Vegas through most of central Nevada, including rural Nye, Lincoln, White Pine, Mineral and Esmeralda counties, and part of Lyon County.
Democrats mock Hardy as an "accidental congressman" in light of his 2014 upset of incumbent Steven Horsford with help from a late TV ad push by the conservative Crossroads GPS SuperPAC. But Democrats acknowledge they also have themselves to blame for failing to inspire turnout in a district that has 31,000 more Democrats than Republicans.
Now, Democrats have declared Hardy a top target in 2016, while House Republicans put Hardy in their "Patriot" program, which provides fundraising and organizational help to battleground incumbents.
Seeking a fast start, Hardy raised $292,250 in the first three months of this year, with more than $90,000 coming from Republican colleagues. Sen. Dean Heller, R-Nev., and fellow Nevada GOP Reps. Joe Heck and Mark Amodei loaned staff to help launch Hardy's Capitol Hill office.
Hardy also capitalized from the retirement of House Armed Services Committee Chairman Buck McKeon, R-Calif., hiring McKeon's experienced chief of staff Alan Tennille and legislative director Rob Yavor. Three other McKeon alumni work for Hardy, including Garcia, who runs Hispanic outreach in Nevada.
In a telling move, Hardy has stationed his communication director, Scott Knuteson, in Nevada. Other Nevada lawmakers keep their messaging people in Washington.
Because the 4th Congressional District has 56,000 unaffiliated voters who could hold the key to his future, Hardy has been advised to make himself in­dispensable to folks back home who need help, if he wants to keep the job.
"It's a numbers game," Heller said. "He knows it. He understands it. He needs some crossover (votes), and the way to get crossover is by good constituency service."
Hardy "is doing everything right at this point," Heller said.
DELIBERATE OUTSIDER
A burly man, Hardy has carefully kept out of the spotlight in Washington, avoiding news conferences and discouraging any suggestion the heady atmosphere of the Capitol could affect — or infect — him.
When a reporter recently joked that Hardy seemed comfortable in the chairman's seat while momentarily filling in for Transportation Committee leader Bill Shuster, the Nevadan blanched and quickly said, "Not really."
His office is adorned with photos of his family, military challenge coins he's begun to collect, a 36-star American flag replica and a figurine of Las Vegas Mayor Carolyn Goodman. And although Hardy takes pride in the antique wooden tools he collects and displays, he says "it wouldn't have bothered me" if the office lacked any decor at all.
Hardy and Amodei share an apartment off Capitol Hill, where the defining furnishings are said to be their recliners. Most free weekends he returns to Nevada to be with Peri, his wife of 32 years.
Born in St. George, Utah, and raised in Mesquite, Hardy, 58, attended Utah's Dixie State College but didn't graduate. An engineering contractor, he sees his handiwork in the subdivisions, bridges and dams he helped build across Nevada and Utah.
He says he never aspired to Congress, although he was active in community affairs and local boards in Mesquite before serving two terms in the Nevada Assembly.
In Washington, satisfaction comes from hard work, he said.
"There's nobody (who) can outwork me," Hardy said. "I've already had that compliment from a few people in the district that they've seen me more in this short time than they saw my predecessor in two years."
In conversations, Hardy mentions his late father, Larry, a Mesquite farmer and rancher.
Larry Hardy wouldn't have been much impressed with Washington.
"He'd say, 'Son, what the hell were you thinking?' " Hardy said.
"The reason I get involved in community service is because that's the way I was brought up," Hardy says. "The thing my dad always said was, 'Gaddamit, if you want the horse or buggy to go where you want it to go, you have to have control of the reins. Stop sitting in the back of the buggy!' "
Hardy's father also told him something he has shared with constituents when he seeks their thoughts on issues.
"My father told me, 'Son, don't come to me with a problem unless you have an answer to fix it,' Hardy said, "I think that's part of the problem with our society today. We always have problems but we never come up with solutions to fix them, and if you leave it up to us people in Congress to do it, you are not going to like the whole answer."
POLKA DOT POLITICS
Hardy describes himself as a "constitutional conservative," who favors a "limited and efficient government" whose citizens are self-reliant and in­dependent, and who care for their neighbors.
He said he has yet to cast a tough vote in Congress.
"I've watched that happen with other people, and I'm glad I don't have that problem," Hardy said. "I've literally seen some votes that guys are nervous about where to go. … I think sometimes they're worried about the next election. I don't worry about the next election. I believe if I do my job, people will put me back here. I'd like to believe that.
"I'm a black-and-white type guy," Hardy said. "Here, the way things move, and so much is wrapped into everything, it's a little frustrating sometimes to me. I feel like it's polka dots. You have to find out which polka dots you like and which ones you don't."
Hardy has a 94.3 percent rating when it comes to voting the Republican Party line, staying with leadership on 150 out of 159 votes so far, according to Congressional Quarterly. The average GOP "party unity" score is 95.5 percent.
As for President Barack Obama, Hardy voted with the president four times and against him 26 times on the 30 occasions the White House has declared a preference, according to CQ calculations through May 1
One vote in step with Obama was against the so-called Blackburn amendment to block funding for Obama's Deferred Action for Childhood Arrivals order, the so-called DREAMer program granting work permits to young people who were brought into the country illegally. Hardy said it would not have been fair to those who already had applied.
Although nowhere close to loyalty numbers put up by Democrats, Hardy's 13.3 percent presidential support rating actually exceeds the 7 percent GOP average.
Hardy has sponsored three bills. One, backed by other Nevada delegates, adjusts federal land boundaries in Lincoln and White Pine counties. A second is a "message" bill — unlikely to pass — that forbids the government from buying or swapping land if the deal results in a net increase in federal holdings.
The third, a small-business contract rule revision, is on track to become law as part of a must-pass defense authorization bill.
BOLD MOVE ON YUCCA MOUNTAIN
Although Hardy largely has kept his head down, the one time he raised it was a doozy.
In an opinion piece published by the Las Vegas Review-Journal in March, he called on the state to set aside its long-held refusal to negotiate on nuclear waste disposal at Yucca Mountain.
Yucca Mountain "is an issue that long ago lost its middle," Hardy wrote, suggesting that if the site 100 miles northwest of Las Vegas is deemed safe, the state might negotiate more Colorado River water or increase federal education or infrastructure funding in return for dropping its opposition.
Yucca Mountain has been called the electrified third rail of Nevada politics — touch it and you die. When Hardy grabbed it, he sent a jolt through the state and recharged debate over the project. Sen. Harry Reid, D-Nev., called him naïve. But Heck echoed Hardy, saying Nevada "deserves a seat at the table in the Yucca Mountain debate."
Hardy insists his call for open discussion does not make him "pro-Yucca." He said his stance grew out of his congressional orientation, where House Energy and Commerce Chairman Fred Upton, R-Mich., told freshmen that Yucca Mountain was a priority for his panel.
"It was in no uncertain terms he wanted to get that done this year, moving that forward," Hardy said. "Knowing where that stands, you better start being prepared. If all 49 states are against you, you better start having a discussion.
"I don't understand why it got so blown up because all I said is, 'let's have a conversation,' " Hardy said, adding that there have been no conversations on Yucca Mountain among Nevada law­makers subsequent to his opinion piece.
"Since then, the only person who's talked to me is (Rep. John) Shimkus," an Illinois Republican and leader in the movement to revive the nuclear waste program.
PLAIN TALKER
An hour and a half into his first hearing as a member of the House Natural Resources Committee, it was Hardy's turn to speak and he introduced himself to Interior Secretary Sally Jewell.
"I'd like to let you know I'm a fifth-generation son of former ranchers out of the Nevada area," he said. "I have a longevity there. I have an understanding of the area and an understanding of my ancestry."
Hardy went on to press Jewell on the amount of land the federal government controls in Nevada — more than 85 percent.
"Some would have you believe that these public lands are federal lands, and they are at this time," Hardy said. "But I believe they are state public lands."
Hardy told Jewell he adheres to the "equal footing doctrine," a constitutionally based principle that states added to the union are on "equal footing" with the first 13. It's a concept embraced by the Sagebrush Rebellion movement in arguing the federal government does not properly own land in Western states.
That puts Hardy in agreement on at least one point with perhaps his most notorious constituent, Cliven Bundy. The Bunkerville rancher, backed by an armed citizen militia, last year faced down federal authorities trying to impound the cattle he has run on federal land for more than 20 years without paying grazing fees. The Bureau of Land Management backed down when the situation threatened to explode in gunfire.
Conservatives rallied behind Bundy, although his support eroded quickly in light of remarks that blacks may have been "better off as slaves" than as recipients of government support payments.
Democrats intend to anchor Hardy to Bundy in a district where a majority of residents are minorities, and where some locals were uneasy about Bundy's militia friends.
Hardy has said he disagrees with Bundy's comments on race, which he called "inappropriate," and that he doesn't believe Bundy intended to offend blacks. He dismisses the anticipated Democratic attacks.
"I don't think that has anything to do with anything other than politics," he said.
Heller said Democrats are taking "a shot in the dark" by trying to hang Bundy on Hardy.
"I can't imagine at the end of the day that people are going to decide who their congressman is based on some land dispute," Heller said.
Hardy said he has told Bundy to pay his grazing fees. For him, the bigger issue is the government's armed effort to take Bundy's cattle.
"The questions I had still have not been answered," Hardy said, "Who was the person behind going out there and putting this kind of enforcement behind gathering cattle? I want to know who did that. Who brought out their snipers? Who did that?
"Cliven Bundy, was he wrong? I told him all along, 'Pay your (fees),' " Hardy said. "Cliven and I have been friends for years. We're still friends. I don't disagree with his views on how things were handled.
"But the way (Bundy) has gone about it? Do I agree with that? I can't say that I have."
LOOKING AHEAD
Hardy smiles at the prospect of serving in a Republican-controlled Congress if a Republican wins the White House in 2016.
"I can tell you right now I would like to be here if there is a Republican president," he said. "It would be fabulous."
But Hardy prefers not to look that far down the road.
"I've said this before — this was never a goal," he said of Congress. "To have the opportunity is just amazing. I'll be here as long as I feel I can actually accomplish something, if I'm moving forward.
"Like my father told me, 'If you're not going forward you're going backward.' "
Review-Journal writer James DeHaven contributed to this story. Contact Steve Tetreault at stetreault@reviewjournal.com or 202-783-1760. Find him on Twitter: @STetreaultDC.