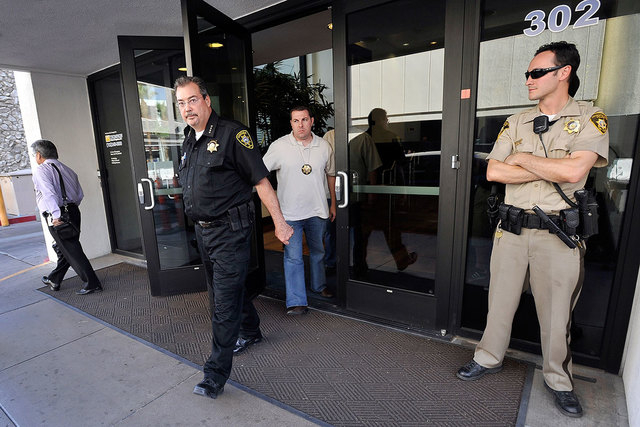 If you're like a lot of people bewildered by the campaign season, you have probably wondered how you, too, might run for public office.
You could go to college and study political science and the law: the former to learn about the process, the latter to fiddle with the rules. But that could take years.
You could volunteer to assist a local campaign and obtain a working knowledge of the game. But that might make you swear off politics forever.
Or, you could always apply for a job with the Las Vegas Township Constable's office, where embattled boss John Bonaventura has been busy running his own political science preschool.
You might think Bonaventura would have his hands full running an office, enforcing evictions and serving court papers. Not so. If there's one thing we've learned from following the shenanigans associated with the constable's office, it's that Bonaventura always has time to make trouble.
So far, the results of his tenure have been extremely mixed. Bonaventura's hair-raising management style led the Clark County Commission to vote to dissolve the constable's office.
These days, Bonaventura has played his way into the center of a Metro investigation looking into whether he broke a state law in the wake of a recent Review-Journal story that appeared to capture the constable recording a salty surreptitious conversation with Clark County Commissioner Tom Collins. Call it a well-sourced hunch, but don't be surprised if Bonaventura and his acolytes have been public officials and private citizens alike in recent years.
Bonaventura is known for hiring and promoting pals of dubious qualifications. He's been accused of hassling and harassing those in the office he perceives aren't loyal members of his "team."
And what a crew it is. While there are many trained professionals associated with the office, what some folks have found noteworthy is the propensity of some of Bonaventura's closest underlings to be bitten by the politics bug.
And now, a source close to Bonaventura's office reports, at least some of those political upstarts received a "bonus" for running for office at the constable's request. It's unclear whether the payment was a one-time thing or a recurring theme during the recently concluded primary season. The bonus amounts mentioned inside the office range from a few hundred bucks up to $1,000.
Considering Bonaventura's unmitigated audacity, I'm surprised he didn't call it a scholarship.
For his part, Bonaventura served a single term in the state Legislature after winning election with the "that name sounds familiar" strategy. (He is a relative of well-known former District Judge Joseph Bonaventure. Judge Joe must be wincing these days.)
Then there was the constable's spouse, Susan Bonaventura, who unsuccessfully challenged County Commission incumbent Susan Brager. Perhaps the name recognition has shifted from the judge to the constable.
But, wait, there's more. Office spokesman Lou Toomin, who appears to serve as one of Bonaventura's top officers, has tinkered with politics unsuccessfully for decades. He most recently took on County Commissioner Chris Giunchigliani and lost.
One of my favorite Bonaventura political creations is his own attorney, Robert Pool, who ran unsuccessfully for a seat on the District Court bench. But that's not what makes Pool so, ahem, intriguing.
After the county refused to fund Bonaventura's legal battle with the Henderson and North Las Vegas constables, he deputized attorney Pool in order to pay the fees.
Not sure they teach that method of payment in law school, and close observers of the constable's office say they also find it impossible to believe the lawyer physically qualifies for the deputy's job description.
Did Pool have any field training or law enforcement experience before he managed to achieve a physical fitness certificate?
Of course, such a question presumes the appointment was little more than a put-on to begin with.
That's the trouble with Bonaventura's preschool of political science.
It appears to be producing everything but winners.
John L. Smith's column appears Sunday, Tuesday, Wednesday, Thursday and Friday. Email him at Smith@reviewjournal.com or call 702-383-0295. Follow him on Twitter @jlnevadasmith.