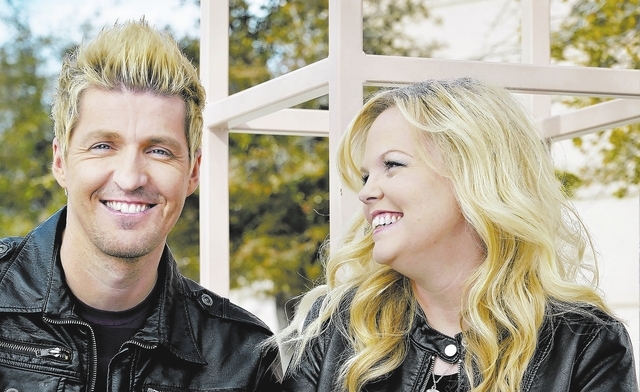 A Sunrise couple met during a production of "Fiddler on the Roof," a musical about the father of five daughters and his attempts to maintain his family and Jewish religious traditions.
Playing the role of Hodel, one of the daughters, is how Sandra Huntsman met her husband, who played her love interest as Perchik.
Sandra and Steve Huntsman were aspiring actors in their early 20s who shared a passion for theater and music.
"It took me a while to notice him, so it wasn't love at first sight," Sandra said. "But when I noticed him, he was pretty much all I noticed."
A few days later after their initial rehearsal, Steve was cast as Perchik after another actor quit. Sandra said she was excited when she heard the news.
After rehearsing together for three months for the three-hour production, the actors began trying to find ways to spend more time together.
Steve said it was more than just Sandra's looks that caught his attention.
"The first thing that I fell in love with was her voice," Steve said. "When I first heard her sing, I (became) instantly attracted. Her voice was beautiful, absolutely beautiful."
In the beginning stages of the rehearsal, Steve liked another woman who lived in a different state, and Sandra even helped him get out of a rehearsal once so he could see her.
"I always thought she was cute," Steve said. "I guess I didn't know if I wanted to be with somebody who was also an actor, but it came to prove that it was probably a better thing."
After spending multiple hours rehearsing each day and talking on the phone, Steve and Sandra became a couple five months after meeting.
Two weeks later, before closing night, Steve confessed to his mom that he was thinking of marrying Sandra and he was feeling overwhelmed. Steve said his mother, who has been married to his father for more than 40 years, replied, "When you know, you know."
That same day, Steve went out to buy a ring and prepared to give the performance of his lifetime inside the Summerlin Library Theater. He decided to propose to Sandra during the scene in which Perchik casually proposes to Hodel.
Instead of just standing and asking for her hand in marriage, Steve got down on one knee and opened a box with a ring inside that said, "Hodel, will you be my bride?"
"My first thought was I didn't even know he liked me that much," Sandra said. "We've only been dating officially for like two weeks, so I was very surprised. I had to say yes. It's in the script."
"I tricked her," Steve said, laughing.
The couple had a hard time finishing the scene. Sandra said she was in such shock that she could not breathe, and she kept shaking. Steve had to help her sing a song during the scene.
"The cool thing was that at the end of the song, we got a standing ovation in the middle of the show," Sandra said. "We've been in a lot of shows since then, and I don't think any of us have gotten a standing ovation since."
The couple became engaged in November 1998 and married in Las Vegas the following March.
Despite their fairy tale beginning, the couple admit that their relationship is not perfect. Both agree that relationships take hard work and communication.
"People have said to me that we have a fairy tale story," Sandra said. "Well, maybe the start of it had a little fairy tale to it, but the last 15 years have certainly not been. There's been a lot of trial and error and work and forgiveness."
Steve performs in "Oh What a Night!," a Frankie Valli and the Four Seasons tribute show, on cruise ships that take him all over the world. He said the longest he has been away from home has been 10 consecutive weeks.
"Over the last four years, he averages being gone about three to five months a year," Sandra said. "That's a lot with a growing family, but that's what's paying the bills. It's been good for us because we appreciate our time together."
The couple also own a production company called Huntsman Entertainment, where Steve works as a costume designer and Sandra is in charge of making the costumes.
The couple add that most of their fights have been over costume designs and color choices. Despite the challenges, Steve said working together has its rewards.
"We both love to sing and love to perform," Steve said. "I wanted somebody to support that and just jump in and do it with me rather than (tie) me down and get me to go to another direction."
Last summer, the couple made their production debut with "The Music Man." The couple show no signs of slowing down as they continue to support each other and are developing their own show.
"I don't think love is magical. It's peaceful," Sandra said. "With magic, you think of fireworks, and there was at first, but I think love is the quiet moments. We're two whole people who meet in the middle."
Contact Sunrise/Whitney View reporter Sandy Lopez at slopez@viewnews.com or 702-383-4686.
FOR MORE LOVE STORIES
View readers from all over the Las Vegas Valley responded to the call to share their love stories in time for Valentine's Day.
Reporters interviewed a woman who met her future husband as he was slipping her daughter french fries at a restaurant, octogenarians who perform together in a local dance troupe, skiers who met future spouses on the slopes, a couple who met when she found his lost cat and more.
To read additional stories and watch a video featuring Steve and Sandra Huntsman and five other couples from Las Vegas, North Las Vegas and Henderson, visit reviewjournal.com/life/love-stories.