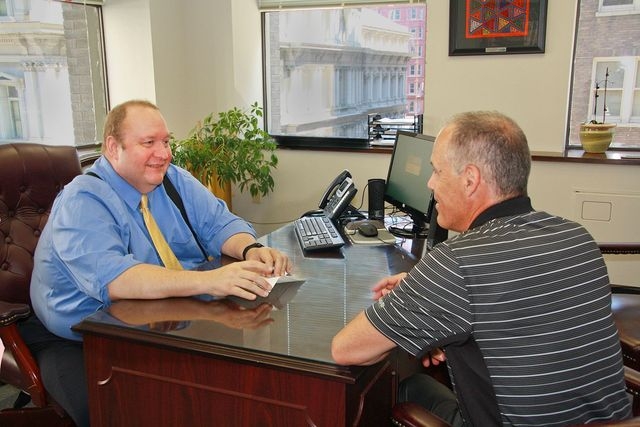 Technology, once sexy, offers unimaginable efficiency when it doesn't malfunction. It enraptured sectors of the workplace and still facilitates career obsolescence, tension and exit interviews for nonconverts. Now that some of the early adopters of technology have spent their careers with it, how are they reacting to it? Is their behavior aligned with that of other technical and nontechnical players?
Ken Stevenson, senior lead technical recruiter/account manager at NextGen Information Services Inc., a consulting firm in St. Louis, says that "there's a misconception that a 60-year-old wouldn't be able to learn a new technical skill." In fact, for one client he placed a group of workers, none under 60, who enjoy their work, including learning new technologies, and career continuity.
Stevenson concedes that because NextGen doesn't track age, specifically, he can't estimate how many people on the payroll are older workers. However, in "another group of 40," he says, "no one is under 55. All have industry experience and may not have (current) technical skills but aren't truly obsolete, because they understand what they're doing. Technology doesn't do much that's new. It just does it faster." Once innovative, it's become derivative, ready to be handled managerially.
GETTING TOGETHER
How are older technical workers contributing to the diminished luster? At 27, Villa Rica, Ga.'s Brittney Wilson RN, BSN of thenerdynurse.com is the youngest person in her 73-member informatics nursing department. She maintains that her older colleagues "have trouble learning new things out of their specialty. We've (younger workers have) been blasted with data from the get-go, so learning isn't as great a challenge to us."
Wilson also points out that older workers are more likely to use channels when a problem arises, while "I don't have the patience if I can do it myself. I just want to get it done."
This energetic approach to problem-solving exemplifies a trend LANDesk Software Inc.'s CEO Steve Daly of South Jordan, Utah, has observed in consulting when streamlining IT departments.
"Younger workers are more likely to self-help," he says, "searching Google for a resolution rather than going to IT."
He further mentions that while self-help may be cost-effective and efficient, "it also opens the door to fixes that may create security holes, conflict with existing programs and protocols, or cause other problems for both IT and the user."
Bob Mander, founder of Washington, D.C.'s Govlish, a government acronym aggregator, has noticed among his 13 database developers that younger workers lose track of time tinkering with technology, while older workers, with greater knowledge of subject-matter, may be gun-shy. "It's not an age difference," he states, "but background."
"Technology is constantly changing," Stevenson says, "and (established workers) may understand why the technology is being used." They've also witnessed disasters.
Technology has truly come into its own as a vehicle. Caution and a reasoned approach brought by depth of understanding has its place, as do somersaults in the ether. How can the two be reconciled? Are there other constituents?
Daly recommends having "IT balance its service approach to new and experienced workers by providing multiple ways to solve problems oriented to user preferences and context." This strategy nurtures compatibility.
It's going to take more individual initiative on all three sides. For one thing, it's clearly time to team, discussing strategies for accommodating the styles of its different constituents. Forget the age thing. Just don't forget to bring in a fourth group, the completely nontechnical or minimally conversant employees of all ages. Make this effort inclusive.
Dr. Mildred L. Culp of WorkWise® welcomes your questions at culp@workwise.net. © 2013 Passage Media.