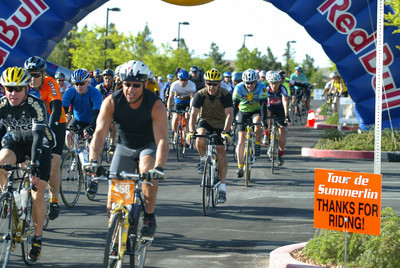 Cyclists of all ages and abilities are invited to participate in the eight annual Tour de Summerlin, a non-competitive bike ride through the master-planned community of Summerlin on April 25. Registration begins at 6 a.m.
The event features three distances, including 10-, 35- and 80-mile rides.
All rides start and finish at The Vistas Community Park, 11311 Alta Drive.
Early registration fees are $35 for the 10-mile ride and $50 for the 35- and 80-mile rides.
The deadline for early registration is April 12. To pre-register, visit tourdesummerlin.com or call 252-8077. Late registration will be available on-site beginning at 6 a.m. on April 25. An additional $10 will be added to the fees of late registrants.
Tour de Summerlin is organized by McGhie's Ski Bike & Board and is sponsored by Summerlin.
According to Randy McGhie, owner of McGhie's Ski Bike & Board, this is one of the valley's most scenic and well supported rides of the year.
"Tour de Summerlin continues to grow in popularity and size," said McGhie, who is expecting about 450 cyclists at the event.
"The scenic route through Summerlin and Red Rock Canyon National Conservation Area, combined with traffic control, technical support and post-ride festivities make this event one of the most anticipated rides of the year."
Cycling enthusiasts from all sides of the valley come to Summerlin to enjoy the community's extensive trail system and biking lanes according to Angela Hecker, a Summerlin resident and member of the McGhie's Women's Racing Team, a competitive team comprised of more than a dozen female cyclists who predominantly live in Summerlin.
"There isn't another community that accommodates outdoor recreational enthusiasts better than Summerlin," she said.
Summerlin's existing trail system connects neighborhoods to dozens of amenities throughout the community and currently runs more than 150 miles in length.
"The trail system offers miles of uninterrupted scenery, ideal for cycling, jogging, walking and strolling," said Julie Cleaver, vice president of design and planning for The Howard Hughes Corp., developer of Summerlin.
"It has also consistently ranked as the community's most popular amenity among residents. We expect the Summerlin trail system to remain at the top of list among residents of all ages as Summerlin continues to grow."
For more information on the master-planned community, visit summerlin.com or call 888-898-5015.