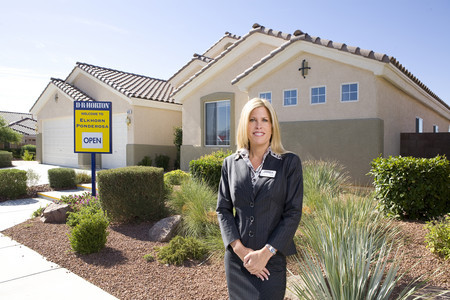 The Las Vegas Division of D.R. Horton has announced the Repo Myth Sales Event to take place July 25 and 26. The sales event offers pricing and incentives.
"The obvious question is — what the heck is the Repo Myth," said marketing director Jeff Ward. "It's actually a term our buyers coined, which we now hear again and again. Interestingly, most of our current buyers began their home search by pursuing short sales, or bank-owned homes. However, this process quickly becomes cumbersome.
"Prospective home shoppers have to deal with teaser pricing and compete with multiple other bidders to secure a home. Even then, buyers often find themselves waiting for months to see if the seller will approve the closing. Buyers start the process thinking they are going to get a great deal on a repossessed home, but find themselves jumping through myriad hoops just to buy an 'as is' property, at a price comparable to a brand new home. Getting a screaming deal on a distressed property has become urban legend — The repo myth."
Two D.R. Horton neighborhoods will be reopened for the repo myth sale.
Elkhorn Ponderosa II, features single-story executive homes on over-sized lots. Located in the southwestern valley at Elkhorn Road and Jones Road, these homes range from 3,000 to 3,800 square feet and include a three-car garage.
Twelve homes are under construction and will be released for purchase during the repo myth sale and will be completed in September.
Cactus Hills Twilight will also reopen for the event. Located in the southwestern valley, this location features two-story homes that range from 1,800 to 2,400 square feet. Nineteen homes are under construction at Cactus Hills Twilight and will be priced for the sale.
The marketing effort behind the repo myth sale will focus on encouraging buyers to compare the actual selling prices of bank-owned homes to new D.R. Horton homes.
"There are some great deals out there, but the majority of them are best suited for investors that have the experience and cash reserves to bring a home back up to standards," said Barbara Reed, broker of C.H. Realty.
According to sales manager Scott Harwood, the gap is considerably smaller than most people realize.
D.R. Horton offers 36 unique single-story floor plans. The Estates series homes range from 2,550 to 3350 square feet and are available at Wigwam Estates and Cactus Estates in the southwestern valley and Log Cabin Estates in the northwestern valley.
Large single-story homes are available in the Ponderosa series, or D.R. Horton's semi-custom community, Log Cabin Legends. Completed homes at the Legends are scheduled to be priced from the mid-$400,000s during the repo myth sale.
D.R. Horton has published a single-story portfolio and a Las Vegas home-finding map to help home shoppers. Request one at DRHorton.com/lasvegas.
For more information on D.R. Horton neighborhoods or repo myth sale, visit RepoMyth.com, or call their concierge at 501-9301.