Despite setbacks, Las Vegas Distillery plans grand opening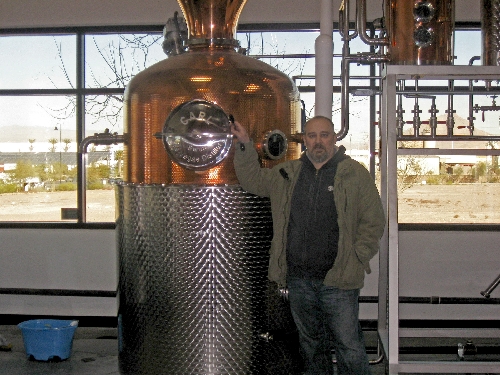 If things had gone George Racz's way, the Las Vegas Distillery would allow in-store tastings and give people the ability to purchase bottles firsthand. However, after the state Senate didn't vote on a bill that would allow all those dreams to come true, Racz is pressing forward and thinking outside the box.
"This bill is only one sentence in the distillery's history," Racz said. "We will still be good."
Transylvania-born Racz and his wife, Katalin, moved to Henderson in 2008 to open the distillery at 7330 Eastgate Road.
Facing a Nevada law that forbids on-site tastings at distilleries and the ability to sell bottles firsthand, Racz proposed new legislation.
Assembly Bill 542 would have outlined new conditions for licensing and operating distilleries in Nevada.
"This bill would put down the framework on what we can do," Racz said. "Everyone thought it would pass."
AB 542 was introduced in the Legislature March 28 and made its way to the Assembly June 4, two days before the session ended. It passed in the Assembly but did not make it to the Senate in time.
"It was just the timing," Racz said. "It was a small bill, and there were bills that were more important to the life of Nevada. It was nobody's fault, just bad timing."
Racz still is distilling vodka and whiskey but can't offer samples or sell the product directly to consumers.
However, Racz is planning to host a grand opening from 11:30 a.m. to 3 p.m. Friday. The city of Henderson is expected to grant a temporary tasting license for the event, offering free samples of vodka, whiskey and gin.
"We are trying to be creative," Racz said.
From 8 a.m. to 5 p.m. now until Friday, people can stop by and fill bottles of Nevada Vodka, the distillery's brand.
Because the state law prohibits him from selling directly from the distillery, starting Monday, people can pick up their custom-filled bottles at a distribution site. Racz is determining where that site will be.
Bottles of Nevada Vodka from Las Vegas Distillery are slated to be available Monday at several liquor stores for about $24.
In the warehouse, Racz has 111 7-gallon barrels of whiskey and 15 10-gallon barrels of his creation, seven-grain whiskey.
Mayor Andy Hafen and Councilwoman Kathleen Boutin came to see the distillery July 7 and bottled the first vodka.
After the opening, Racz plans to distill bourbon and his own creation, Rumskey, which takes the base ingredients of whiskey and rum and distills them together.
For more information, visit lasvegasdistillery.com.
Contact Henderson and Anthem View reporter Michael Lyle at mlyle@viewnews.com or 387-5201.