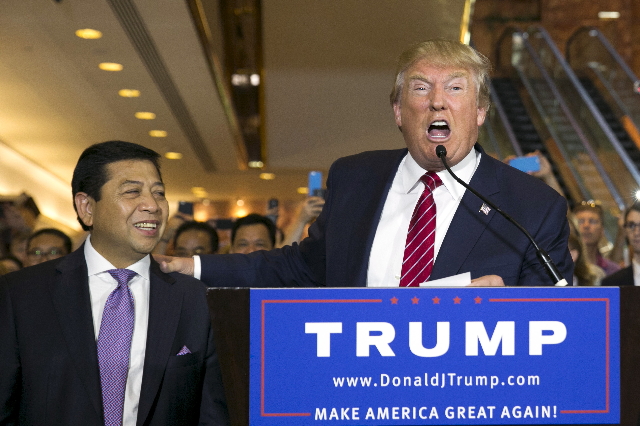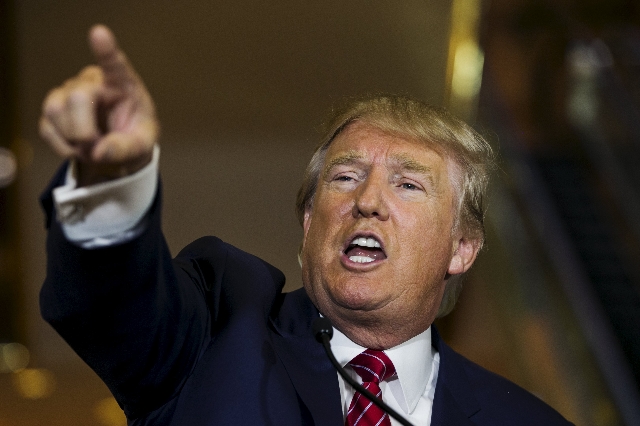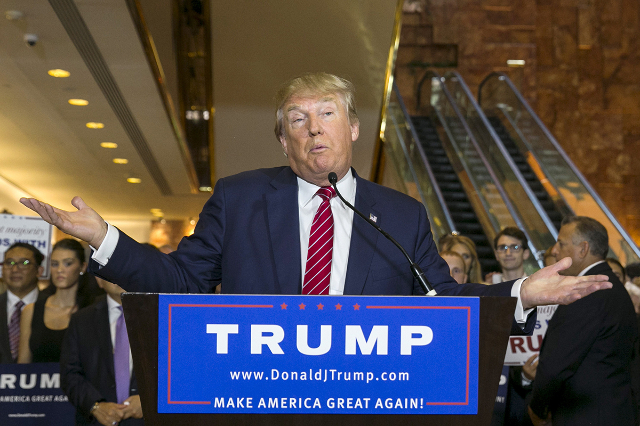 NEW YORK — Republican front-runner Donald Trump on Thursday bowed to pressure from the party establishment and signed a pledge not to run as an independent candidate in the November 2016 presidential election.
His vow of loyalty on Thursday was something of a victory for the Republican National Committee in its efforts to rein in the billionaire, who leads opinion polls while at the same time upsetting mainstream Republicans with his brash style.
But the pledge does not appear to be legally binding and does nothing to halt Trump's personal attacks against Republican rivals and stinging rhetoric on issues like immigration that have shaken up the race for the nomination.
At a news conference in his own Trump Tower in Manhattan,
the property magnate waved the loyalty pledge, signed in a thick black marker, in the air for TV cameras.
"I see no circumstances under which I would tear up that pledge," he said.
Trump had previously refused to rule out a third-party bid, drawing boos from the crowd in Ohio last month at the first full Republican debate.
An independent Trump candidacy could split support for the Republican Party and give the Democrats a huge boost by taking
many blue-collar male Republican voters with him.
He said on Thursday he received "absolutely nothing other than the assurance that I would be treated fairly" in return for signing the pledge.
The reality TV star had come under intense pressure in recent weeks from the RNC and its chairman, Reince Priebus, who met with him on Thursday.
"It reflects a lot of behind the scenes work," an RNC official said.
BUSH TO BACK TRUMP
Jeb Bush said on Thursday he would back fellow Republican presidential hopeful Donald Trump if the businessman-turned-politician wins the party's nomination for the 2016 presidential election and Hillary Clinton is the Democratic nominee.
Asked if he would support Trump as Republican nominee over Clinton in the November 2016 contest, Bush said, "I would, of course."
"We need to be unified. We need to win," Bush, the former Florida governor, said in an interview on ABC's "Good Morning America" television program, one day after Trump told the same show he would back Bush over Clinton.
Bush and Trump have been engaged in public attacks on each another as they vie for the party's nomination.
Trump has spent weeks taunting Bush, one of his closest rivals in public opinion polls in the large Republican field. The real estate mogul and television personality has mocked Bush as "low-energy," and this week criticized him for answering a question in Spanish.
The Bush campaign initially had avoided engaging in a war of words with Trump. But on Wednesday, Bush's advisers signaled a new effort to fight back with campaign ads and social media efforts.
On Thursday, Bush took issue with Trump's tactics and called on his rival to tone down his attacks. Trump has made controversial remarks about immigration and Latinos. Bush, whose wife was born in Mexico, told ABC that diversity adds vitality to the country.
"I think Donald Trump trying to insult his way to the presidency is not going to work. People want an uplifting, hopeful message," he said.
Bush added that Trump should "figure out a way to lessen the divisive language, the hurtful language and talk about the aspirations of the American people, rather than trying to prey on their fears."
Reuters/Ipsos polling shows Trump with support among nearly 31 percent of self-identified Republicans as of Sept. 1, with Bush garnering support among nearly 12 percent, behind former neurosurgeon Ben Carson.
TRUMP JOBS
Donald Trump vows that if he's elected president, he would "be the greatest jobs president that God ever created."
One of the main reasons Trump cites is that he's a businessman. He has already created jobs, he argues, so he'll do it on an even bigger scale as president.
So how many jobs has Trump created as a businessman?
A CNNMoney analysis calculates at least 34,000 jobs attributable to the Donald.
It's not the most straightforward calculation. His company, The Trump Organization, is private, so it does not have to disclose information publicly about how much money it makes or how many people it employs. His campaign didn't give a specific figure either.
CNNMoney turned to PrivCo, which researches and tracks privately-held companies.
According to PrivCo, the Trump Organization has 22,450 employees and brought in $9.5 billion in annual revenue last year.
But that's not the whole picture. There are likely other jobs that might not exist without Trump. Economists call this the "multiplier effect."
New York's Broadway shows are a good example. Visitors who come to see shows, may stay at least a night or two at New York City hotels and spend money at restaurants and stores. So any analysis on the economic and job impact of Broadway takes into account more than just ticket sales and employment of actors, singers and stage hands.
The same holds true for Trump's resorts and hotels.
Consider Ricardo Ara, the 24-year-old who works in the Koi Soho restaurant in the Trump SoHo Hotel. His story made news last month because Ara is an illegal immigrant from Mexico who has the right to work at the restaurant in Trump's hotel because of Deferred Action for Childhood Arrivals, a program Trump wants to end.
Ara is technically employed by the restaurant, not the Trump Organization, but his job probably wouldn't exist if the hotel weren't there.
The state of New York says that "leisure and hospitality" companies like Trump's typically have a 1.5 multiplier effect.
Using that multiplier, the Trump Organization is responsible for about 34,000 jobs.
This is a rough estimate. There are arguments to be made that it should be higher or lower.
Trump has acquired some existing properties, so one could argue he didn't create those jobs. He has also filed for Chapter 11 bankruptcy four times for some of his properties, mostly in Atlantic City.
The hotels were still able to operate in bankruptcy, but Trump Plaza in Atlantic City did close in 2014, costing about 1,000 jobs. By that time, Trump was no longer running the company, although he retained a small stake in it.
On the plus side for Trump, his name appears on many businesses he doesn't fully own, and he's been part of a successful television franchise with "The Apprentice" on NBC. It's possible to argue that he should get credit for some jobs in those ventures as well, even if they weren't part of the Trump Organization.
A more generous estimate would be to view the Trump Organization as a financial services or management company. Then the employment multiplier would be 3. That would bring jobs attributable to Trump to 67,000.
For comparison, a similar company Wynn Resorts has about 17,000 employees and $5.4 billion in revenue, and MGM Resorts has 62,000 employees and took in $10 billion in revenue last year, according to FactSet.
Trump claims his personal wealth is $10 billion, although Bloomberg calculates it at $2.9 billion.
TRUMP-INSPIRED ATTACK
Two Boston brothers charged with urinating on and beating a homeless Mexican man in an attack allegedly inspired by Republican presidential hopeful Donald Trump's views on immigrants agreed on Thursday to remain in custody until trial.
The brothers, Scott Leader, 38, and Steve Leader, 30, were arrested last month and charged with assault and battery for the purpose of intimidation because of national origin.
The pair agreed to waive a hearing that could have determined whether they would be released on bail before trial, according to their lawyers, Gary McGillivray and John Flanagan,
The judge set an Oct. 1 trial date.