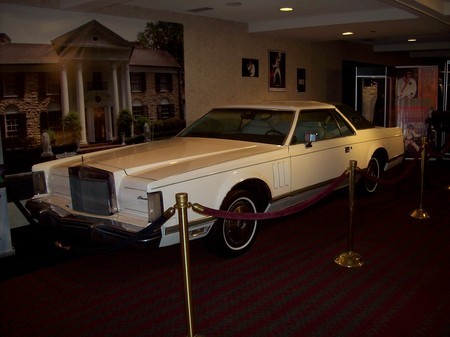 Elvis Presley loved cars. He owned hundreds and gave away just as many, according to long-time friend and fellow top-recording artist and musician Jimmy Velvet.
"At one time, I had collected about 21 of Elvis' cars, including a Mercedes 600 Elvis gave me," said Velvet, who is the living history portion of "The King's Ransom Museum," a one-of-a-kind exhibit of priceless Elvis Presley artifacts and memorabilia currently on display in the Imperial Palace's Royal Halls on the third floor of the casino. "Everyone told me I was nuts collecting Elvis' cars and jumpsuits, but over the years he gave me many things and I bought a lot of items from former employees."
On this day, which would have been Elvis' 75th birthday, how fitting to visit an exhibit that showcases pieces from both Elvis' personal life and his acting and singing careers. Elvis items on display include stage and film wardrobes, personal clothing items, jewelry, guns, badges and a variety of Elvis' law enforcement objects, a 1977 Lincoln Continental, as well as personal artifacts from his Graceland home.
The tour itself is organized from Elvis' birth in 1935 to his death in 1977. Velvet, who met Elvis in 1955 after a chance meeting between Velvet, Elvis and Velvet's song-writing English teacher Mae Boren Axton (who, by the way, co-wrote "Heartbreak Hotel" with Thomas Durden), is on hand from 11 a.m. to 7 p.m. every day at the exhibit and is willing and ready to share his many Elvis stories with guests as they go through the tour.
And, he even has stories about the 1977 Lincoln Continental Mk V, which Velvet believes may have been one of the last vehicles Elvis purchased before he died. "He was into Caddys (Cadillacs) for a while, Harley-Davidsons and then Lincolns," Velvet said. "I remember he gave 33 Lincolns away in one night. He just loved cars and loved to give them away."
Be sure and ask Velvet about the many pranks Elvis liked to pull on his family and friends. One, Velvet recalls, illustrates Elvis' known impatience. "Elvis liked to drive himself," Velvet explained. "And, he could have been driven anywhere, anytime, but, like a kid, he would sneak out of Graceland in the middle of the night to just drive around. Folks in Memphis would talk about running into him at gas stations."
The King's Ransom Museum exhibit is open daily and admission is $10. Tickets may be purchased at the entrance. The King's Ransom Museum is scheduled to remain at Imperial Palace through April. For more information, call 888-777-7664.