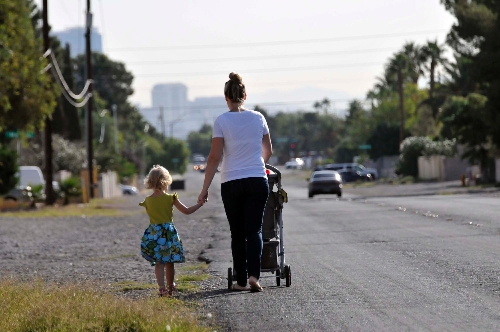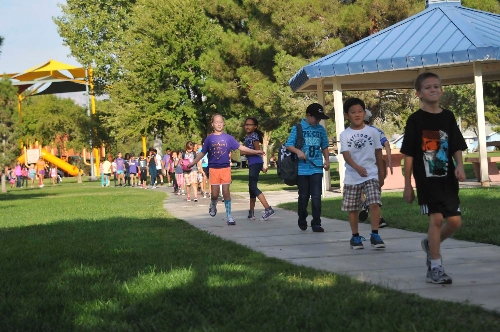 On what was a rare occasion, Traci Paniagua walked with her daughter Jasmine to school. Their short trip went off without incident, but it is not one Paniagua plans to make again anytime soon, even though they live only one block away.
"Torrey Pines (Drive) is horrible," Paniagua said. "Traffic just flies through there. My biggest fear is her crossing Torrey Pines."
There also are no sidewalks on Jasmine's way to school until she crosses Torrey Pines Drive, arriving on the school side of the street. Jasmine, a second-grader at Gray Elementary School, 2825 S. Torrey Pines Drive, asked her mom the night before to walk because Oct. 3 was International Walk to School Day. Students were encouraged at schools across the valley to walk to school with their parents to learn how to do so safely.
Paniagua rarely walks anywhere, she said, unless it is a leisurely stroll in the evening or on weekends. She said she would like to walk to the store or other businesses, but "there's just not accessibility" to such places in her Spring Valley neighborhood without a car. Paniagua also said the heat and traffic safety concerns, even as an adult, are barriers.
Those concerns are common, experts say. The walkability, or pedestrian-friendliness of the Las Vegas Valley is poor, they say.
Alexander Paz is a civil engineering professor at the University of Nevada, Las Vegas who also works at the university's Transportation Research Center.
Some reasons for this, Paz said, are the long distances between destinations, wide streets, lack of sidewalks, no shade protection and crime and safety concerns.
"It's a combination of factors, not just the infrastructure," he said. "It's peoples' behavior and interaction."
The only areas of the valley that support walking are downtown and the Strip, he said, and they are the closest thing the valley has to the top walkable cities such as New York City and San Francisco.
"It's pretty dense (in those areas)," Paz said. "There's not that much space. Because the density is there, that helps facilitate the development of transit services."
Newer areas of town, such as the southwest, exploded with growth during the last two decades before the recession. Those neighborhoods, for the most part, Paz said, do not function well for walkers.
"Developers are primarily focused on vehicles rather than pedestrians," Paz said. "It's a consequence of urban sprawling."
UNLV student Courtney Coughenour plans to receive her doctorate in public health in May. She is writing her dissertation on the walkability of Las Vegas. She plans to stay in academia and do research on "the built environment and how that influences physical activity and nutrition."
Coughenour is in the process of studying 12 neighborhoods in the valley, both low- and high-income. She will factor in the presence and walking conditions of sidewalks, shade, safety, high-speed streets and more. She said the most interesting finding from her nearly two years of research already is that low-income and older neighborhoods were more walkable compared to high-income and newer ones. Mountain's Edge was one of the least walkable areas she studied.
"The new ones we're building aren't very conducive to active living," Coughenour said. "They do have great trail systems… just not for walking to the store. It's walking for purpose as opposed to walking for leisure."
Coughenour said high neighborhood walls, drainage channels, vacant lots and cul-de-sacs are examples of features that make the area bad for walking. The lack of mixed-use zoning also is a contributing factor.
"Vegas is designed for the automobile. You can't question that," she said.
Timothy Bungum, a public health professor at UNLV, echoed Coughenour's assessment of new neighborhoods such as Mountain's Edge.
"Those types of areas are good for pleasure walking," he said. "You can't get to any destination, but they are pretty good for taking a stroll."
Bungum said that low walkability is a trend among most newer West Coast cities.
"Cities built after the automobile are pretty bad," Bungum said. "Up until the 1920s, cities were built compactly. After the 1950s, everything has sprawled.
"City planners in the 1950s began building suburbs. They realized, 'We have just engineered walking out of peoples' lives.' "
New York City, for example, has narrower streets arranged in a grid-type system, and few cul-de-sacs, he said.
Bungum said people like to walk in straight lines, and the rule of thumb, according to research, is that almost everyone will walk one-quarter mile to a destination, but few people will walk more than one mile one way.
Bungum also said he does not expect things to change unless gas becomes "super expensive, prohibitively expensive," which might cause an increase in demand for public transit, bike paths and walkable destinations.
Annie Reynolds, a mother of four daughters, two of whom attend Gray, walked with them to school on Oct. 3, too. She moved to Las Vegas a few months ago with her husband and said she is still adjusting to it. She grew up in Orange County, Calif., where walking was "so much easier," she said. She said she was used to walking on pathways to get where she needed to go and avoiding streets altogether.
She likes to walk her girls to school, but it is not easy without sidewalks. She pushes the youngest in a stroller in the street while her other three daughters walk on gravel.
Contact View education reporter Jeff Mosier at jmosier@viewnews.com or 702-224-5524.