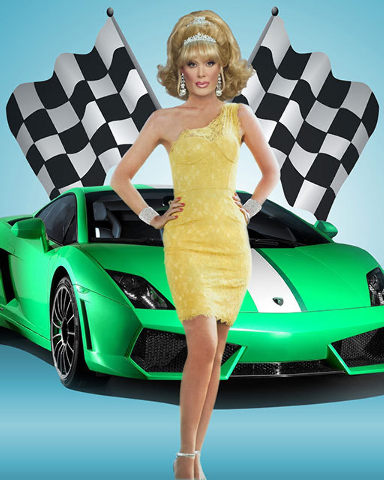 Female impersonator Frank Marino gets grilled Oct. 4 at the third edition of The Showbiz Roast.
The long-time star of "An Evening at La Cage" at the Riviera moved to the Imperial Palace, now The Quad, three years ago to reunite many of his former cast members in what is now known as "Divas Starring Frank Marino."
In a wide-ranging interview with the Review-Journal, Marino announced he's taking the show on the road next month.
He's also starting a national search to find a Miles Cyrus impersonator to join the "Divas" lineup.
Here's the interview with R-J columnist Norm Clarke:
I heard you were initially reluctant to be roasted.
"I'm excited and, to be honest, I'm a little bit nervous for the first time in my 30 years here in Las Vegas. I'm doing it because I really like (producer) Andy Walmsley. If it would be anybody else it would not be happening. Even though I come off as a big mouth, I don't feel comfortable saying things that are not nice about other people. If somebody attacks me I have no problem coming back at them, but just to come out and say something rude about somebody is really going to be difficult for me. It will be easy for me to but I'll feel bad afterwards. I would have preferred it to be all people who knew me because to have people who don't know me take potshots at me will be kind of strange."
Will you have all 12 divas in the roast?
"All of them are going to be there and I believe they are doing something like a top 10. They are keeping everything hidden from me."
The lineup will be undergoing some changes.
"We just added Shania Twain and Pink and they are absolutely fantastic. They are big production numbers in my show."
Any future characters in mind?
"I'm working on a Miley Cyrus because she's getting so much crazy press lately, that she's now worthy of being in the 'Divas' lineup. We're going to do a national search. That's what my audience likes to see is the latest and greatest hot diva. And I really think the answer to the key of why we lasted (almost) 30 years is because we have the ability to change the show. I honest believe the show survives on repeat business."
What did you think of Miley's Video Music Awards performance? Did she go too far or is too much being made of it?
"The media is taking it to another level but I think it's great she's moved from Hannah Montana Disney star to the rock-and-roll legend she's become. I love that haircut. When our Miley impersonator walks on stage, everyone will know who it is."
Have you had a real celebrity walk on?
"No, but I think would be a great gimmick. Have someone like Reba McEntire just walk out. It would just freak out the audience. Then say that was really Reba McEntire. To have the real celebrity come out would be a real coup. I believe 99 percent of the characters we perform have actually been in the audience at one time or another and I was lucky enough to have Whitney Houston in before she passed."
How crazy is it backstage?
"That's where the real action is. I make a joke 'we should have a reality show called "Behind the Queens." ' Out of 20 employees, 10 dancers and 10 impersonators, there's always some sort of drama going on. There's never a dull moment. I look at myself as the nursery rhyme. I'm the little old lady who lives in the shoe that had all these children to attend to every night. I'm sort of the den mother who tries to make sure everything goes smoothly."
Have you had any fisticuffs backstage?
"We've never had anything physical but my cast, like myself, are all very equipped with the one-liners to zing each other, even if it's just playing around. Thank god I have my own private dressing room because I wouldn't be strong enough to battle back every night."
Who is the biggest diva among the "Divas."
"The entire cast was asked the other day who is the biggest diva and they unanimously said 'Frank Marino.' I'm not a a diva, I'm the the diva. I don't think any of them are mean. They're just very creative. A lot of them have very sharp tongues. I gotta say they're all very respectful of me and lot of them are very grateful to be in the situation in 'Divas' after 'La Cage' met its demise four years ago."
How do you think Britney Spears will do in Vegas?
"I think Britney is going to do very well. She's got a big fan base and I think people who are not fans will go because she's such a big spectacle and people will want to see what all the hoopla is about."
Best career move in your 28 years?
"Most recently it was agreeing to be on 'Millionaire Matchmaker' because after all those years of hiding behind a costume of drag, people got to see what I really look like and the power of that show has got me recognized from from Hawaii to Nashville. Then I got a call from Joan Rivers and she put me on 'Fashion Police' and then we got a call from 'Toddlers and Tiaras.' " (Through "Millionaire Matchmaker," Marino has become good friends with host Patty Stanger, who will be performing in Las Vegas in November "and I have a little surprise I'm working on that should freak her out," he said.)
Share the story of how you got started as a female impersonator?
"First character I did was as Diana Ross. I was 17, going to school in Long Island to be a medical doctor. I was working as a junior pharmacist and I spent a little more time at the makeup counter than the pill counter. I dressed as Diana for a Halloween masquerade party. I met an agent and it snowball from there really quick. I changed my character from Diana Ross because I couldn't sing. So I changed to Joan Rivers and she became a great character, and who would think she would be hotter than ever."
And you've had a Diana Ross in the show for how long?
"Chris Woods is only character who been with me from day one in Las Vegas."
Before Las Vegas you got a big break in Florida.
"We were playing Fort Lauderdale. Pia Zadora and her husband came in. He owned the Riviera at time. They booked our show to go to Las Vegas for three months and it ended up being 25 years (with "La Cage"). They just loved the show."
Have you been hit on by anyone famous?
"No, isn't that sad?"
Have you encountered any heckling from the audience over the years?
"No, I've never experienced any gay prejudice because I think I was living in an ivory tower in a bubble, being in show business. But it wasn't until I tried selling (pitching) the show again after 'La Cage' closed to open 'Divas' that I found hotels had every creative way of letting me know they were not interested in what they considered a gay show. It would always be 'I don't think it's the right fit for our property.' And it was very insulting because if you look at my audience every night, and there's everything from prom kids to senior citizens and Middle America. And for somebody to think it's a 'gay show' is a little ridiculous.
"I'm not selling a lifestyle. I'm selling a form of entertainment that most people enjoy. And that's why we've been here almost 30 years. I've gone to almost every show in town. I believe there is a prejudice with some of the newer entertainers. Some won't come in and I think that's because they think we're a little drag show instead of the big production show that it is. Or maybe they're just jealous."
Over the years, of all the celebrities who came in, who were the biggest surprises or favorites?
"Lisa Marie Presley came in to celebrate her 40th birthday. That was a little awkward when word got out and we had every Elvis impersonator in town. The person who got biggest applause was Gladys Knight."
The nicest celebs you've met? And the rudest.
"The nicest, believe it or not, is Leeza Gibbons. I thought she was a wonderful person. Last week I just caught up with Whoopi Goldberg. Celine is a naturally sweet person to everybody. A person who was not that nice was Rosie O'Donnell. I wanted her to take picture with my boyfriend but she refused. Said it was because she only take pictures with children. Liza Minnelli was not one of the nicest. She had a meet-and-greet after a show, and in front of all the people, when she hit her quota of 20, she made a big stink of not wanting to take anymore picture. She had no idea how hard it was to get 20 people who wanted to take a picture with her."
How long do you intend to keep entertaining?
"I will keep entertaining until they ask me to stop. I'll do like Cher just keep saying farewell but never go anywhere."