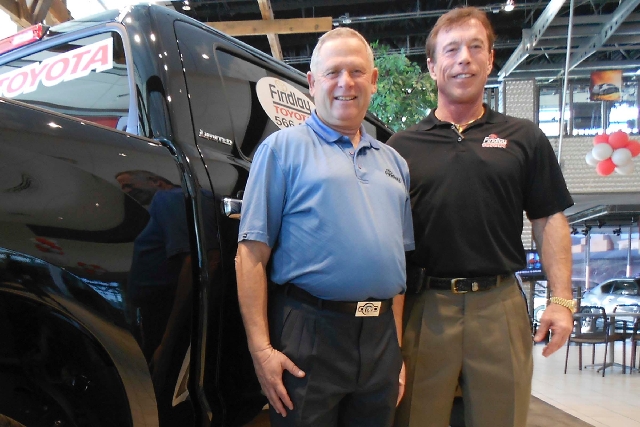 Amos Maly calls himself an old-school automobile sales consultant. He's out front at Findlay Toyota early in the morning waiting for an "up," or a customer. And when it's time to close the dealership, the native of Israel is still in front of the Valley Automall dealership doing what he does best — selling cars.
Maly's philosophy is working well; he sold 396 vehicles in 2012 en route to being named the dealership's Salesman of the Year for the third consecutive year. Since entering the business in September 1986, he has sold more than 12,000 vehicles.
"It's my personal drive to succeed and outsell everyone in the valley," Maly said. "I have been No. 1 since the day I got into the business and I get a huge adrenaline rush with every sale. This is almost like an addiction to sales ."
Maly's stops during his career have included several dealerships in Southern Nevada. However, he said he enjoys what he sees at Findlay Toyota.
"This is my favorite dealership," Maly said. "There is a very friendly environment here. It has integrity and management has created an excellent atmosphere with quality communications to conduct business, which leads to our being able to serve customers in the very best way.
"Repeat business has been very good for me here," he said. "Many of my customers have followed me to Findlay Toyota since I started here in August of 2009. I desire to be No. 1 and so does Findlay Toyota, and we have merged together for great results."
During his years in the car business, Maly has sold several different brands of vehicles. He said he believes strongly Toyota's products.
"Toyota is the best," he said. "The vehicle is affordable and Findlay Toyota knows how to get the customer the best deal. Service is excellent here and the attitude is also very good.
"I came here when the economy was down; the dealership and I have thrived even with the challenges that we faced. Rich Abajian (general manager and owner) and John Barr (general sales manager) have showed me great respect and appreciation and given me a reason to work hard."
Abajian said, "Amos Maly is as hard of a worker and as focused as any individual that I have ever been around. He is as competitive as they come, and lives and breathes the car business."
Findlay Toyota, at 7733 Eastgate Road , is part of Findlay Automotive Group, which was founded more than 50 years ago by the late Pete Findlay, whose son, Cliff Findlay, now spearheads operations in Nevada, Utah, Idaho and Arizona.
Further information can be found at www.findlaytoyota.com or by calling 702-566-2000.