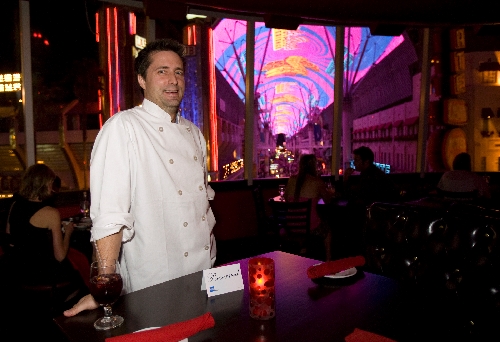 The Las Vegas American tapas bar Firefly is expected to open its first Henderson restaurant in March.
Owner and chef John Simmons said he had been searching for a Henderson location.
"I used to live in Henderson," Simmons said. "I used to drive by (the place Firefly will be located) and thought it was a great location."
The space that was formerly Rare Steakhouse, 11261 S. Eastern Ave., is a second-story venue with floor-to-ceiling windows, a view of the entire Las Vegas Valley and a patio area that captures the essence of Firefly.
"It's not in a congested area and kind of off the beaten path," Simmons said.
After signing a deal last summer, Simmons had planned to open by November 2011.
Because the location already had been a restaurant, Simmons thought it would need only simple fixes. It needed more work than he expected.
"That is my typical M.O.," Simmons said. "Find spaces that used to be restaurants that have either been ill-managed or just misconceived ideas."
Regardless, Simmons plans to open in March.
Simmons, for the first time, plans to offer brunch on weekends at the Henderson location.
"Everything is a la carte," Simmons said. "I hate when you go to breakfast and you have to choose one thing. You can get the eggs or the pancakes, and when you get the pancakes and they come out with a stack of six and you can't eat anything else."
Instead, Simmons plans to have small-plate breakfast items where people can have tastes of the breakfast foods they love.
"It's not your typical greasy spoon-type place," Simmons said.
The evening menu is expected to stay true to the other Firefly locations, he said.
"I didn't want the place to lose its Fireflyness," Simmons said.
The setup for the location is supposed to be the same as other the Firefly locations. The design includes a combination of high-top tables, couches and regular tables.
Firefly favorites, such as the bacon-wrapped dates, will continue to be offered, along with its extensive menu of tapas.
Before tapas were even on the radar of most people in Las Vegas, Firefly brought the small-plate cuisine to Las Vegas, Simmons said.
"It was really before its time," Simmons said. "Now everyone knows what tapas are and what Firefly is."
Simmons, a former executive chef at Mon Ami Gabi inside Paris Las Vegas, decided to open his own restaurant about eight years ago at 3900 Paradise Road.
The restaurant's name originates from two kitchen terms, Simmons said.
"In the kitchen, you say, 'Throw it on the fire,' when you want something cooked," Simmons said. "When you need something quick, you say, 'Cook on the fly,' or say, 'Fire on the fly.' "
Simmons never imagined how successful it would be.
"I thought we would succeed," Simmons said. "But the early years were dark times."
Simmons, like most small-business owners, struggled with paying bills and having enough products, along with day-to-day operations.
In time, his work paid off.
In 2009, he opened a second restaurant inside the Plaza, 1 S. Main St., in downtown Las Vegas. That location has closed, but a Summerlin restaurant at 9560 W. Sahara Ave. has since opened.
Simmons already is thinking about the next thing. After he opens Firefly's new location, he said he plans to look into opening a high-end bar in Henderson.
Simmons said he is constantly bombarded with out-of-state requests to bring the restaurant to a new city.
"I wouldn't feel right if I didn't give it a shot," Simmons said. "I don't want to become a national chain, but it would be cool to have it in a couple different cities. We have a good reputation nationally."
For more information, visit fireflylv.com.
Contact Henderson/Anthem View reporter Michael Lyle at mlyle@viewnews.com or 387-5201.