Former Nev. Rep. Steven Horsford won't run for Congress in 2016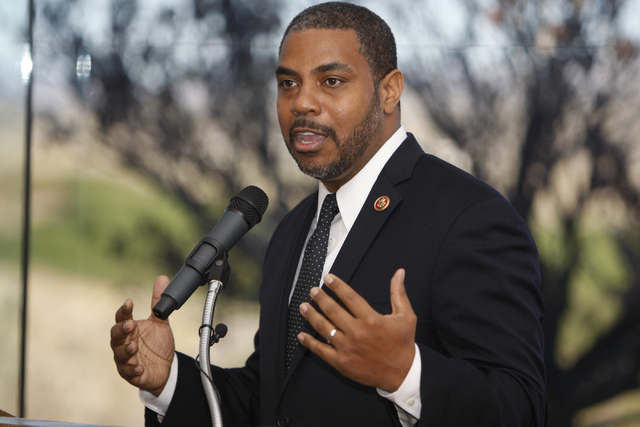 Former U.S. Rep. Steve Horsford, D-Nev., doesn't plan to run for his old seat in 2016 and instead will partner up with a public affairs and advertising firm that gave him his professional start.
Horsford plans a joint partnership with R&R Partners, where he worked before he was first elected to the Nevada Legislature.
Horsford's company, Resources+, "will join forces in Washington, D.C. to establish a full-service agency with integrated services, specializing in diversity marketing, media training and corporate communications, workforce and vendor/supplier engagement and international affairs," R&R said in a press release.
Horsford in 2012 became the first African-American elected to Congress for Nevada. Previously, he was the first African-American majority leader of the state Senate, breaking racial barriers there, too.
"It's coming full circle for me because I started my career way back in 1996 with R&R," Horsford said in an interview, adding that it feels like "coming back to my family."
Although Horsford will live in Washington, D.C., he said his roots will always be in Nevada.
"It's been my life serving the people of Nevada and I will never forget the privilege of serving my neighbors and friends," he said.
But the new challenge proved too inviting, he said, with the ability to help companies from start ups to Fortune 500 firms diversify their workplaces and marketing efforts.
R&R said Horsford will be senior vice president of strategic integration and partnerships for the company's nine offices throughout the United States and Mexico City. He will also serve as managing director of the agency's Washington office.
"It's a once-in-a-lifetime opportunity to partner with them and grow a cutting-edge diversity marketing practice that has limitless possibilities," Horsford said in a statement. "As the faces of America continue to change, R&R Partners is leading the way in reaching new and growing audiences with campaigns that connect."
Billy Vassiliadis, CEO of R&R Partners and a longtime Horsford mentor, said the former congressman gained valuable experience in his two years in Congress.
"The changing demographics of the U.S. coupled with today's global interconnectivity make it essential that marketers speak to their customers in an authentic voice," he added. "Our recent opening of a Mexico City office, combined with Steven's strengths in diversity marketing, places us at the forefront of this new space in marketing communications."
Horsford launched his communications company in January. He lost the 4th Congressional seat in the 2014 election as Democratic voters stayed home and Cresent Hardy rode a Republican wave to a surprise victory.
Horsford was widely expected to run again in 2016 with high hopes of recapturing his House seat in the vast district, which leans Democratic thanks to its densely populated Northern Clark County. Horsford represented North Las Vegas in the state Senate for about a decade before making a bid for Nevada's newest congressional district.
Now that Horsford has stepped aside, several Democrats who have been eyeing higher office are expected to consider running for the CD4 seat. Former Assemblywoman Lucy Flores, D-Las Vegas, has told supporters she's interested in the seat but was waiting to see what Horsford would do.
State Sen. Ruben Kihuen, D-Las Vegas, is another potential candidate. He briefly ran for the 1st Congressional District in 2010 but quickly stepped aside when it became clear U.S. Rep. Dina Titus, D-Nev., could easily defeat him.
Contact Laura Myers at lmyers@reviewjournal.com or 702-387-2919. Find her on Twitter: @lmyerslvrj
This is a breaking news story. Check back for updates.