Foundation sends volunteers to Nicaragua to help teach health care methods
April 30, 2015 - 12:00 am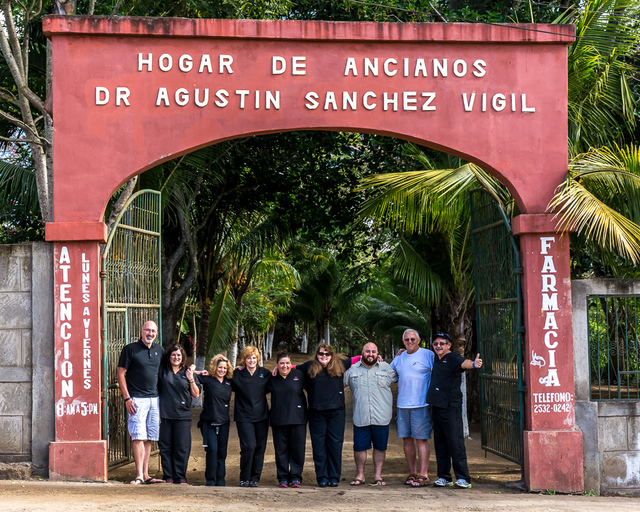 In recent years, population growth in developing nations has caused a lack of access to basic health care services for many people. This not only results in the general public's poor health, but workers in the field are confronted with demanding jobs and low pay.
Combating the problem isn't simple, but awareness is often the first step. This led a group of volunteers with the Oregon-based Vital Life Foundation to set off on a trip to Nicaragua for a weeklong partnership with the Jessie F. Richardson Foundation on Jan. 18.
"The Vital Life Foundation supports causes that are important to our staff and client populations. One of those causes is the Jesse F. Richardson Foundation that brings sustainable programming to areas where senior citizens have no resources," said Charles Bloom, chief strategic officer of the foundation. "I know the frustrations of fighting for adequate reimbursement, complying with regulations that sometime seem to have lost the meaning of their original intent and trying to meet incredible challenges faced by hundreds of clients and their families. Nicaragua puts everything into perspective."
The Vital Life Foundation is part of the healthcare philosophy of the Marquis Companies and Consonus Health Care Services, founded to support organizations and programs that provide meaning and vitality in the lives of seniors and staff members living and working in long-term care.
This was the Vital Life Foundation's third trip to Nicaragua.
The foundation brought two nurses and a pharmacist to continue working on systems plus two caregivers and a housekeeper, who were picked from a pool of applicants taken from its parent company, Marquis Centennial Hills.
One of those volunteers is Centennial Hills resident and certified nursing assistant Gonzalo Perez, a Cuba native and fluent Spanish speaker.
"The organization is commendable because it helps everyone who needs it," Perez said. "Working in Nicaragua was an incredible experience because these people live solely on donations. The state doesn't help them."
The two nonprofits partnered to improve the conditions of a nursing home, or a "hogar" in Spanish, located in Jinotepe, Nicaragua, where the average population age is increasing in a health care industry that cannot keep up, according to Perez.
Bloom said that many health care workers receive the minimum wage of 70 cents per hour, and many work 10 to 16 hours a day. Hours worked beyond their normal eight-hour shift are considered volunteer hours.
"Workers there have to clean the seniors' urine and fecal matter with their hands. They aren't even given gloves," Perez said. "These people have nothing, yet they're all incredibly grateful for their lives."
Bloom added that many of these facilities are in poor condition. There are buildings that are not accessible to people who can't walk or climb stairs, a lack of modern kitchen equipment or laundry equipment and limited supplies and access to medications.
"While some over-the-counter meds can make their way into the country, more complex medication or more expensive medication cannot," Bloom said. "This is especially frustrating since the USA requires us to destroy much of the unused medication that would change lives down there, so we aren't able to transport it."
Before leaving, the volunteers were able to buy gloves for the health care workers and create a video on how to care for the elderly.
"Nicaragua is the second-poorest country (behind only Haiti) in the Western Hemisphere," Bloom said. "The Sandinista Revolution in the 1980s left most of the landowners with nothing. During the revolution, many sent their children and grandchildren out of the country. Now, they find themselves homeless and without any involved family.
"We visited one facility that couldn't pay their electricity bill, so they were going to go out and beg in the streets to avoid getting it shut off. It was only $250, but in a country where the average employee makes $100 per month, it can be overwhelming."
There are about 25 elder homes throughout Nicaragua, according to Bloom.
In the past, the foundation has made several trips to Washington, D.C., where it has accompanied 30 World War II veterans to visit the memorials.
It has plans to make another trip to Nicaragua in the near future.
"When we first arrived, I felt sad to see the poor condition that these people had to work in," Perez said. "Despite that, they were happy and worked with great enthusiasm. They taught me to appreciate life because we have everything here, yet we complain. Those people are all heart."
To reach North View reporter Sandy Lopez, email slopez@viewnews.com or call 702-383-4686. Find her on Twitter: @JournalismSandy.