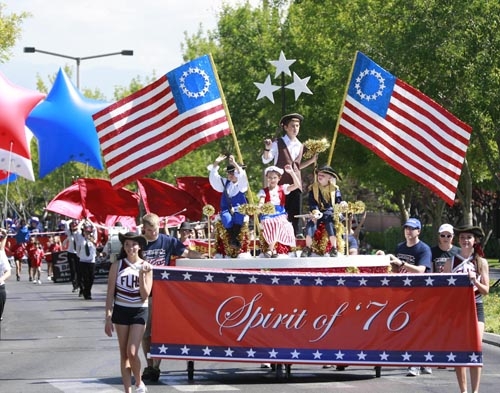 The public is invited to celebrate Independence Day at one of the largest Fourth of July parades in the Las Vegas Valley: The Summerlin Council Patriotic Parade.
Now in its 18th year, the parade features more than 60 entries including traditional floats, Macy's-style giant helium balloons, bands and performing groups and a variety of kids' favorite storybook and cartoon characters.
The parade kicks off at
9 a.m. on the corner of Hillpointe Road and Hills Center Drive in The Trails village. Participants travel south on Hills Center Drive toward the Village Center Circle roundabout before heading west on Trailwood Drive. The parade ends at the corner of Trailwood Drive and Spring Gate Lane. Attendees are encouraged to arrive early, carpool, wear sunscreen and stay well hydrated.
According to Kevin Orrock, executive vice president of master-planned communities for the Howard Hughes Corp., developer of Summerlin, the parade is the community's largest annual event and it grows in size and stature every year.
"Southern Nevada is home to thousands of patriotic residents who share a passion for our country, its history and the many freedoms we enjoy," he said. "You can't help but feel an overwhelming sense of patriotism as you see the streets of Summerlin lined with thousands of people dressed in red, white and blue celebrating our nation's heritage."
Nearly 40,000 people attend the annual parade.
"We love celebrating our freedom with fellow patriotic Las Vegans at The Summerlin Council Patriotic Parade," said Las Vegas Mayor, Carolyn G. Goodman, who is participating in this year's parade with her husband and former Las Vegas Mayor, Oscar B. Goodman. The Goodmans have walked in the parade for more than a decade.
"I'm convinced there isn't a more spirited community event in Southern Nevada than The Summerlin Council Patriotic Parade," said Robert Freymuller, CEO, Summerlin Hospital Medical Center.
"We're grateful for the annual opportunity to remember the selfless sacrifices of our founding fathers as we gather with friends and neighbors in our own community," said Mark Hutchison, a Summerlin resident since 1993.
"The parade's popularity with Las Vegas residents of all ages is undeniable," Orrock said. "We invite everyone to come out and celebrate America's birthday with us."
This year's parade features several new entries including five giant inflatables, an 18-foot animated motion Mario Kart float, the Desert Angels gospel choir and six new children's characters, including Snoopy, Hello Kitty, Popeye, Pikachu, Bugs Bunny and Sylvester. New inflatables include a 15-foot Lorax, 30-foot cowboy boot, 20-foot Elvis, a 10-foot Benjamin Franklin and a 12-foot Death Star.
Traditional entries include All Star Salute to the Military, Undersea Jubilee, A Tribute to Lady Liberty, Visions of Candyland, Spirit of '76 and "Toy Story" Mania.
Representatives from Nellis Air Force Base will be recognized in multiple parade entries. Col. Barry Cornish, commander, 99th Air Base Wing, Nellis Air Force Base, is this year's grand marshal.
The parade will be emceed by KLAS-TV, Channel 8, personalities Sherry Swensk and Brian Loftus and Mercedes and Shawn Tempesta of Mix 94.1-FM, radio.
Title sponsors of the 2012 parade are Summerlin and The Howard Hughes Corp., developer of Summerlin. Quality Investigations Inc. is the premier sponsor. Other sponsors include CenturyLink Prism, City National Bank, Hutchison & Steffen, Springs Preserve, Las Vegas Review-Journal, View News, Station Casinos, Summerlin Hospital Medical Center, Celebrate Kids, Current Events, DLP Services LLC, Friendly Ford, Great Harvest, The Groundskeeper, Par 3 Landscaping and Maintenance, Right Now Air, Suncoast, TruGreen LandCare, ValleyCrest Landscape Cos., Las Vegas Color Graphics, Rachel's Kitchen, NV Illumination Inc., Park Pro and Business Continuity Technologies.
For more information on The Summerlin Council Patriotic Parade, call 702-341-5500 or visit www.summerlin.com.
Summerlin began to take shape in 1990. For nearly two decades, national and regional research firms have ranked it in the country's top 10 best-selling master-planned communities.
Located along the western rim of the Las Vegas Valley, Summerlin encompasses 22,500 acres with about 7,500 acres still remaining to accommodate future growth within the master plan.
The community is home to nearly 100,000 residents.
Amenities include more than 150 neighborhood and village parks, more than 150 miles of the Summerlin Trail System, 26 public and private schools, 14 houses of worship, nine golf courses, shopping centers, medical and cultural facilities, business parks and more than three dozen actively selling floor plans.
Homes are available in a variety of styles – from single-family homes to townhomes, condominiums and lofts – priced from the mid-$100,000s to more than $1 million. Custom-home sites in The Ridges are priced from the high $200,000s. Luxury apartment homes offer monthly rents starting from the $800s. For more information on Summerlin, visit www.summerlin.com.