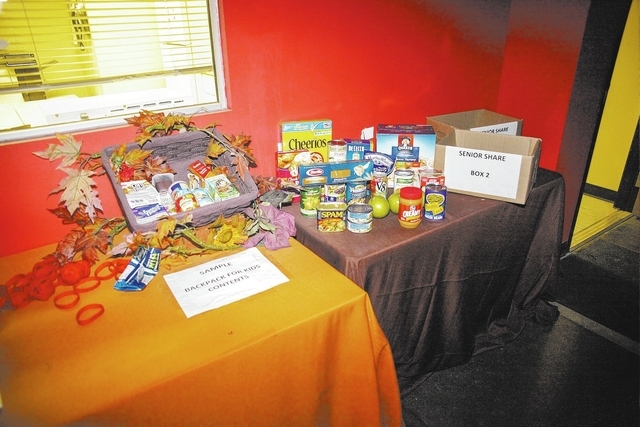 Since government benefits were cut Nov. 1, the reductions have not only affected low-income families but also businesses and food pantries. At the same time, a Southern Nevada food bank is preparing for the reduction impact and additional pressure to serve thousands for the holidays.
The Supplemental Nutrition Assistance Program serves millions of eligible and low-income individuals and families. Three Square's nonprofit food bank works with community partners to help people who need to apply for the SNAP program.
"It's a supplement for low-income people so that they can have enough money to pay for other basic necessities that a struggling family needs, like shelter and utilities," said Jodi Tyson, research and public policy manager at Three Square.
According to Tyson, the reduction is due to the American Recovery and Reinvestment Act of 2009, which raised SNAP benefits to help people affected by the recession. The part of the law that raised SNAP benefits ended Oct. 31, which is why people are receiving less benefits this month.
Tyson added that Nevada has 362,000 SNAP beneficiaries, and the average monthly benefit decreased to $230 from $250 per family and to $110 from $122 for individuals.
"Food stamps in Nevada bring in $45 million a month to our state in federal benefits," Tyson said. "That's way more than what a food bank or a charity can do."
Tyson said the lines at food pantries typically get longer toward the end of the month, when SNAP benefits run out and recipients start to struggle for food.
"SNAP is really the first part of the safety net for families," Tyson said. "When that benefit can't extend far enough into the month, that's when people will come in and use food pantries."
Due to the reduction in benefits, Tyson believes more people will start coming to food pantries earlier in the month.
Reductions average $10 a person per month, said Tyson, meaning that a single person would receive an $11 reduction while a family of four would see a $36 reduction.
"Most people think that $10 isn't that much, but when it comes out to $130 a year for one person, that could mean more than a week's worth of food," Tyson said. "It's a cumulative effect over time."
She added that the average meal price for recipients in Las Vegas is $2.56, which can equate to a reduction of five to six meals a month.
Tyson advises people to stretch their benefits using their food stamps to buy protein items and going to food pantries for fresh produce, which are typically expensive to purchase elsewhere.
Denika Samuel, Paradise resident and mother of two, said the recent SNAP reductions have significantly affected her and her family.
"I can't buy everything that I need to buy anymore," Samuel said. "It's harder now that the holidays are coming. How do I explain that to my kids?"
Samuel said that she has had to balance her money with foods that last longer, and she watches out for sales. Her parents visit the Royal Outreach Ministry's food pantry, 1701 Bearden Drive, and she said they might have to make more frequent visits.
The next couple of months will make it difficult to determine how much of an increase in Three Square recipients is due to the SNAP reductions and how much can be attributed to holiday pressure. Tyson said that a good indicator of the demand would not be calculated until next year.
Pastor Conrad "Tiny" Jacob Steinhauer, who runs Grapevine Fellowship's food pantry, 2323 S. Nellis Blvd., said he has seen an increase in people coming to the pantry.
"Our numbers have gone up by 20 households," Steinhauer said. "Usually, it's slower during the beginning of the month and busy during the end of the month, but so far we've been able to meet demand."
Steinhauer said the Sunrise Baptist Church's food pantry recently closed, which may also explain the increase in people.
Since people will be buying less food, Tyson said grocery stores could be impacted by the SNAP reductions, especially in Clark County. She said 70 percent to 75 percent of beneficiaries live in Clark County.
Las Vegas has Three Square food recipients in every ZIP code, according to data provided by Three Square.
"SNAP reductions are hitting people hard, but it's also hard for the community," Tyson said, "especially during the holidays when we see a greater number of people coming in and looking for additional services."
Contact Sunrise/Whitney View reporter Sandy Lopez at slopez@viewnews.com or 702-383-4686.