Goodman sorry for 'wrongful rant' about Bourdain
November 15, 2013 - 6:43 am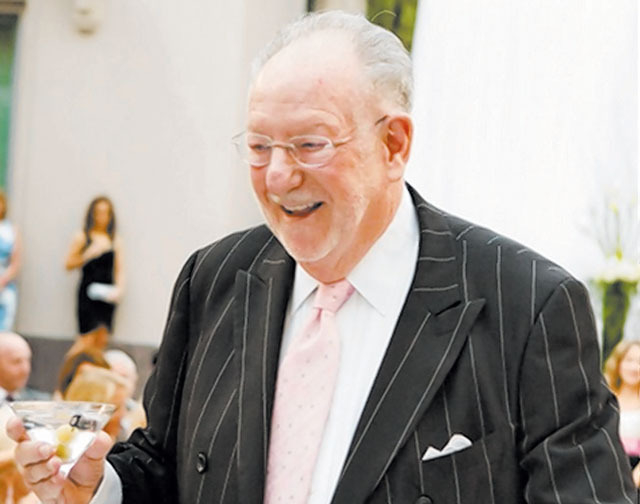 Former Las Vegas Mayor Oscar Goodman said Thursday he has reached out to CNN travel host Anthony Bourdain to apologize for "my little rant."
While waiting for Bourdain to show up for their Monday interview, Goodman groused that the TV personality was late for an 8 p.m. taping for "Parts Unknown."
Seated with two reporters and others in the lounge at Oscar's Beef Booze and Broads Steakhouse at the Plaza, a frustrated Goodman grumbled, "I'm no groupie. I'm not waiting for anyone," "Where is this guy?" and "I'm outta here."
Bourdain insists he was operating on a different timetable and arrived on time.
Goodman was on the phone early Thursday, saying "I have to eat this one. My little rant was a wrongful rant.
"When they (Bourdain's producers) kept coming to me (with updates on Bourdain's arrival time), it reaffirmed my belief he was supposed to be there at 8 p.m. I was wrong."
Goodman said he left a voicemail message for Bourdain.
Jonathan Jossel, who oversees the Plaza for Tamares Real Estate, shed some light on what he said was "a miscommunication."
He said Goodman "had been there all day watching football. He had another interview at 6:30 p.m., and he was expecting to go straight into (Bourdain's interview)."
About 8:30 p.m., Jossel, who frequently joined the table to give Goodman updates from the CNN producers, appeared to be encouraging him to walk out, hinting it might not necessarily be a bad thing. Goodman was informed at 8:40 p.m. that Bourdain had arrived.
When the story broke in this column on Wednesday, Goodman initially played it down while Bourdain demanded a retraction, calling it "a complete misstatement of the facts and in no way accurate reporting of events."
The Las Vegas office of The Associated Press reported Goodman "said if he gave the impression that he was mad, it was only because he was three martinis in. He said he should not be held accountable for his actions after 5 p.m., and that at least he wasn't smoking crack cocaine, unlike a certain Toronto official."
Bourdain tweeted on Wednesday, "I have no beef with Hizzoner." He said the ex-mayor "made an honest mistake."
BIG WEEK FOR ARIANNY, UFC
Maybe a bit of destiny came into play when Arianny Celeste-Penelope Lopez Marquez was born on Nov. 12, 1985. On her eighth birthday, UFC1 was born in Denver.
She's celebrating her birthday this week and the UFC's 20th anniversary. It should be some party Saturday, with UFC 167 at the MGM Grand Garden. Now known as Arianny Celeste, she has been one of the most visible UFC ambassadors since she became a ring girl in 2006.
The former Eldorado High School cheerleader-turned Octagon Girl is the subject of this week's Q-and-A interview at normclarke.com.
She discusses her new TV project, where she wants to be in 10 years and her "weirdest" proposal.
THE SCENE AND HEARD
Correction: Si Robertson of "Duck Dynasty" did not compete against Terry Bradshaw for quarterback at Louisiana Tech. It was Robertson's brother, Phil, also a cast member of "Duck Dynasty."
SIGHTINGS
Actor Nicolas Cage and his wife, Alice, at Joe's Seafood, Prime Steak and Stone Crab (Forum Shops at Caesars) on Thursday. … Boston Red Sox postseason hero Shane Victorino and Larry Ruvo, sipping a Flyin Hawaiian Jagermeister Spice cocktail at a party Ruvo threw Wednesday in Victorino's honor at the Keep Memory Alive event center. Ruvo is Southern Wine and Spirits senior managing director and founder of the Cleveland Clinic Lou Ruvo Center for Brain Health.
THE PUNCH LINE
"A company is now selling bacon-scented deodorant. That's great if you're dating the governor of New Jersey." — David Letterman
Norm's column appears Sunday, Monday, Wednesday and Friday. Reach him at 702-383-0244 or norm@reviewjournal.com. Find more at normclarke.com. Follow @Norm_Clarke on Twitter. "Norm Clarke's Vegas" airs Thursdays on the "Morning Blend" on KTNV-TV, Channel 13.