Gun background check measure reveals passionate arguments at town hall
September 29, 2016 - 11:03 pm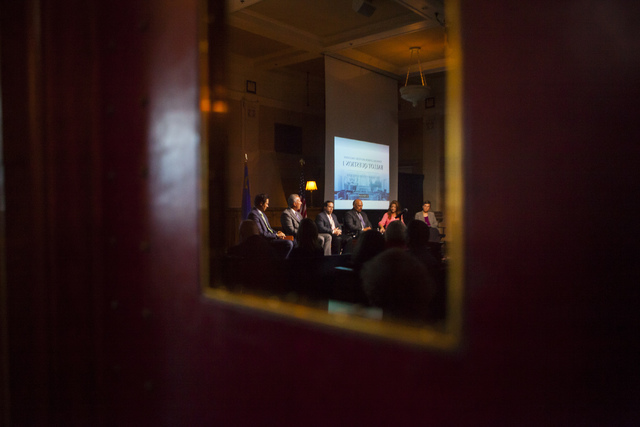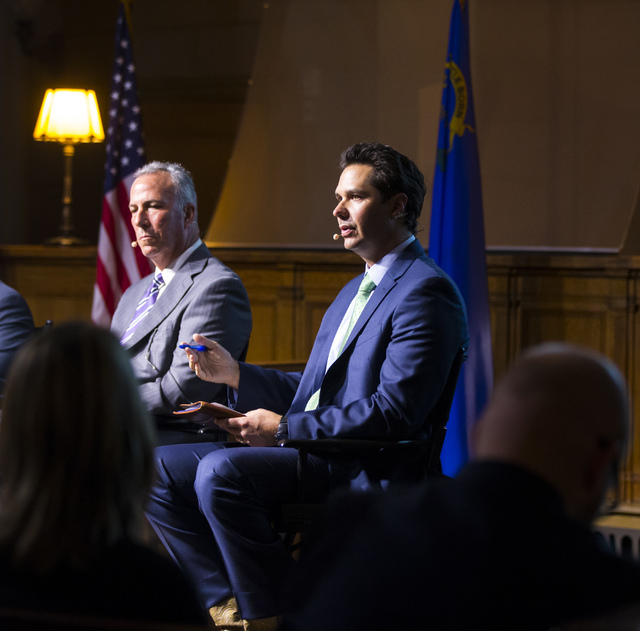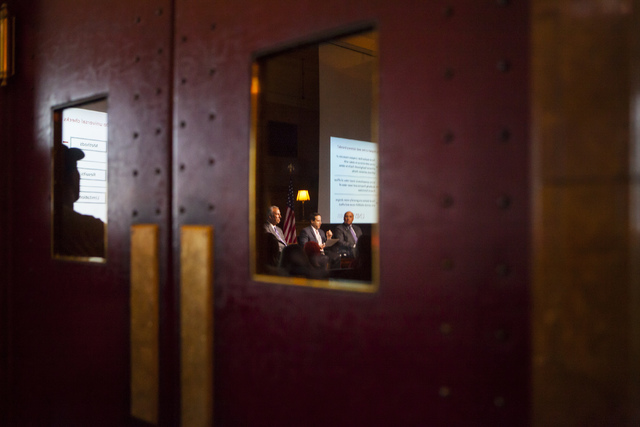 A Mob Museum town hall discussion on Question 1, the ballot initiative proposing to expand firearm background checks to private-party sales and transfers, brought passionate arguments on the issue to voters Thursday night.
William Sousa, professor and director of the Center for Crime and Justice Policy at UNLV, spoke on the panel to offer an overview of the research on firearm background checks. He said the research tends to lean toward the idea that background checks improve public safety, but such research has limitations. Studies on crime trends, for example, often conflate correlation and causality.
"The research in this area is very muddy," he said.
Clark County District Attorney Steve Wolfson and Jennifer Crowe, communications director for Nevadans for Background Checks, spoke in favor of the initiative.
"Fundamentally, this is about saving people's lives," Crowe said, pointing to the May shooting death of Christina Franklin in North Las Vegas as an example of the types of cases the initiative is targeting. Franklin was killed by the father of her children with a gun he obtained in a private-party sale.
Las Vegas City Councilman Stavros Anthony drew on his experience as a former cop to make the case that the most dangerous criminals get their guns illegally, so the law wouldn't have much of an effect on crime.
Dan Reid, state legislative liaison for the National Rifle Association, said the proposed law would be unenforceable, ineffective and burden law-abiding citizens.
Reid questioned the wording of the statute. He noted that one exemption would allow a person to transfer a gun to an uncle without a background check, but not to a cousin. Reid said the law also would come "as is." If it passes, the state Legislature wouldn't be able to change anything in the statute for three years.
"We're not just talking about sales. We're talking about all transfers," he told the crowd. "This is a stepping stone to more gun control."
Wolfson responded to an audience question about enforcement of the proposed law, saying that he would execute prosecutorial discretion and look for criminal intent.
"We're not going to charge people for lending a weapon to a friend," he said.
The discussion was moderated by Sondra Cosgrove, College of Southern Nevada history professor and local leader of the League of Women Voters.
Crowe, Wolfson and Anthony also will appear in a televised discussion on Question 1 on PBS at 7:30 p.m. on Oct. 7.
Contact Wesley Juhl at wjuhl@reviewjournal.com and 702-383-0391. Follow @WesJuhl on Twitter.