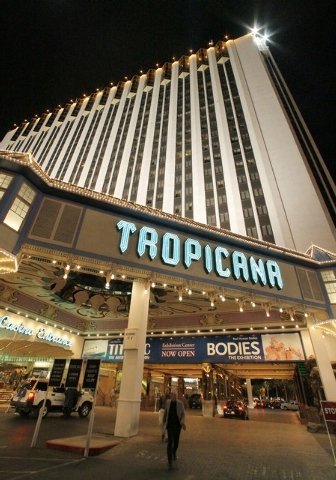 Mitzi Stauffer Briggs lost millions investing in the mobbed-up Tropicana, but she remained rich in faith and family throughout her life.
After battling cancer, Briggs died Sunday afternoon with members of an adoring family at her bedside. She was 84.
"Mother gave her life for her children and loved ones," daughter Linda Leonard said Tuesday. "She never met a stranger in need that she turned away. I couldn't have asked for a better mother and friend."
Briggs was a proud mother of six with 13 grandchildren and two great-grandchildren.
Her trusting, generous spirit manifested itself in many acts of kindness, but it would cost her a fortune in Las Vegas.
At a friend's suggestion she invested in the troubled Tropicana in 1975 and instantly became a household name in Las Vegas. Raised in a conservative household in San Francisco, Briggs was commonly described in the press as the "heiress to the Stauffer Chemical Co. fortune" and new financial savior of the foundering Tropicana.
In reality, she was a bookish former debutante who married during her undergraduate days at Stanford University and admitted she knew "nothing, absolutely nothing about gambling or casinos." That lack of sophistication in a treacherous business would cost her dearly.
After winning a temporary license and receiving mixed advice from state gaming regulators and the FBI, she poured cash into the casino without appreciating the jungle she had entered or the depth of the uncollectible gambling credit markers she had taken on. In over her head and gradually recognizing that the Tropicana's unpaid markers were sinking her investment, she turned to the controversial Joseph Vincent Agosto for help. The charming Agosto was listed as the producer of the "Folies Bergere," but his criminal past and shadowy associations made him unlicensable as a key casino employee. It would later be learned Agosto was secretly fronting for organized crime interests at the hotel.
During a federal trial related to the mob's skimming at the Tropicana, Agosto testified, "Mrs. Briggs became affectionate towards me, for what reason I don't know, and she consulted me in management. I started gaining a little more power. She relied on my judgment."
It would turn out to be a terrible mistake.
On Feb. 14, 1979, the FBI served search warrants at the Tropicana and other locations in what would become known as the second "Saint Valentine's Day Massacre."
With assistance from state Gaming Control Board agents and other law enforcement, the FBI was able to establish the connection between officials inside the Tropicana and members of Nicholas Civella's Kansas City mob family. Longtime Las Vegas casino man Carl Thomas and Agosto were among the key players inside the casino. Briggs was considered a dupe who was, as one trial witness politely put it, "was not at all knowledgeable in the casino business."
Although she had made several savvy real estate deals in the Bay Area, Briggs had little business experience and despite a strong work ethic was no match for the sleight-of-hand she experienced at the Tropicana.
Her initial $6.4 million investment quickly climbed to $11 million, and some accounts place her total losses at more than $44 million.
Even after the raid the slippery Agosto implored the bilked Briggs to try to understand his predicament. "Mitzi, I couldn't help it," he said. "They had a gun to my head."
Even then she believed him and in several interviews years later displayed no bitterness toward Agosto.
"As God is my witness, I swear I didn't know," she told the Review-Journal in 1980 after her ouster from the Tropicana.
She relinquished her gaming license, and her tumultuous ride as a casino owner was finished.
Although the Tropicana would be sold to Ramada Corp. in 1979, and a contentious lawsuit would follow, Briggs later admitted, "I never got a penny from the sale. Others did."
She added that Deil Gustafsen, a well-connected minority owner and convicted criminal, did. "But I never saw any of the money," Briggs said.
She was born April 29, 1929, to Joseph Sigall and Marie Stauffer, daughter of chemical company founder John Stauffer.
Briggs was later described by local civil attorney Harold Gewerter as "an innocent swimming among sharks."
Although she was never implicated in the notorious casino skimming case, the stunning financial losses left her nearly penniless and needing to return to work.
Her friends and former Tropicana investors Edward and Fred Doumani gave her a job as a hostess at the Carving Cart restaurant on the Strip about a mile or so south of the Tropicana.
She also volunteered at the nearby Guardian Angel Cathedral.
She found peace and sanctuary inside the Catholic church on the Strip and later worked in the gift shop and as a sacristan. She was also entrusted with counting the collection.
She spent most of her days toiling inside the Guardian Angel and doting on her family members.
My many interviews with her always circled back to family and faith and her lack of bitterness toward the raw deal she received in Las Vegas.
Granddaughter and namesake Mitzi Williams calls her "Big Mitzi" an inspiration on many levels.
"In her eyes, the big accomplishments in her life were not defined by degrees, trophies, blue ribbons or money," Williams said. "And although she was always very proud of her children's and her grandchildren's accomplishments in life, what seemed to make her most proud were living a life of honesty, compassion, loyalty, forgiveness and faith. This is how I believe she strived to live her life. And she lived it beautifully."
A funeral Mass for Briggs is scheduled for 2 p.m. Thursday at the Guardian Angel Shrine, 302 Cathedral Way off Desert Inn and the Boulevard.
In lieu of flowers, the family requests that donations be made to the charity of your choice.
"My grandmother was a beautiful, private, complex, fascinating, amazing woman," Williams said. "She was the cornerstone of our family, and remains such."
Mitzi Stauffer Briggs possessed a wealth of riches in the form of faith and family that enabled her to carry on through her life's darkest days.
John L. Smith's column appears Sunday, Tuesday, Wednesday and Friday. Email him at Smith@reviewjournal.com or call 702-383-0295. Follow him on Twitter @jlnevadasmith.