Henderson emerges from recession with eye on infrastructure
February 19, 2016 - 8:30 am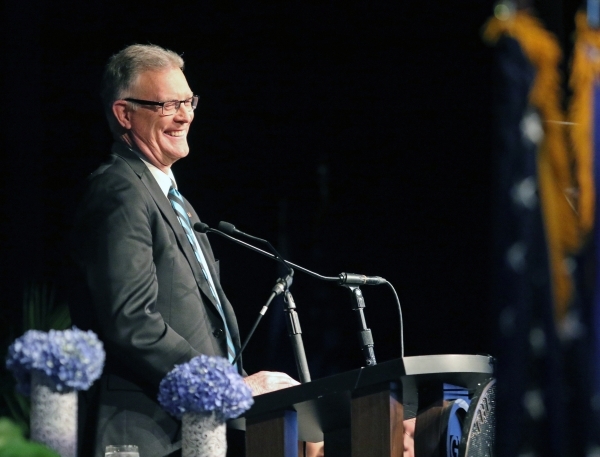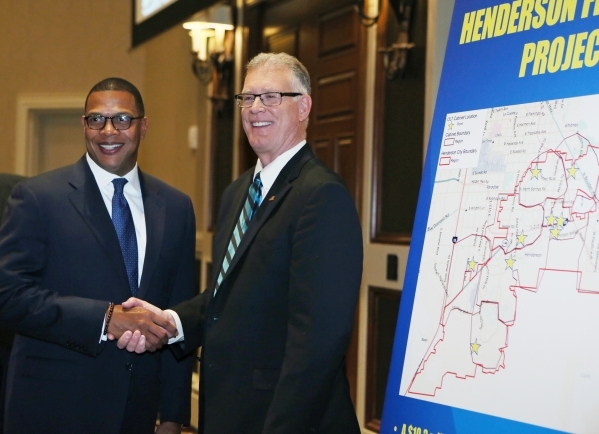 Health care and more control over schools were among top priorities cited by Henderson Mayor Andy Hafen on Feb. 3 during his annual State of the City address.
Hafen mentioned various health care projects that are transpiring in the city, including the Henderson Hospital, slated to open in the fall at U.S. Highway 95 and Galleria Drive; and the Gateway Project, which is in the planning stages and is set to feature a campus for senior housing and components for assisted living, skilled nursing and retail. Hafen said he wants the city to become a significant resource for such services.
"Health care is a critical component for Henderson," he said to the hundreds of people who attended the event at the Grand Events Center at Green Valley Ranch Resort, 2300 Paseo Verde Parkway. "It is our goal, and we are trying hard to make Henderson a place to come for cutting-edge medicine."
He also said the city aims to create a Henderson-specific school precinct in order to enhance city residents' ability to shape their children's education.
"We want to have more input into what our children are taught and how our schools are run," he said.
As for infrastructure maintenance in 2015, the city conducted 22 capital improvement projects totaling $33 million. Hafen said the city has to continue looking for creative ways to pay for such projects because of limited budget funds due to lingering effects of the recession.
"Several years ago, we discovered a $17 million gap for infrastructure maintenance," he said.
He said the city is working to keep pace with an increasing population and has not built a new police station since 2009. The last fire station, meanwhile, was built in 2002, and a new one is planned in the Inspirada master-planned community in the next year or so, Hafen said.
"We need to continue our efforts and find the needed resources to sufficiently equip and operate that station," he said.
Business-creation milestones Hafen mentioned included Panattoni Development Co.'s Henderson Freeways Crossing project, which recently broke ground and is set to include nearly 500,000 square feet of industrial space on Lake Mead Parkway and Eastgate Road. The project is scheduled to involve multiple buildings that are expected to be ready for occupancy this year.
Henderson Chamber of Commerce Board Chairman Tim Brooks said such business developments in the city are reflected at the chamber level.
"For the third year in a row, we are growing our membership nearly 10 percent, and our sponsorship base has nearly tripled," Brooks said to the crowd.
Barclaycard, 2280 Corporate Circle, plans to expand its operations and add 150 jobs this year, Hafen said, and a number of Water Street projects are set for completion this year. Those include Blue Skye Development LLC's Southend on Water, 314 Water St., a 6,500-square-foot, two-story facility set to be completed in summer and include office space for Tate Snyder Kimsey Architects and a ground-floor cafe overlooking Water Street; and Lovelady Brewing Co., a 4,000-square-foot facility set to open by mid-March at 20 S. Water St. and include a taphouse.
— To reach Henderson View reporter Cassandra Keenan, email ckeenan@viewnews.com or call 702-383-0278. Find her on Twitter: @CassandraKNews.