Henderson fourth-grader creates community garden at her school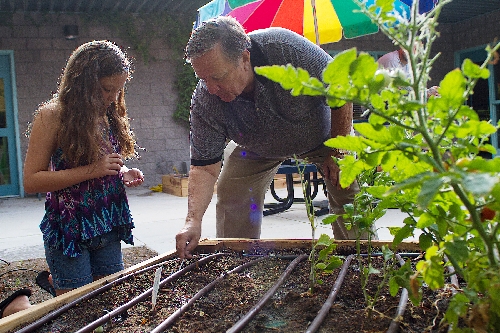 While watching "Project Green" on the Disney Channel and seeing children her age around the country make a difference, 10-year-old Lexi Lopez thought, "W hy can't I make a change? "
The change that Lexi, then a fourth-grader, saw for her community was to start a community garden that would help feed people while making Henderson green.
"She is always coming up with ideas," said Dana Lopez, Lexi's mother. "She is a thinker, a mover and a shaker."
Lexi said she has always loved gardening and decided to create her own — a community garden at her school.
"I just got home from work, and she said she wanted to start a garden," Lopez said. "I didn't think much of it. You know how it is when you get home from work."
A persistent Lexi told her mother that she needed to be dropped off at school early to talk to her principal at Gibson Elementary School, which resulted in a call to Lopez later that week.
"Principal (Lisa) Medina was on board," Lopez said. "So I went to Lexi and said, 'Are you sure you want to do this? It is going to be a lot of work.' "
But her answer was still yes.
Lexi enlisted the help of her grandfather David Newcomer, a landscape architect, her neighbors and her friends in Girl Scouts Troop 226 to see the project she named 'Project Green Heart" come to fruition.
"And of course, we couldn't do anything with out the muscle of the project (Rick Lopez, Lexi's father)," Lopez said.
The project cost about $2,400 and used organic products to ensure quality and sustainability.
The school received a $1,000 grant for the project, and Lexi's grandfather fronted the rest of the money. He is being paid back with any donations that are raised.
"We couldn't have done anything without him," Lopez said. "He gave the money because he wanted to make sure the project was done right. We are still accepting donations (for project costs)."
The garden has 11 4-by-11 r edwood boxes that contain radishes, corn, pumpkins, squash, watermelons, strawberries, green beans, tomatoes, carrots, roman lettuce, peppers, wildflowers and sunflowers.
"We try to choose the best things that would be heat-friendly," Lopez said. "Our wild flowers aren't doing so good. But it is all trial and error."
The project took about three months to complete, with most of the work done on the weekends.
At first, only a few people helped . As the word spread, Lexi had about 20 to 25 volunteers each time.
Her current principal, Kristian Ryerson, started at the school mid-project, but she was amazed by Lexi's passion.
"It is a great opportunity for community involvement," Ryerson said.
As an educator, Ryerson believes that society can learn a lot from examples such as Lexi.
"Kids are really our teachers, too," Ryerson said.
The garden was finished around May.
"It was amazing to see what I did with my friends," Lexi said.
Even as Lexi finishes her fifth-grade year and moves on to middle school, her legacy will remain at Gibson.
"What is so great about it is it will be around for a long time," Lopez said. "This will be around for the next generation."
When the vegetables are ready for harvest, Lexi hopes to give them to a soup kitchen or food pantry.
"We want something local," Lopez said. "We want to stay in Henderson."
Whichever agency they decide to partner with , Lexi hopes to make the soup that her vegetables will go into.
Lexi's friend suggested that some of the products should be used at the school, so she is trying to get approval for a salad bar option with the produce.
"They took away the salad bar, I think, because of budget cuts," Lopez said.
In addition to Lexi's ideas, Ryerson wants to use this garden as an example in science gardens.
"We have three teachers we call our green thumbs that plan on starting a gardening club," Ryerson said. "They can teach kids about growing their own food and what goes into it."
City officials got word of the project when Lexi approached the Las Vegas Valley Water District about irrigation for community gardens. A member of the LVVWD board was so impressed with Lexi that she shared it with colleagues, one of whom was a member of the Henderson's Citizen s Advisory Committee.
Lexi was honored at the June 21 Henderson City Council meeting by Mayor Andy Hafen, the council and United States Green Building Council.
Her story is available on ourhenderson.com.
Contact Henderson and Anthem View reporter Michael Lyle at mlyle@viewnews.com or 387-5201.