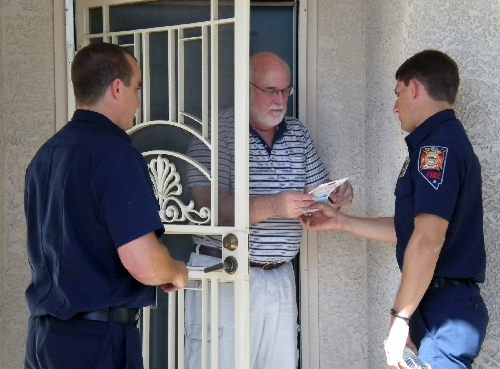 REGISTRATION FOR SUMMER CLASSES
and programs SET TO OPEN today
Registration for the Henderson parks and recreation department's summer classes, events and programs is scheduled to begin at 5 a.m. today .
People can register online at cityofhenderson.com/parks or at a self-serve kiosk at any of the city's recreation centers.
Registration is expected to stay open pending space availability.
ST. ROSE OPENS NEUROSURGERY CLINIC
St. Rose Dominican Hospitals held a grand opening May 17 for the St. Rose Neurosurgery Clinic, 2865 Siena Heights Drive.
The hospital collaborated with Stanford Hospital and Clinics in opening the new center, which focuses on the treatment of neurological disorders.
EARLY VOTING FOR June
PRIMARY ELECTIONS has started
Early voting for the primary elections is open until June 8 at the Galleria at Sunset mall, 1300 W. Sunset Road. A station for voting is slated to be set up on the lower level of the mall outside Kohl's Court. Voting is open from 10 a.m. to 7 p.m. Mondays through Saturdays, 11 a.m. to 6 p.m. Sundays and 10 a.m. to 9 p.m. June 7-8.
Registration under way for
Foothill High School basketball camp
Foothill Falcon Basketball plans to conduct its annual summer basketball camp for boys and girls entering third through ninth grades. The camp is scheduled from 9 a.m. to 1 p.m.. June 11-12 and from 8:30 to 11 a.m. June 13 at Foothill High School, 800 College Drive. The $100 registration fee includes a personal evaluation, camp T-shirt, instruction and competition.
Registration forms can be downloaded at betruetotheblue.com.
For more information, email
jdr572@interactccsd.net or call 301-0394.
Desert Newcomers Club
to host welcome coffee
The Desert Newcomers Club Inc., a social and recreational club for women who have lived in the area for three years or less, is planning a welcome coffee at 10 a.m. Thursday at the Green Valley Methodist Church, 2200 E. Robindale Road, at the northwest corner of Green Valley Parkway and Robindale Road. For more information, call Judy Kinal at 994-5362.
POLICE announce GOLF TOURNAMENT
The Henderson Police Department is scheduled to host a golf tournament at 7 a.m. Friday at Legacy Golf Club, 130 Par Excellence Drive. The event is $90 per player and is open to singles or foursomes. For more information, call 267-5094.
MARINE CORPS LEAGUE PLANS
ANNUAL CHARITY GOLF TOURNAMENT
The Marine Corps League, Detachment 186, has scheduled its annual charity golf tournament for Saturday at the Wildhorse Golf Club, 2100 W. Warm Springs Road.
Greens fees of $90 include prizes, cart, a hot dog and a soda with a free lunch at the Leatherneck Club, 4360 W. Spring Mountain Road. Anyone making a hole-in-one will win a new Corvette. A portion of the proceeds will benefit the Wounded Warrior Project, Toys for Tots and other children's programs.
For more information, call Dave Jochman at 499-5300.
GOLF TOURNAMENT TO BENEFIT OPPORTUNITY VILLAGE
The 13th annual CMG Golf Tournament is planned for 7:30 a.m. June 7 at the Concord Golf Course at The Revere at Anthem, 2600 Hampton Road. The tournament is set to benefit nonprofit Opportunity Village, 6300 W. Oakey Blvd. The event includes buffet lunch, greens fees, carts and the practice range. Dress code includes a collared shirt, soft spikes or sneakers, but no denim. Tickets are $100 for single players, $400 for foursomes and $500 for a sponsorship, which includes one golf foursome, advertising and one tee sign/hole sponsorship.
For more information or to RSVP, email kpentony@ogienviro.com.
HENDERSON SLIDES INTO SUMMER
WITH EVENT at Anthem Hills Park
To celebrate the end of the school year, the city of Henderson is slated to host Slide In To Summer from 5 to 8 p.m. June 8 at Anthem Hills Park, 2256 N. Reunion Drive.
The event is expected to include a giant slip-and-slide for all ages, a mini slip-and-slide for younger children, a bounce house, lawn games, super human bowling and sun safety tips.
The event is free. The city is asking for a donation of a nonperishable food item to benefit HopeLink.
For more information, call 267-4000.
Library reading PROGRAM OFFERED
TO CHILDREN DURING THE SUMMER
Henderson Libraries Summer Reading Program is scheduled to take place from June 9 to Aug. 25.
This year's reading theme is expected to be "night." The program is open to children of all ages. For more information, call 492-6581.
UNITED BLOOD SERVICE HOLDS BLOOD DRIVE
United Blood Services is scheduled to host a blood drive from 3 to 6:30 p.m. June 11 at the Gibson Library, 100 W. Lake Mead Parkway. To schedule an appointment, call 562-2166 or visit bloodhero.com.
SEMINAR to discuss
CHRONIC PAIN SOLUTIONS
The Foundation for Wellness Professionals is slated to host a health seminar from 7 to 8 p.m. June 13 at Whole Foods, 100 S. Green Valley Parkway.
Participants are expected to learn about solutions to chronic pain and fatigue. The seminar is free and open to the public. Registration is required.
For more information, visit 643-9904.
GENEALOGICAL SOCIETY plans MEETING
The Clark County Genealogical Society has scheduled its monthly meeting from 10 a.m. to 1 p.m. June 16 at the Paseo Verde Library, 280 S. Green Valley Parkway.
The group plans to meet in the conference room. The event is free and open to the public.