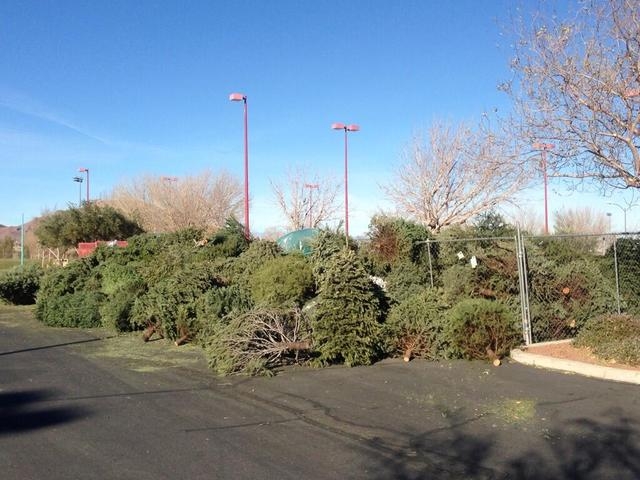 GREEN VALLEY GROCERY REQUEST RESCHEDULED FOR FEB. 4
A crowd of residents came to the Jan. 7 Henderson City Council meeting to speak in opposition to an application for a Green Valley Grocery gas station, carwash and convenience store proposed at the northeast corner of Wagonwheel Drive and Old Vegas Trail. The item was heard at the Nov. 14 Henderson Planning Commission meeting where commissioners voted 5-2 to deny the conditional use requests for a fueling station, 6-1 against the car wash and 5-2 against the design review. Green Valley Grocery representatives asked the City Council to reconsider the Planning Commission decision. Public comment was taken, but the appeal request was rescheduled for the City Council's Feb. 4 meeting. City Council meetings are scheduled at 7 p.m.
A live stream of the meetings for City Council, the Redevelopment Agency and the Planning Commission is available. Video archives of past meetings are also available at cityofhenderson.com.
REPUBLICAN WOMEN PLAN LUNCHEON
Members of the Southern Hills Republican Women are scheduled to host a luncheon at 11:30 Jan. 21 at Buckman's Grill, 2600 Hampton Road.
Republican lieutenant governor candidate Sue Lowden is set to speak at the event. The reservation deadline is Jan. 16.
Tickets are $22 for members and $25 for nonmembers.
For more information, call 702-278-6652.
GARDEN CLUB TO HOST DISCUSSION
The Sunset Garden Club is scheduled to meet at noon Jan. 14 at the Paseo Verde Library, 280 S. Green Valley Parkway.
Presented by botanist Jennifer Brickey, the program is titled "Forest Update."
The event is open to the public.
For more information, visit sunsetgardenclubofnv.com.
NETWORKING GROUP FOR WOMEN SCHEDULED TO MEET
The GFMC Green Valley Woman's Club is expected to meet at 6:30 p.m. Jan. 14 at Findlay Toyota, 7733 Eastgate Road.
Women are invited to network and learn about volunteer opportunities.
For more information, visit grwcgreenvalley.org.
HENDERSON OFFERS FREE TREE RECYCLING PROGRAM
The city of Henderson is encouraging residents to recycle their holiday trees after the holidays through the free recycling program.
Holiday trees can be dropped off through Jan. 17 at Acacia Park, 50 Casa Del Fuego St.; Anthem Hills Park, 2256 N. Reunion Drive; Arroyo Grande Sports Complex, 298 Arroyo Grande Blvd.; Mission Hills Park, 551 E. Mission Drive; Morrell Park, 500 Harris St.; Pecos Legacy Park, 150 Pecos Road; and Whitney Ranch Recreation Center, 1575 Galleria Drive.
Any non-organic material, including lights, ornaments, wires, tinsel, and nails, must be removed from trees. These items cannot be recycled and could damage chipping equipment. Flocked trees cannot be recycled.
For more information, visit cityofhenderson.com.
NONPROFIT ORGANIZATION SEEKS PET FOSTER FAMILIES
Foreclosed Upon Pets, a nonprofit organization that rescues animals that have been abused or abandoned as a result of economic hardship, is searching for foster families for dogs and cats. Volunteers must provide the pet with a safe and secure environment with basic training. Families must also transport the animal to weekly adoptions and events and provide the organization with regular updates.
For more information, call 702-272-0010 or visit forecloseduponpets.org.
CATHOLIC CHARITIES TO HOST HEART OF HOPE LUNCHEON FEB. 7 AT RED ROCK RESORT
Catholic Charities of Southern Nevada plans to present the fourth annual Heart of Hope Luncheon from 10:30 to 11:30 a.m. Feb. 7 at Red Rock Resort, 11011 W. Charleston Blvd.
The event will celebrate the agency's 73rd anniversary. The reception and a silent auction are set to take place in the Summerlin Ballroom, with the luncheon and award presentation scheduled from 11:30 a.m. to 1 p.m.
Individual tickets are $150 and can be purchased at catholiccharities.com.
NEVADA STATE COLLEGE PLANS OPEN HOUSE
College-bound students are invited to an open house scheduled from 5:30 to 8 p.m. Jan. 16 at Nevada State College, 1021 E. Paradise Hills Drive.
Open to new, returning and transfer students, the event is slated to have an overview of academic programs, a faculty meet-and-greet, a walkthrough of the admission process, financial aid workshops and campus tours.
For more information, call 702-992-2170 or visit nsc.edu/openhouse.
HENDERSON OFFERS WEIGHT-LOSS CHALLENGE
The city of Henderson plans its third annual weight-loss challenge through April 4. Starting from 6 to 8 a.m. or 6 to 8 p.m. through Jan. 17, participants may visit certain Henderson recreation centers to sign up and weigh in. The centers are: Black Mountain Recreation Center, 599 Greenway Road; Downtown Recreation Center, 105 W. Basic Road; Henderson Multigenerational Center, 250 S. Green Valley Parkway; Heritage Park Senior Facility, 300 S. Racetrack Road; Silver Springs Recreation Center, 1951 Silver Springs Parkway; and Whitney Ranch Recreation Center, 1575 Galleria Drive. Participants can also sign up and weigh in from 8 to 10 a.m. and 4 to 6 p.m. at the Valley View Recreation Center, 500 Harris St.
During the 12 weeks, residents can provide weight-loss updates. During the final week from 6 to 8 a.m. or 6 to 8 p.m. March 31-April 4, participants will be invited back for a final weigh-in.
Prizes are slated to go to the most "lightened up" participants in each age and gender bracket.
A celebration for all participants is planned for April 10 at the Heritage Park Senior Facility.
For more information, visit cityofhenderson.com or call 702-267-4070.
SIGN-UP DEADLINE FOR HENDERSON SOFTBALL TOURNAMENTS IS JAN. 22
The sign-up deadline for the Jason Pasco/Leslie Leveque/Miken Sports Classic softball tournaments is Jan. 22. Each team registered is set to play three games. Men's open play games are scheduled for Jan. 24. Class E recreation play games are scheduled for Jan. 24 and 25 and co-rec upper and lower division games are scheduled for Jan. 26. The fee is $200 per team or $350 for the men's open competition. Games are to be played at the Arroyo Grande Sports Complex, the Russell Road Recreation Complex and Dos Escuelas Park. To register, call the city of Henderson sports office at 702-267-5700.
Send in Your News
To submit items for Henderson/Anthem Neighborhood News, contact reporter Michael Lyle at mlyle@viewnews.com or 702-387-5201.