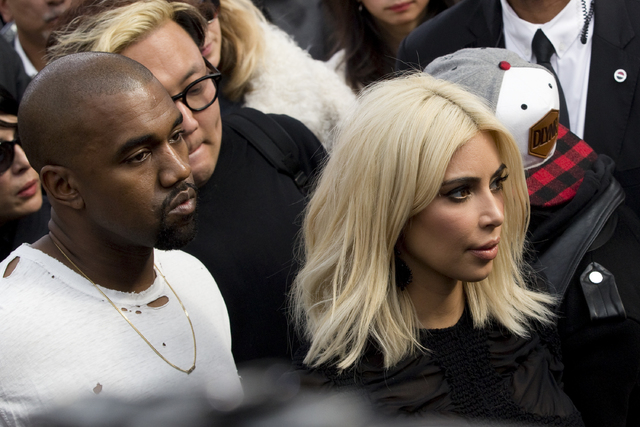 The Time 100 list is a selection of 100 influential people who shaped the past year. The list usually features world leaders and innovators who undoubtedly brought something to the global table, but some of this year's may surprise you —including Time Magazine's top two picks in their latest issue.
Kanye West
"Now that he's a pop-culture juggernaut, he has the platform to achieve just that. He's not afraid of being judged or ridiculed in the process," Tesla CEO Elon Musk writes of West in the issue. "Kanye's been playing the long game all along, and we're only just beginning to see why."
Why it's surprising to see his face on the cover is that for as much as West is loved, he's equally or even doubly hated. West has been the center of multiple controversies throughout his career, most closer resembling an expression of arrogance than a crime.
Kim Kardashian
These days, you can't have Kanye without Kim, the media phenomenon with 29 million Instagram followers, 31 million Twitter followers and a long history of high ratings on E! Kardashian created a new type of celebrity, being famous for being famous, where most of her success can be chalked up to being in the right place in the right time. If being the most high-profile member of a dysfunctional family screened for an hour once a week means you're influential, then she fits.
Reese Witherspoon
In her praise for Witherspoon, actress Mindy Kaling credits her performance in "Wild" as the reason for the honor of most influential. While Witherspoon was nominated a dozen times and won a Golden Globe for her performance, her place on the list knocks out multiple other performances by female actresses in 2014 like Julianne Moore's in "Still Alice."
"That resourcefulness is what makes her someone I not only admire, but someone who inspires me," Kaling wrote. "And that is influence."
Jeb Bush
While the Time 100 usually lists politicians representing multiple parties, Bush is the only Republican listed who is also candidate for the presidency in 2016. His entry is written by Zeke Miller, Time Magazine's Washington bureau reporter.
"In Tallahassee, Bush developed a reputation as one of the most conservative governors in the country, leading the charge on education reform, pro-life legislation and tax cuts," Miller writes. "Now he's looking to follow his father and brother to the White House on a platform of reaffirming the 'right to rise' into the middle class."
Björk
The singer known for being eccentric, she's on the list for "teaching us the courage to be ourselves." The anecdote by artist Marina Abramovic that leads to this is Björk expressing her joy over the Eyjafjallajokull eruption … in 2010. OK.
Vladimir Putin and Kim Jong Un
Both Putin and Un are notably influential, but not in ways that the United States population generally agrees to.
"Kim Jong Un might show some degree of modernity, but the system of totalitarian repression and leader worship remains unchanged."
The entry by Kang Cheol Hwan says Un's influence on the people of North Korea, or how they "have ceased to chant his name," leads to his influential recognition.
Similarly, Putin's is chalked up to "his gravity-defying ability to confront the West in ways that boost his popularity in a country suffering through an economic meltdown for which his own policies are largely responsible," which doesn't sound like a recognition of influence, either.
Also listed this year are Supreme Court Justice Ruth Bader Ginsberg, actor Chris Pratt, singer Taylor Swift, Food Network star Ina Garten and President Barack Obama. The full list can be read here.
Contact Kristen DeSilva at 702-477-3895 or kdesilva@reviewjournal.com. Find her on Twitter: @kristendesilva