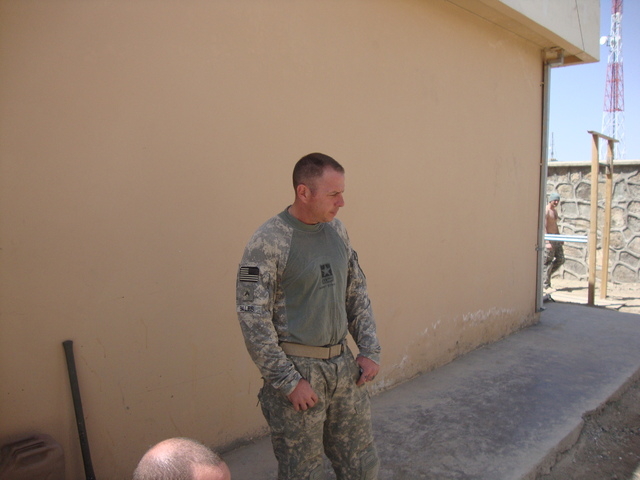 If there is one word to define veteran Christopher Bales, it is "humble."
The soon-to-be southwest valley resident is about as humbled to receive a mortgage-free home as he was to receive his Purple Heart.
"If I were king for a day, (Bales) would be a recipient of the Medal of Honor," said Stephen Page, director of corporate sponsorships at Operation Finally Home. "You will not meet a more humble, war-fighting veteran than (Bales)."
Bales, of Coarsegold, Calif., is set to move into a new home in January thanks to PulteGroup and Operation Finally Home, a nonprofit organization that helps provide homes to veterans.
Community members gathered Nov. 26 to write notes of gratitude for Bales' service on the foundation.
"This is something truly special," said Scott Wright, Las Vegas division president for PulteGroup. "(Bales) has served our country with pride, and we hope this new home will help ease his struggles and provide his family many future happy memories."
Bales said he joined the Army in 2006 because he felt it was his duty. He attended basic training at Fort Campbell, Ky., and became a sniper for the 101st Airborne Division.
"I thought it was important for me to do, and it was something I had always really respected," he said. "My father was in Vietnam, and that was something I was very proud of."
Bales, 38, served in Iraq in 2007 and Afghanistan in 2010. While in Afghanistan, Bales' platoon was transported to areas heavily involved in combat.
"We were shipped to where the fighting was the worst," Bales said. "It was our job to help support the companies that were in those areas."
On May 19, 2010, Bales was on sniper patrol when his troop was ambushed by enemy fire. He hopped on an all-terrain vehicle and attempted to distract the gunfire away from his patrol.
"It worked," he said. "I was the only one who got injured."
Bales was shot in the lower back and thigh, leaving his left leg partially paralyzed. His efforts earned him a Purple Heart.
While in the Army Wounded Warrior Program, a unit that assists severely injured or ill soldiers and veterans, Bales' case manager asked if she could nominate him to Operation Finally Home.
"I was real hesitant to do it," Bales said. "I just thought there were a lot of other soldiers worse off than me, but my dad kind of put it to me like, 'Well, why are you less deserving than anyone else?' I didn't really have an answer to that."
Bales agreed to the nomination and underwent a series of interviews from the Operation Finally Home staff.
"It was a tough decision," Page said, "but (Bales) kept surfacing to the top."
According to Page, Bales was selected based on his service, his need and, most important, his humility.
"At every conversation, his biggest concern was that the right person would receive the home," Page said. "If it wasn't him, he was perfectly all right with that. He just wanted to make sure the right person was selected."
On Nov. 4, 2012, Bales and his family were treated to a Tennessee Titans NFL game by Operation Finally Home.
"The whole time I was led to believe that this (house) probably was not going to happen," Bales said. "They pulled me out onto the field (at the game) and announced I would be getting a house. It was not what I was expecting."
According to PulteGroup spokeswoman Jacque Petroulakis, Bales' future home is 2,500 square feet with a price of about $254,000.
The house was customized to accommodate Bales. The master bedroom and laundry room are on the first floor, the doorways are 3 feet wide and there are no steps into the front, back and garage doors.
"This is an amazing opportunity to give thanks and show our appreciation for his sacrifices," Petroulakis said. "He is a very worthy veteran."
Bales said he's still in awe and cannot wrap his head around getting a free home.
"It just goes to show that this country and the people of this country are definitely amazing," Bales said. "They are worth fighting for."
Contact Southwest/Spring Valley View reporter Caitlyn Belcher at cbelcher@viewnews.com or 702-383-0403.