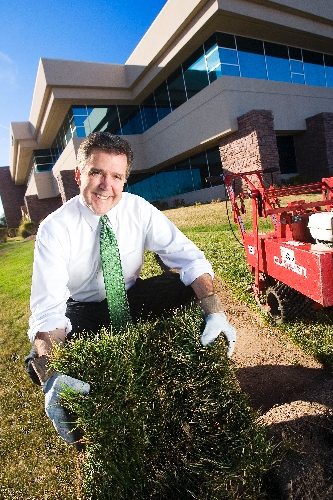 The Howard Hughes Corp., developer of the master-planned community of Summerlin, recently received the 2011 Water Hero Award from the Water Conservation Coalition, a public/private partnership formed by community leaders to help increase water-efficient business practices and communitywide water conservation in Southern Nevada. The award recognizes business and individuals on the forefront of water conservation and committed to saving millions of gallons of water annually.
"The Howard Hughes Corp. has incorporated water smart development practices into its developments since Summerlin's inception in the 1990s — long before low-water-use landscapes were required or fashionable," said Doug Bennett, conservation manager for the Southern Nevada Water Authority. "The company has showed great leadership with water-efficient landscapes."
In 2003, The Howard Hughes Corp. made an unprecedented decision to make Summerlin the first community in Las Vegas to implement water smart conservation guidelines on a communitywide level. At that time, Tom Warden, senior vice president of community and government relations for The Howard Hughes Corp., stated: "As the largest master-planned community in the Las Vegas Valley, Summerlin can make a significant difference in not only saving water, but in setting a good example and encouraging resident participation. It's about pitching in and doing our part."
During the past eight years, The Howard Hughes Corp. has remained committed to water conservation. The developer is one of the valley's pioneering companies that helped transform the image of desert landscaping to make it more acceptable and appealing to Southern Nevadans.
"Summerlin's award-winning landscapes demonstrate the natural beauty of our desert environment," said Warden. "Color, texture and a wide variety of plant life has proven to be more appealing than miles of uninterrupted turf. Summerlin businesses and residents are now choosing landscapes that incorporate water efficiency without compromising beauty."
The Howard Hughes Corp. also coordinated and funded community turf-removal projects within Summerlin to further demonstrate its commitment to water conservation. The largest conversion included the removal of 100,000 square feet of turf at the Town Center Drive and Village Center Circle roundabout, which saves the community more than a million gallons of water each month.
"Water conservation just makes sense," said Warden. "We need to be smart about our natural resources and remember we can all make a difference."
Summerlin began to take shape in 1990 and has ranked in the country's top 10 best-selling master-planned communities for nearly two decades. Located along the western rim of the Las Vegas Valley, the community encompasses 22,500 acres with about 7,500 acres still remaining to accommodate future growth within the master plan.
The community is currently home to nearly 100,000 residents who enjoy amenities such as more than 150 neighborhood and village parks, more than 150 miles of trails, 26 public and private schools, 14 houses of worship, nine golf courses, shopping centers, medical and cultural facilities, business parks and more than three dozen actively selling floor plans.
Homes are available in a variety of styles — from single-family homes to townhomes, condominiums and lofts — priced from the mid-$100,000s to more than $1 million. Custom-home sites in The Ridges are priced from the high $200,000s. Luxury apartment homes offer monthly rents starting from the $800s.
For more information, visit www.summerlin.com or www.facebook.
com/summerlinlv.