Initiative would automatically register some Nevada DMV customers to vote
August 4, 2016 - 12:56 pm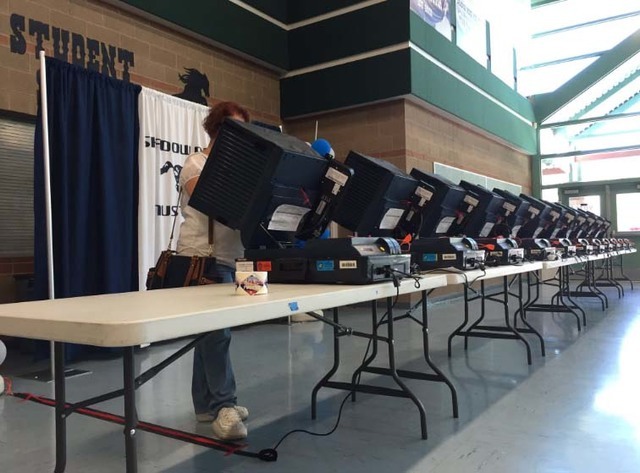 CARSON CITY — An initiative to automatically register people to vote when they apply for or renew a Nevada license or identification card was filed this week with the secretary of state's office.
The measure, backed by a group called Nevadans for Modern and Secure Elections, would require the Department of Motor Vehicles to transmit information to the secretary of state's office to register people to vote or update their information. People could opt out of the program.
Right now, people can register to vote at the DMV, but they have to "opt in."
The measure will not appear on this year's general election ballot.
A description of the initiative says it is "designed to increase the accuracy of registration rolls by ensuring that qualified citizens who move within Nevada and update their contact information at the DMV will have their voter registration information automatically updated."
The Nevada group is affiliated with iVote Inc., a Washington, D.C.-based voter advocacy group. Ross Miller, a Democrat and former Nevada secretary of state, serves on iVote's advisory board, according to the group's website.
The Nevada initiative is modeled after an Oregon law that was passed last year and implemented in January. Since it took effect the state has registered about 200,000 new voters.
"It's been hugely successful," said Hari Sevugan, a spokesman for the Nevada organization.
According to the Pew Center on States, 51 million people nationwide were eligible but not registered to vote in 2012, Sevugan said. In Nevada about 770,000 eligible voters are not registered.
Oregon was the first state in the nation to enact an automatic registration law. Officials there said more than 68,000 people were automatically registered to vote in the first five months of this year under the new law.
Sevugan said similar bills have been introduced in more than 30 states and enacted in five.
While that initiative deals with registering people to vote, another initiative filed in July seeks to renew efforts to require photographic identification to cast a ballot.
Former Republican U.S. Senate candidate Sharron Angle filed an initiative July 6 with the secretary of state's office. The filing came a few weeks after Angle's proposed constitutional amendment for photo ID failed to garner the required number of signatures to proceed.
The latest attempt seeks to change state law, as opposed to amending the constitution.
Backers of both initiatives need to collect roughly 55,000 signatures by Nov. 8 to send their proposals to the 2017 Nevada Legislature. Lawmakers would then have 40 days to act or the measures would automatically go to voters in 2018.
Contact Sandra Chereb at schereb@reviewjournal.com or 775-461-3821. Find @SandraChereb on Twitter.