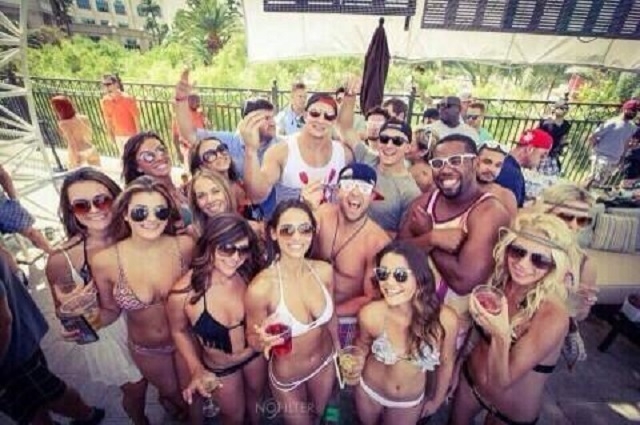 Everyone has completely missed the real issue with the entire "Johnny Vegas" situation.
It has been essentially impossible over the last few days to avoid hearing the details of Cleveland Browns rookie Johnny Manziel's trip to Las Vegas.
The talking heads on all the sports networks have taken turns weighing in on whether the tabloid superstar exercised good judgement in using the long Memorial Day Weekend to party the days away by the pool and the spend his nights at clubs on the Strip and hanging with Dana White at the UFC event.
Some have said it's no big deal. Others say it shows a lack of commitment and dedication to his new teammates who may already have concerns about their potential signal-caller.
Those in the former group clearly didn't see the pictures from his flight home.
Every detail of Manziel's trip was documented on social media — either through his accounts or those of the many females who were lucky enough to grab a picture with the former Texas A&M star.
His flight was no different.
Several pictures emerged of Manziel in a middle seat on a Southwest Airlines flight. Herein lies the problem.
Manziel was clearly too busy, or too incapacitated in some other way, to check in for his flight 24 hours in advance as is required for anyone hoping to get a coveted early boarding position.
That's the only way to end up in a middle seat, which even for a smallish quarterback, is going to be uncomfortable for a guy who is about 6-feet-tall and 200 or so pounds.
Not showing the discipline to get to a computer, or even his cellphone for that matter, to check in for the flight at the appropriate time shows a lack of discipline that could very well translate to the field.
If he can't check in properly, how can he be expected to make the right check downs on the field? If he can't figure out how to correctly manage his travel arrangements, how is going to manage the clock in a key situation on a Sunday?
This is no trivial matter.
What happens in Vegas supposedly stays in Vegas, at least according to the commercials. But what those ads don't tell you is how horrifying it will be living those decisions you made during the weekend over and over in your mind during the treacherous flight home if you end up in the "C" boarding group.
Do you really want a quarterback who is so careless with his life decisions?
It might be time for the Browns to give up on this whole experiment. Rest assured, Brian Hoyer's not getting stuck in a middle seat.