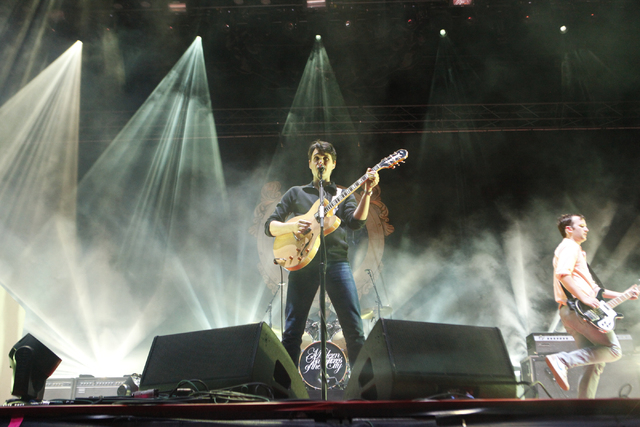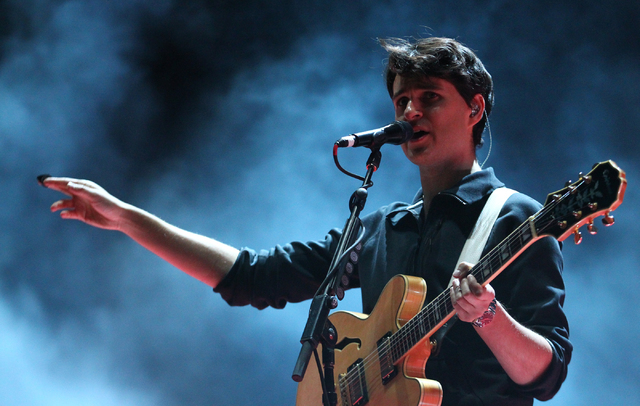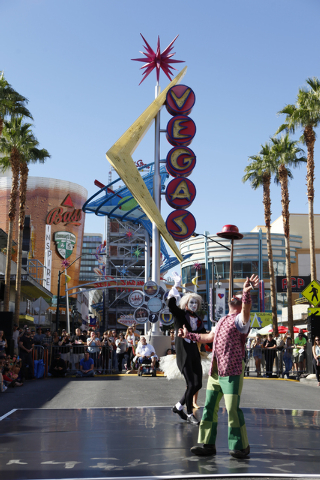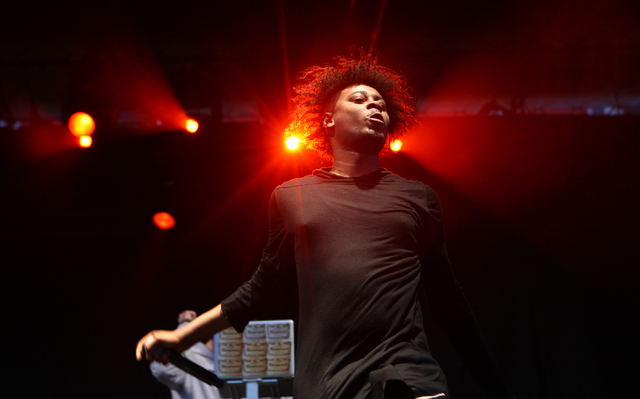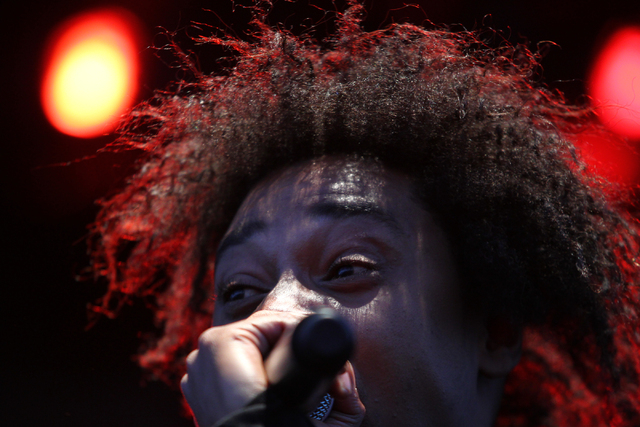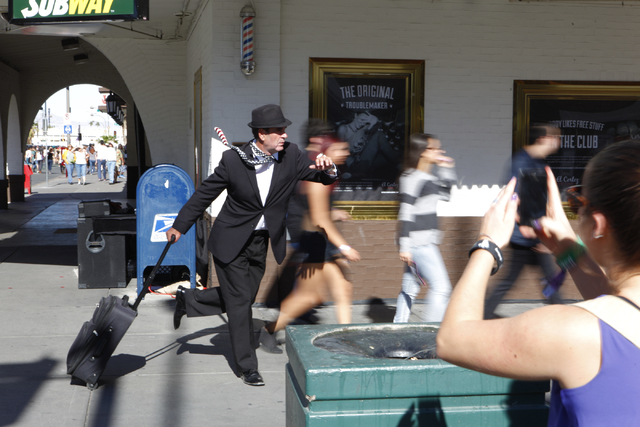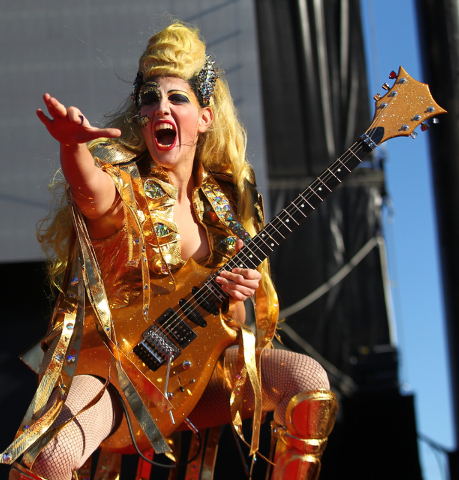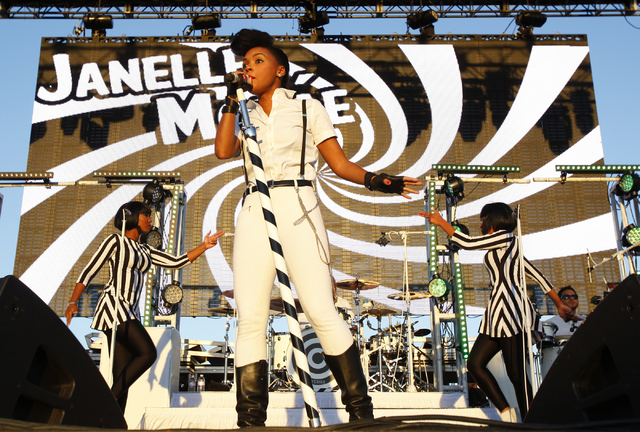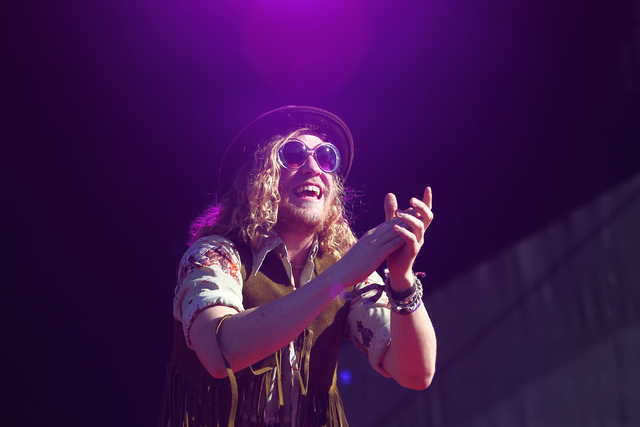 Brandon Flowers looked out past the Ferris wheel, the pizza and beer stands and the great wall of porta-johns to the avenues and boulevards beyond.
"A lot of our songs take place on these streets," The Killers singer noted during the band's festival-ending set at Life Is Beautiful on Sunday, which doubled as a bear hug to the group's hometown.
They even performed "Viva Las Vegas," with a notable tweak of the lyrics.
"If you see us once, you'll never be the same," Flowers sang like the true native son of a city where modesty is an unnecessary nuisance that could only get in the way of the good times, like a kid crying in a movie theater.
The Killers' performance of Las Vegas' de facto theme song capped a weekend that was all about celebrating a city, or a specific portion of it anyways, that never needs a reason to celebrate.
Still, this was downtown's moment, and it was a great one.
Walking in the middle of closed streets, headed from one stage to the next, surrounded by 3-D murals, lamb tacos and tipsy strangers, it was enough fun to justify the sore calves that followed in the wake of so much foot travel.
Even after a potentially exhausting 12 hours of music the day before, on Sunday, the mood remained just as bright and lively as Passion Pit's radiant synth pop sounded, even when singer Michael Angelakos was giving voice to this existential quandary or that.
"Is this the way my life has got to be?" he wondered during "The Reeling," his falsetto singing voice arcing high above squirrelly keyboard lines.
The audience responded sympathetically, by dancing his troubles away for him.
Like Angelakos, Vampire Weekend frontman Ezra Koenig delivered hard truths in a soft voice.
"The world is a cold, cold place," he observed on "Unbelievers," and so he and his band strove to warm it up with inventive melodies that crept up on you, inspiring a giddiness in some crowd members who were seen skipping about the Downtown stage where the band performed.
For his part, rapper Danny Brown wasn't about to let the audience have all the fun.
"Drunk as hell already," he cackled a few songs into his awesomely off-kilter set, maniacal laughter rippling through his body like a cinder block tossed into a swimming pool.
Brown's got plenty of harrowing material, and he aired some of it, like a grim recounting of his drug dealing past on "Dope Song."
But his Life Is Beautiful set was mostly devoted to sing-song debauchery, which sounded like something school kids might chant on the playground if the songs weren't about mixing Xanax with alcohol and rolling blunts the width of one's pinkie finger.
If it was hard to take your eyes off Brown, the same could be said of drummer Zach Velmer from instrumental collective STS9.
At times, STS9 would bob and weave around a bed of throbbing electronics, at others, they would favor hard, full-contact funk with synth mainly for texture. Either way, it was Velmer driving the band's sudden rhythmic shifts, his playing wildly athletic and yet exactingly precise.
One more note on impressive drummers: Jeremy Salken of live electronica duo Big Gigantic deserves mention as well, as the guy somehow managed to approximate drum 'n' bass levels of beats-per-minute madness while his bandmate, Dominic Lalli, ripped saxophone solos and marshalled zigzagging bass blasts on a laptop.
Amid all this carefully cultivated chaos and merriment, some artists paused to acknowledge the passing of the iconic Lou Reed.
Vampire Weekend opened their set with Velvet Underground's "Sunday Morning," while The Killers performed a spare, moving rendition of the Velvets' "Pale Blue Eyes."
Later, Flowers acknowledged how the band's hit "All These Things I've Done" was his attempt at copying Reed's "Transformer."
"I was just trying to rip off Lou Reed, and it all went horribly wrong and became this damn song," he confessed before the group roared into the tune near the end of their performance.
The band's encore then followed, highlighted by a climactic "Battle Born."
Afterwards, Flowers leapt from the stage to administer high fives and handshakes to some of the crowd members down front.
Earlier, he had spoken about how the band considers themselves to be proud ambassadors for Las Vegas.
Now, it was time to greet some enthusiastic new constituents.
Contact reporter Jason Bracelin at jbracelin@reviewjournal.com or 702-383-0476. Follow on Twitter @JasonBracelin.
REVIEW
WHAT: Life Is Beautiful
WHEN: Sunday
WHERE: Downtown
GRADE: A