Knowing Vegas: What's with that weird house in the southwest valley?
August 30, 2013 - 8:19 am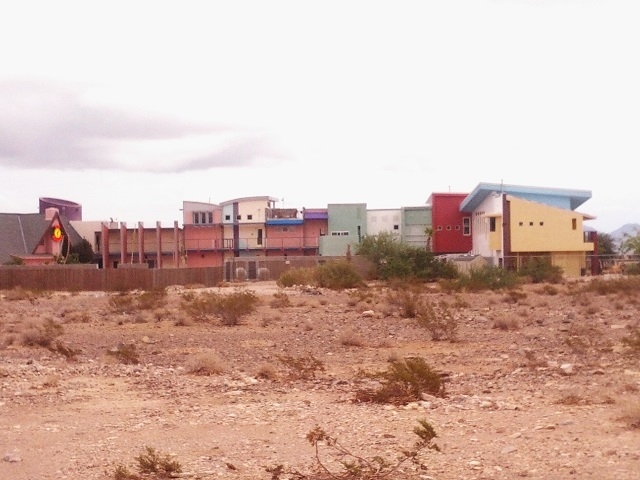 Las Vegas is full of mysteries, even if you've lived here your entire life. That said, we want to solve them, so we asked what questions about Las Vegas you've always wanted answered.
With so many celebrities living in Las Vegas and visiting every year, stories are bound to spread. Some have a kernal of truth, and others are just wacky enough to make sense. Here's one:
What is that colorful house in the southwest valley?
You know the one. On Wigwam between Rainbow and Buffalo. From the outside, it looks like either a really small elementary school or a really big daycare center, but you've probably heard by now that it's the home of Penn Jillette of Penn & Teller fame.
That's true — but have you heard the back story?
When the Penn & Teller act moved to Las Vegas at Teller's request in 1994, Jillette wasn't too excited about leaving New York.
"It's the stinking desert. It's either neon or dirt. Nothing can live here," he told the Wall Street Journal in March. "It's like he wanted us to die on the moon."
He bought an A-frame house and decided to build around it, tapping Outside The Lines Studio in Santa Monica for design consultation.
Jillette ended up going with a 2,500-square-foot addition to the pre-existing 1,500-square-foot home, joining the two with a cylindrical stair tower. Penn loved the home, according to the studio.
"Rarely a week went by during the first two years that we didn't receive an email message from him praising one aspect of the design or another," a description on their website says. "His comedy and magic show toured the country and each time he returned home he discovered the charms of the house anew."
Jillette nicknamed the house "The Slammer" early on, but he didn't go for a prison motif until he realized everyone thought he was refering to a prison, and not "the slang term for the BSL-4 Patient Isolation Suite at the U.S. Army Medical Research Institute of Infectious Diseases at Fort Detrick in Maryland." But he soon switched themes, installing a real prison toilet and using concrete blocks and small windows. Firepoles and secret rooms made the house more like a gigantic playground than a penitentiary, though, and when Jillette got married in 2004 and started thinking about children, he added an even more child-friendly wing to the home.
The performer said he wasn't concerned about resale value — he was decorating like a "12-year-old with money." But in June, Jillette listed his famous mansion for $2.1 million.
The 8,000-square-foot home was quickly delisted, though, and rumor has it the Jillette family is there to stay.
What's with Celine Dion and helicopters?
A rumor that can't seem to be permanently debunked? That Celine Dion travels to her shows via helicopter.
In a 2004 interview with CNN's Larry King, Dion explained who she believed had started the rumor that she flew via helicopter from her home at Lake Las Vegas and landed on the roof of Caesars Palace to do the show.
"(It was) the press. The people in the industry," she said. "They need to try to find things to get it even more — it's spicy enough, they need to add more curry sometimes to the stuff. It's not hot enough, you know."
(For the record, a search of RJ archives doesn't pull up any mentions of the mystery copter.)
Dion said she and her husband take a chauffeured car for the 30-minute trip.
What have you always wanted to know about Las Vegas? Email your question to social@reviewjournal.com, and watch for it to be answered Fridays.